Beyond Origin: Reimagining Colombia's  Coffee Industry with PATRIOT 
We discover how PATRIOT is aiming to change the Colombian coffee industry through innovation and disruption. 
BY VASILEIA FANARIOTI
SENIOR ONLINE CORRESPONDENT
Photos courtesy of PATRIOT 
Editor's note: This interview was edited for length and clarity.
When I visited Colombia a few months ago for The Barista League's Mystery Coffee Vacation, I noticed an espresso machine I had never seen before. I found out that this is a Colombian-born and developed product, made by PATRIOT – Fabrica de Innovación Cafetera.  
The brand was launched in 2018; PATRIOT is the product of years of hard work by its founders, brothers Diego Armando and Alejandro Quintero. They began in 2009 with the development of their first commercial equipment under the name DE LA MONTAÑA. They've since launched the IBAGUÉ line and NEIVA line of espresso machines, and will soon launch the improved version of the latter.  
We reached out to the PATRIOT team to learn more about their journey. 
What was your motivation for creating PATRIOT? 
Colombia has historically been a producer of high-quality coffee. But it is the consuming countries that transform the beans, resulting in a production chain where the generated value does not reach the coffee growers. Understanding this problem led us to develop a strategic vision focused on decolonizing the coffee industry.  
This means integrating coffee transformation processes at the origin, from harvest to cup. We want to be part of the generation of entrepreneurs that demonstrates Colombia's potential to be a player in the coffee industry, not only as an exporter of a commodity, but as a leader in generating knowledge and technology for this industry. 
How has the Colombian coffee industry changed since you established PATRIOT? 
In the past, Colombia was a leader in exporting high-quality coffee, but in its green form. However, interesting things have happened in the industry during our existence. Colombia has experienced accelerated growth in the consumption of specialty coffees, the emergence of roasted coffee brands by coffee growers, the birth of educational programs addressing the entire coffee production chain, and, of course, the strengthening and emergence of companies that produce equipment and technology for coffee processing. 
Today, Colombia represents not only a country that produces green coffee but also a country with specialized knowledge for coffee transformation, world-champion baristas, coffee culture, and technology for coffee processing, roasting, and preparation. As a country, we are on the path of decolonizing the coffee industry, aiming for the producing countries to lead this beautiful industry with humility but also with pride. 
What kind of challenges have you faced while running PATRIOT? 
The main challenge PATRIOT has faced is transforming Colombia's coffee culture and living up to what it represents. Every day, we witness our coffee farmers implementing processes and technologies to continue producing the world's best coffees. Being part of this transformation has definitely not been easy.  
Constant innovation is necessary to meet the expectations of increasingly knowledgeable users who demand greater stability, consistency, and a simple yet meaningful experience when using our equipment. We embraced the philosophy of "simple is better," which presents a great dilemma: making something simple for the user can only be achieved through solving complex problems. To this day, we continue to face this challenge.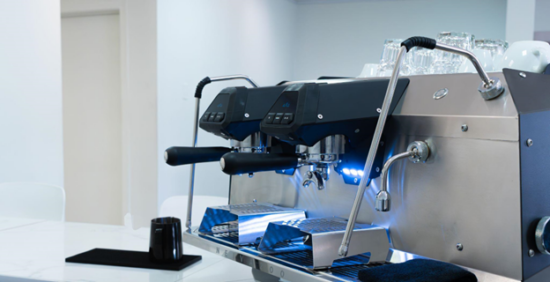 Could you tell us more about some successes that PATRIOT has achieved so far? 
We are delighted that PATRIOT's espresso machines have been invited to various regional and international latte art and barista competitions. These include Mystery Coffee Vacation by The Barista League, Cali Café Festival, Ibagué Café Festival, Jug Down, and Barista Inédito. Additionally, PATRIOT has positioned itself as a leader in the HORECA sector, forging alliances with some of the largest coffee shops and restaurant chains in the country. In 2022 the current National Barista Champion of Colombia, Edwin Tascon, trained for his routine on a NEIVA 200 machine. 
What advice would you give to entrepreneurs looking to start their own businesses? 
The first recommendation I would give to someone starting their own business is to take the challenge very seriously. This means always doing things to the best of your ability because that dedication is valued by consumers. Furthermore, pursue your venture with passion. In the world of coffee, this comes naturally because it is a captivating world, and once you're in, you won't want to leave. Lastly, I recommend that you authentically become part of your community.  
What are your future plans for PATRIOT? 
One of our values is "stay hungry." In previous years, our priority was to strengthen the brand's presence in Colombia. Nowadays, we are ready to bring the same service experience to the entire continent, supported by user-friendly machines and technology that facilitates professional coffee preparation. Therefore, we are seeking allies to develop this successful model from Canada to Argentina. 
On the other hand, we have an aggressive investment strategy in the development of new products, with the aim of capturing coffee lovers through unbeatable after-sales service, equipment ease of use, and machines built to last, ensuring that their investment is reflected in a secure return. 2023 will be a year of launches, and we invite you to learn more on our website. 
ABOUT THE AUTHOR
Vasileia Fanarioti (she/her) is a senior online correspondent for Barista Magazine and a freelance copywriter and editor with a primary focus on the coffee niche. She has also been a volunteer copywriter for the I'M NOT A BARISTA NPO, providing content to help educate people about baristas and their work. You can follow her adventures at thewanderingbean.net.
READ THE LATEST BARISTA MAGAZINE
Out now: It's the June + July 2023 issue of Barista Magazine featuring Martin Shabaya of Kenya on the cover. Read it for free with our digital edition. Get your Barista Magazine delivered; start a subscription today! Visit our online store to renew your subscription or order back issues.


Source: Barista Magazine