5 Gorgeous Cafés to Visit in Bogotá, Colombia
Explore the vibrant café culture of Bogotá with these five must-visit spots. 
BY VASILEIA FANARIOTI
SENIOR ONLINE CORRESPONDENT
Photos courtesy of Vasileia Fanarioti and El Pergolero 
Last month, The Barista League champions gathered in Colombia for an exciting and educational Mystery Coffee Vacation. The trip was organized with input from Café Tío Conejo, a specialty-coffee producer based in Manizales. Representing Barista Magazine, I had the pleasure of observing and recording their journey. 
Exploring Bogotá
During my stay, I had the opportunity to explore some of Bogotá's specialty-coffee shops. I must say, it was a fantastic experience. From the chic ambiance to the impeccable barista service, these cafés are definitely worth a visit if you're in Bogotá.  
Here are five of my favorite cafés from the city to experience for yourself.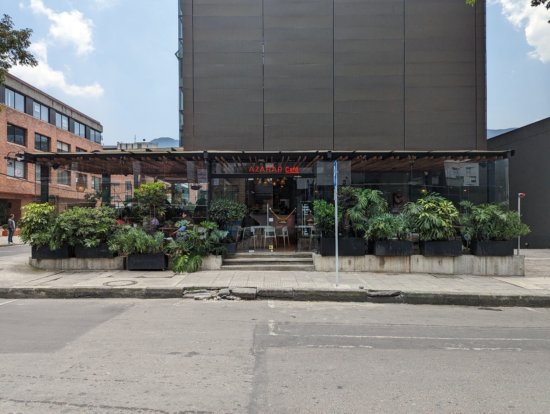 Azahar 
Azahar Coffee is located in the hip Park 93 area of Bogotá, surrounded by trees and plants, giving off a very tropical vibe. The coffee beans they serve are exceptional. They also offer creative coffee drinks that you can't find anywhere else.  
I ordered the Rainbow, a cold coffee drink that consists of a shot of espresso, mango, and lulo syrup, topped off with sparkling water. They use local fruit flavors in their specialty drinks, and I highly recommend their almond croissant—it was to die for! The Azahar team also roasts their own beans. Don't miss this spot if you're in the area; they have three locations around Bogotá.
Varietale 
This coffee shop is where I gathered with the Barista League champions for our last night in Colombia to watch local baristas compete in La Rumba. The very next day we found ourselves there for breakfast. I ordered a flat white and an empanada, which was delicious. My friends enjoyed an amazing breakfast and a flight of the café's finest filter-coffee options.  
Located in the university district of the city, Varietale is decorated with a colorful group of hanging flower beds and surrounded by so many trees that you feel like you're in an outdoor park. The industrial setting and fresh air make it suitable for working remotely or enjoying a cup of coffee in the yard. It's a must-visit in my opinion! 
El Pergolero 
This charming coffee shop is located in the city center and is beautifully decorated with plants and pastel colors. My friends and I opted for the three filter coffee options they were offering, which included varieties such as Pink Bourbon and Gesha. I also tried their chocolate coffee bar, and was surprised by how much the coffee flavors were coming through! 
The team behind El Pergolero are also the founders of Travesia, a coffee-focused company that has created many projects to positively impact Colombia's specialty-coffee industry. These include the creation of a specialty-coffee brand called Banna, a book about Colombia's coffee farms, consultancy projects, coffee shop tours in Bogotá and Medellin, and helping female coffee farmers implement better practices in their farms to develop a more sustainable and profitable business model. 
Jaguar Coffee House 
Located in La Candelaria, a 17th century historic neighborhood, Jaguar Coffee House is a vibrant and cozy space with an artistic touch. I visited this café twice, and both times they had different options on filter and espresso, great for those who love to explore new flavors. I also tried their signature cake, made by one of the baristas, and it was very tasty! 
Inside, you will also find a roastery, as well as a cupping room, where you can participate in coffee tastings and learn all about the bean-to-cup process.
The team at Jaguar offers tours of their own coffee farm, La Esperanza, with the aim of allowing their customers to immerse themselves in the culture of Colombian coffee. Makes for a holistic coffee experience, don't you think? 
Tropicalia 
Last but not least, Tropicalia is a great place to experience some of the country's best coffees in a beautiful setting. Located in the Chapinero area, this coffee shop was recently awarded the SCA 2022 Coffee Design Award for Coffee Spaces. Drawing inspiration from the tropics, this cafe is a warm, quiet, and inviting space with delicious food options from breakfast to dinner. 
I opted for an avocado toast and an Americano and was very pleased with both. I must also mention the amazing selection of merchandise, all of which is high-quality. But my favorite part was definitely the space inside the shop, where I felt very much in harmony with the natural environment around me.
So, there you have it—my favorite coffee spots in Bogotá. If you are looking for a great place to relax with a cup of high-quality coffee in Colombia's capital city, make sure to visit them! 
ABOUT THE AUTHOR
Vasileia Fanarioti (she/her) is a senior online correspondent for Barista Magazine, and a freelance copywriter and editor with a primary focus on the coffee niche. She has also been a volunteer copywriter for the I'M NOT A BARISTA NPO, providing content to help educate people about baristas and their work. You can follow her adventures at thewanderingbean.net.
Source: Barista Magazine