With Greens and a Machine, Seattle Startup Bunafr Breaks Into Home Roasting
With green coffee sales, a database of roast profiles and a high-tech home roasting machine poised to enter production, a Seattle-based startup called Bunafr is seeking to grow the home roasting market.
The green coffee marketplace is already open for business, while the roasting machine is expected to begin shipping next summer. Alongside longstanding names such as Behmor, Hottop or Gene Cafe, the new machine would add to a quickly expanding number of home-appropriate, small-scale roasting machines.
Recent entries in what might be called the prosumer roasting market have come from Aillio, Roest and Ikawa, while new names such as Kaffelogic and Sandbox X2 are looking more directly at home users.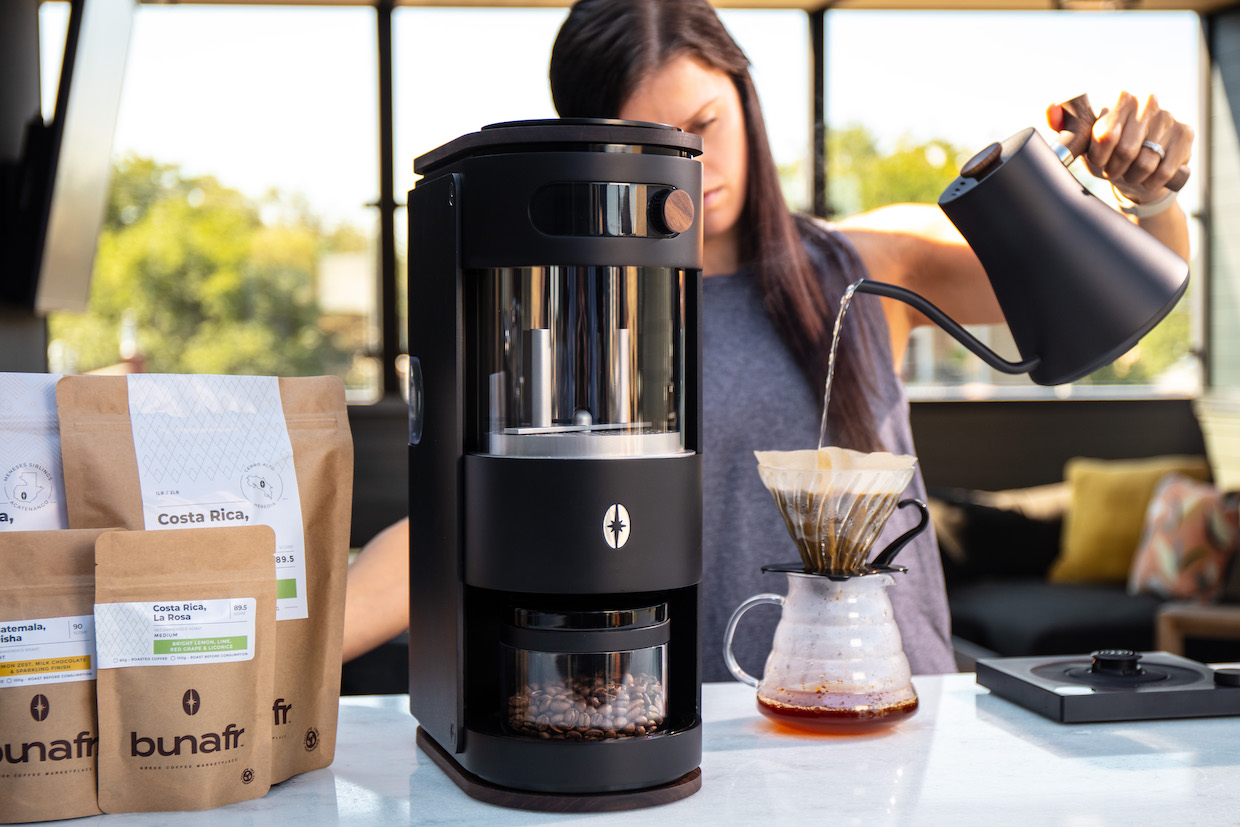 Bunafr, meanwhile, is the creation of former Amazon executive Anjani Annumalla.
An IndieGoGo campaign accepting preorders for the Bunafr machine has so far raised over $184,000 with more than three weeks remaining. The company expects to fulfill those orders by June 2023 before launching sales at a price of $899.
Bunafr and the Green Coffee Marketplace
From its website, Bunafr sells a variety of green coffees directly to consumers in portions ranging from one to five pounds, including single-origin coffees from 10 countries, as well as a variety of blends and decaf coffees. The company is even selling a popcorn popper as an affordable entry option for aspiring home roasters.
"Our intent is to continue to offer the popper as an easy tool and low-cost alternative to start roasting coffee at home," Bunafr Founder and CEO Annumalla told DCN. "Our vision is to democratize coffee roasting, so we want to enable coffee lovers to roast coffee at home irrespective of where they are in their coffee exploration journey."
Coffees are sourced, cupped and evaluated by a team led by Bunafr Chief Coffee Officer Jeff Babcock, the owner of 25-year-old Seattle specialty coffee company Zoka Coffee & Tea Co., the Roast magazine 2008 Roaster of the Year winner.
A Zoka coffee shop at the center of Amazon's South Lake Union campus is where Babcock met Annumalla, who spent almost eight years in various leadership roles at Amazon prior to diving into the coffee industry.
"In general, coffee is the second most traded commodity, with demand rising, but there is very little role of technology to date," Annumalla told DCN. "Using the right technology, we can enable various stakeholders in the coffee industry, create a leaner coffee supply chain, and thus lower coffee's carbon footprint on the environment."
The company plans to use tech tools such as ordering automation to minimize operational costs, thus freeing more capital for sourcing greens and developing the Bunafr user experience, according to Annumalla.
"We buy most of the coffee through direct farm trade, and where we cannot, we use reputed exporters and importers who can trace the coffee," said Annumalla. "[The] coffee farmers take home anywhere from $3 to $11 per pound for the coffees we buy."
Bunafr is co-owned by Annumalla, Babcock and Bunafr Chief Marketing Officer Victor Hernandez. The startup grew organically before recently receiving funding from private investors. The company did not disclose the amount of funding to DCN.
The Bunafr Machine
The compact, countertop-able electric Bunafr roasting machine centers on a vertical cylindrical roasting chamber made mostly out of stainless steel and glass. The machine also features a rotating agitation arm and a "patent pending hybrid heat transfer method" that involves a custom-designed heat source, a tunnel and a blower, according to the company.
The batch capacity is approximately 50-225 grams, or 1.8-8 ounces.
Through an app, users can either execute downloaded profiles or create their own by adjusting heat levels, fan power and the agitation arm's rotation speed, including in real time during roasts with "close to zero lag," Annumulla said.
Mechanisms in the machine support automated preheating, charging, roasting and cooling. A proprietary seven-layer filtration system renders the entire process "smokeless," according to Bunafr. Filters will require placement every six to eight months, depending on use.
"We're working on developing a refurbishment or recycling program where we can revitalize and reuse the filter media," Annumalla told DCN. "Our goal is to make our filters as green as possible."
Over a dozen sensors throughout the machine monitor roast progress and ambient conditions, the latter being especially important for automation of a preheating phase. The machine also features layers of insulation designed to accommodate outdoor use, while also helping to transfer roast profiles recorded at different locations with relative consistency. The app will also connect users for profile sharing and community engagement.
"Bunafr itself has many verticals to be tackled to provide a seamless experience to each customer and serve all the stakeholders involved, and planet earth, in the best possible way," said Annumalla. "Our plans are extensive and long-term, but we are chewing what we can, one step at a time."
---
Does your coffee business have news to share? Let DCN's editors know here. 
More From DCN
Howard Bryman
Howard Bryman is the associate editor of Daily Coffee News by Roast Magazine. He is based in Portland, Oregon.
Source: Daily Coffee News