Using The Right Ventilation System For Your Roaster
Setting up a roastery or bringing in a new and unfamiliar piece of equipment can be daunting. There are so many details to consider and if you don't install your machinery properly, it can lead to unforeseen problems and costs down the line.
Roasting coffee is all about the finer details – and this is true with the equipment you use, too. Making sure you install equipment properly at the beginning of a new venture or when making a new investment in your space can save you time and money in the long run.
One of the most important details for any coffee roasting space is ventilation. Firstly, poorly designed ventilation systems can lead to reduced airflow or blockages, which can affect the quality of your roast and become a fire hazard. 
Furthermore, if your roaster reaches temperatures that your venting system can't properly handle, it could cause the entire system to break down, possibly endangering everyone in your roastery. To learn more about the importance of using properly installed ventilation systems when roasting coffee, I spoke to three experts.
Lee este artículo en español Cómo Elegir el Sistema de Ventilación Adecuado Para tu Tostadora
Venting Your Roaster: An Overview
To learn more about roaster ventilation, I spoke to Ryan Karatimus, President at Usonian Systems. Ryan tells me that when he started off selling roasters, he found that a lot of customers didn't know who to turn to when it came to the more technical areas, like ventilation.
Ryan tells me that he spent a lot of time researching and understanding ventilation, which he felt was at the back of people's minds when it came to setting up a roastery. He adds that his experience on projects involving beer brewing equipment, pizza ovens, and many different coffee roasters helped ventilation become a focus.
"It's everywhere," Ryan says. "You can't go inside and look around without seeing a chimney somewhere. And setting up a good ventilation system is tons of fun, but nobody seems to know how to do it.
"We have worked with a variety of coffee roasting companies to specify and design their roaster venting system, from complicated projects through to straightforward installations."
You might also like Planning Your New Roastery Site: A Checklist
Ryan explains that even though installing a quality ventilation system requires a lot of planning, the end goal is quite straightforward. He tells me that it was easy to understand venting systems by using some simple analogies. "To me, it's just a pipe that holds a fluid," he explains. "That's all it is. Your fluid is the exhaust gas; you just need to route it properly."
He adds that foresight is incredibly important. Specialist knowledge helps, and planning before you move anything into your roastery space is key. If you don't plan ahead and your roaster ends up being in the wrong location, you might end up paying far more than you need to for a long venting run.
Ryan also highlights the importance of working with specialists who understand both coffee roasters and industrial ventilation. "I had a customer who worked with an HVAC contractor who said they knew what they were doing. However, when I came in and looked at what had been installed, I had to tell them that it just wasn't working.  
"They had to buy a US $3,000 fan because they should have had fewer angles [in the venting run] or pipes with a wider diameter."
Ryan and Usonian have worked with a number of roasters over the years to design bespoke, fit-for-purpose ventilation systems. However, he says that sometimes the "actual configuration" of the roaster in question can be a barrier in itself, and notes that it can "affect the appliance in weird ways".
"You'll see a lot of roasters vented with the cooling tray into the exhaust," he tells me. "Even though it might have been specifically designed to do that, any equipment manufacturer, and certainly any venting manufacturer, will absolutely hate doing that."
Make Sure You Use The Right Materials
First and foremost, good quality ventilation needs to be able to withstand the high temperatures that a roaster generates. Before you install a ventilation system, make sure that you have an understanding of how hot it needs to be.
If your system is installed by a standard, non-specialist HVAC contractor, it may not be able to endure the high temperatures that some modern roasters generate. Larry Rohskopf is the CEO of Jeremias, a specialist exhaust systems supplier. 
Larry tells me that Jeremias manufactures exhaust systems that can withstand temperatures well above what you'd expect from roasting coffee. He explains that it's important to test every material and part you use before incorporating it into a system. As such, Jeremias supply exhaust systems that are blast tested at temperatures of well above 1,000°C to make sure they are ready for use.
Larry adds that it's important to make sure that every part of the system can resist high temperatures, not just the main pipes and panels. Gaskets and sockets, for instance, will not have the same kind of resistance to heat as stainless steel.
"Our systems are entirely gasket-free," Larry tells me. This means that the ventilation pipework can securely connect together without the need for less durable materials that may break down over time.
Selecting the right materials isn't just about heat protection, however. Larry reminds me that it's important to consider the visual appeal of your pipework, especially if you'll be bringing potential customers into your roastery. 
"Sometimes you can actually see [the pipes], in the lobbies of coffee shops," Larry says. "If they are made with a nice bright stainless steel, it creates a smooth-looking mirror finish that is kind of attractive."
Design & Planning Are Key
A roastery is a unique space. Planning out how everything will fit in – including ventilation – is incredibly important. Often, you'll be working with a room that has limitations in terms of size and shape, and will need to consider how and where your ventilation should be placed.
However, this shouldn't be a barrier to success. By planning well ahead, you can stop ventilation from being something that needs to be considered and instead look at it as part of your roastery's wider visual appeal. 
Firstly, make sure you account for the possibility of expansion. You might start out using a smaller roaster with a venting run that isn't too demanding to install or maintain.
However, if you start increasing your output and upgrading to higher-capacity machines, remember that they will generally require a more substantial and complex ventilation system. Leave yourself enough space if you're hoping to expand and roast more coffee.
It's also important to note that you will need easy access to the ventilation to regularly clean and maintain it, much like the roaster itself. Through regular use, dust and chaff will build up in your pipes, which can cause a blockage if not appropriately addressed.
While fires generally start in the roaster itself rather than in the ventilation system, blockages will make a fire more difficult to manage in the event that it does break out.
Ryan adds that poorly designed systems don't just pose a fire risk. If the ventilation is ineffective, it can actually back pressure, which is where the airflow comes back towards the roaster rather than leading away from it. This means that dust and chaff from roasting flow back towards the roaster, affecting the quality of your roast and making blockages more likely to occur.
Richard Sandlin is the Director of Business Development at Royal Coffee. He tells me more about one of Royal's major projects, The Crown, an open-source coffee education centre based in Oakland, California. Richard explains that relying on outside expertise from Usonian helped them to deliver the project in the end.
"We needed an expert who was used to solving complicated problems in small spaces," Richard tells me. "We had a number of different roasters installed in a tight space, and we needed assistance designing a one-of-a-kind stack system that was not only safe, but also true to the aesthetics of the project."
Richard says that the planning and design was a hugely important part of a long process – not just for the venting, but for the wider space. "Designing the roasting space, building, HVAC, and eventual roaster install all took a solid 18 months."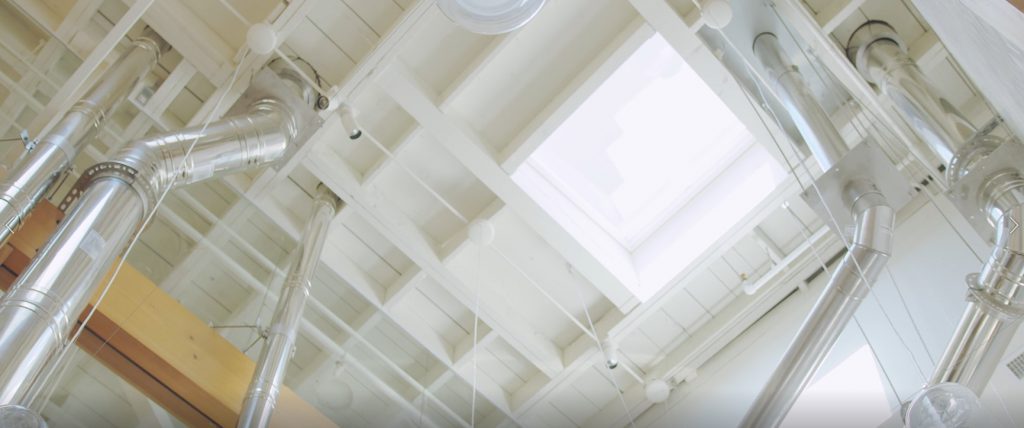 Ventilation is a key part of designing a space for roasting coffee. Whether you're replacing an old roaster or setting up a new space entirely, it's something that needs to be installed properly.
While choosing the right materials and supplier for your venting is important, make sure you plan ahead. Think the restrictions of your space and take the time to design your roastery over a period of months, not weeks.
Finally, if you're starting a particularly complicated project, consider speaking to an outside specialist. They might be able to help you plan a space where you can safely roast great coffee for years to come.
Enjoyed this? Then read How To Clean & Maintain Your Coffee Roastery
Photo credits: Usonian Systems, Neil Soque, Ana Valencia, Bax + Towner for Royal Coffee Inc
Please note: Usonian Systems is a sponsor of Perfect Daily Grind.
Perfect Daily Grind
Want to read more articles like this? Sign up for our newsletter!
Source: Perfect Daily Grind