SK Coffee Rides Again with Second Twin Cities Cafe
The Dala Horse of Minnesota is trotting through the winner's circle this winter, as St. Paul-based SK Coffee has opened its second Twin Cities retail shop.
On a bustling corner of Lyndale Ave and 24th St in Minneapolis' Whittier neighborhood, the new 900-square-foot shop can can accommodate approximately 30 guests, although it's also built to handle stampedes of grab-and-go guests.
A Slayer Steam LP espresso machine and a Fetco XTS batch brewer are primed to accommodate quicker drinks, while the slow-brew soul of the Scandinavia-inspired brand will continue to shine through V60 pourovers and Yama glassware.
"We are expecting a lot of take out service," SK Coffee Co-Founder and Head of Coffee Sam Kjellberg told DCN.
For Kjellberg, the second shop opening is something of a vindication of a business model that strives to compensate coffee producers at levels that encourage farm-level investments — even if higher costs for green beans might mean higher costs for end consumers.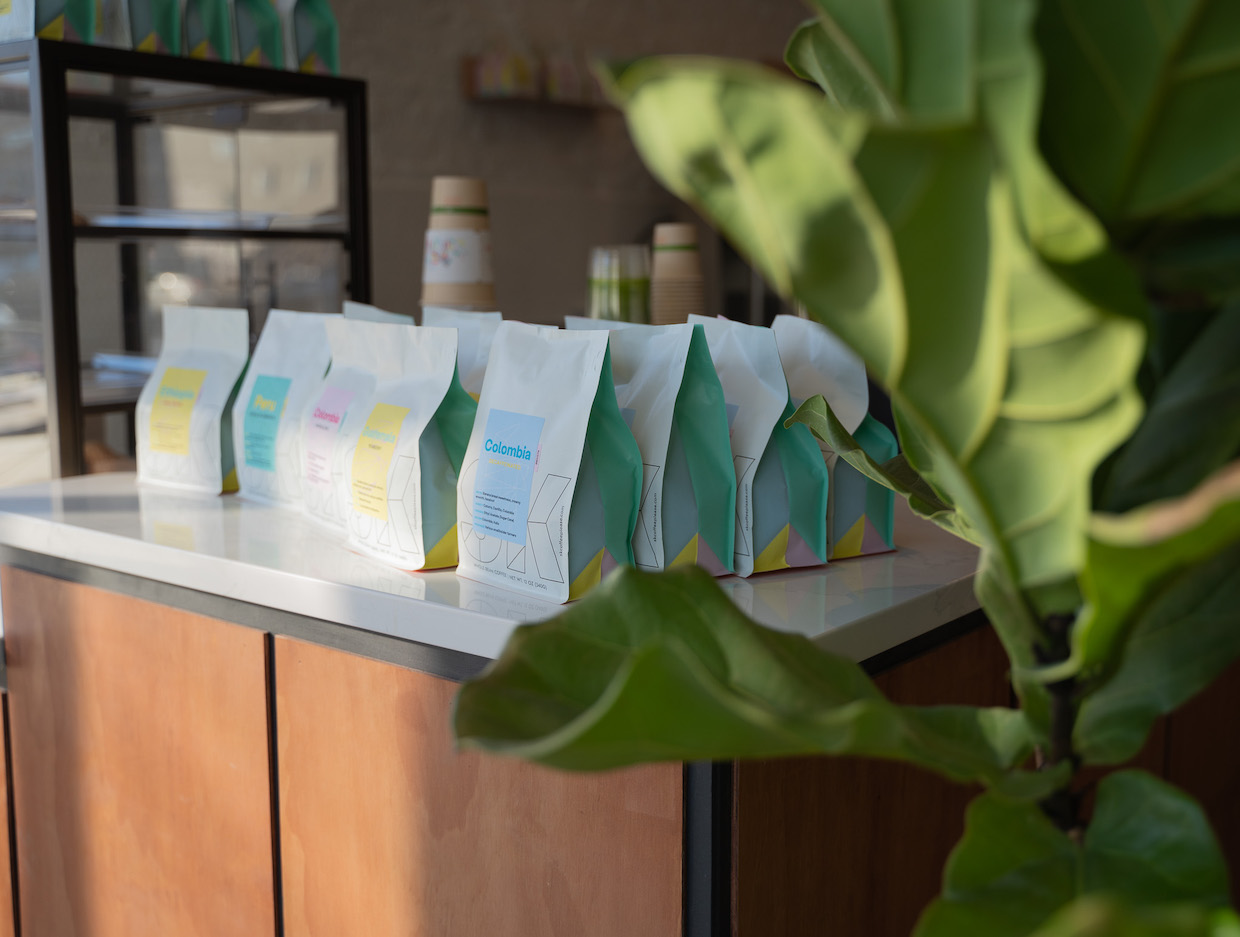 "We are entirely single origin, largely microlots, and in many cases, single-variety lots. We don't do caramel or vanilla at our shops, we have two milk options, and we feature our pourovers above all else — quite niche," said Kjellberg. "Many still argue, 'Oh Sam, that's way too niche. Nobody in the Twin Cities is ready for a $10 pourover and a $30 4-ounce bag of coffee.' But the fact is, the Twin Cities — and elsewhere — are ready. They're super excited about it, in fact."
The opening is also a homecoming, of sorts. Back in 2018, SK's original roasting facility took up approximately 200 square feet in a commercial bakery just eight blocks away. Today the company continues to roast on a San Franciscan SF25 roaster at its St. Paul location in the Vandalia Tower. The new Whittier cafe design nods to the original.
"We wanted to connect with our Vandalia location, featuring bright airiness, giving more room for the coffee so to speak, as well as specific elements like bright pops of colors among warm wood tones and mid-century modern slat work," said Kjellberg. "We play into our Swedish heritage with our dala horse logo, as well as other modern open-concept elements."
Potted plants throughout the space are also intended to remind guests of the lush green regions from which the company's coffees hail.
"[Customers] want to know the farm more than the roaster — the variety, the process and the fermentation method," Kjellberg said. "We are expanding to a second location not to save our business, but because the demand for what we are doing is so high that we needed to expand to a new neighborhood to meet and serve more keen and curious coffee lovers."
The opening comes four months after SK Coffee joined with other local roasters for the inaugural Minnesota Roaster Showcase, a free, one-day event at the Vandalia Tower that helped stoke coffee interest among drinkers all over the Cities.
"Everybody had a fantastic time, roasters and the community," said Kjelberg. "Some folks were even asking to do it twice a year — no plans for that anytime soon."
Outside of coffee, the news shop is offering fresh baked goods by local outfits Laune Bread and Vikings & Goddesses Pie Company. Pending installation of a backordered kegerator, cold options on tap will include nitro cold brew, fizzy tea, rotating botanical beverages and kombuchas, including one made from the shop's spent coffee grounds.
For 2023, SK hopes to take part in reprising the Minnesota Roaster Showcase, while co-founder Nate Broadbridge plans to lead some of the full-time staff on a trip to Nicolas Ocampo Maya's farm in the Valle del Cauca region of Colombia.
"But first, we are excited to hunker down and develop a deep connection to the communities our shops are in," said Kjelberg, "specifically through our exploration of beautiful coffee."
---
SK Coffee Whittier Coffee Bar is located at 2401 Lyndale Ave S. in Minneapolis. Tell DCN's editors about your new coffee shop or roastery here. 
More From DCN
Howard Bryman
Howard Bryman is the associate editor of Daily Coffee News by Roast Magazine. He is based in Portland, Oregon.
Source: Daily Coffee News