SE Michigan's White Pine Coffee Roasters Carves a Cafe Out of New Roastery
Roughly eight months after moving its roastery into an expansive, 110-year-old former grain storage building, Southeast Michigan's White Pine Coffee Roasters has branched out with a retail cafe on site.
With more than 5,000 square feet of space inside the historic structure — which was, as fate would have it, constructed with local pine — White Pine opened the shop last month along the Polly Ann Trail in Oxford.
"You really can't dream up a better scenario," White Pine Coffee Roasters Co-Owner Brad Kopek told Daily Coffee News. "The narrative backstory of WPCR is the logging industry of Michigan from the 1880s through to the early 1900s. The building was perfect for our brand and aesthetics."
A century-old grain silo bulges from one corner of the cafe, where shiny espresso and coffee equipment gleams in contrast to the exposed wooden pillars and walls. A glass door and a garage bay door offer guests views into the roastery, where fresh concrete flooring supports a 15-kilo Joper roaster.
"Since our inception, we have been big on customer education, and so for that reason we felt it was important to give our customers a glimpse of the action in the roastery," said Kopek. "We modernized some of the finishes for the sake of running a busy cafe and production roastery, and strived to leave the character and bones of the building exposed."
---
Related Reading
---
A verdant green La Marzocco GB5 espresso machine paired with a Mahlkönig E65S grinder on the bar echoes the green paint of the Joper while helping preparation of drinks made with White Pine's Saw Mill espresso blend. A Eureka Olympus NEO 75S grinder is reserved for coffees in the Lumber Baron's Reserve single-origin line, while a Mahlkönig Guatemala grinds for Kalita Wave pourovers and batch brews produced with a Wilbur Curtis G4.
A pair of Ditting grinders break the beans in the production space for pre-ground orders and for White Pine's Crackalacka cold brew, made with Brew Bomb brewing equipment.
Founded in 2014 by Kopek, Megan Meganck and head roaster Bryan Meganck, the company located less than an hour's drive north of Downtown Detroit strives to pair high-quality coffees with accessible price points for local consumers.
Working with importers such as Cafe Imports and Royal New York, the company leans towards natural-process coffees and greens featuring more experimental post-harvest processing methods.
Kopek said the company will also occasionally "splurge" by purchasing rare coffees, including naturals from Yemen, Gesha-variety greens or Cup of Excellence winners.
As the company settles further into its new headquarters, the White Pine crew may soon add a large covered patio and outdoor space with seating and bike racks for travelers along the Polly Ann Trail.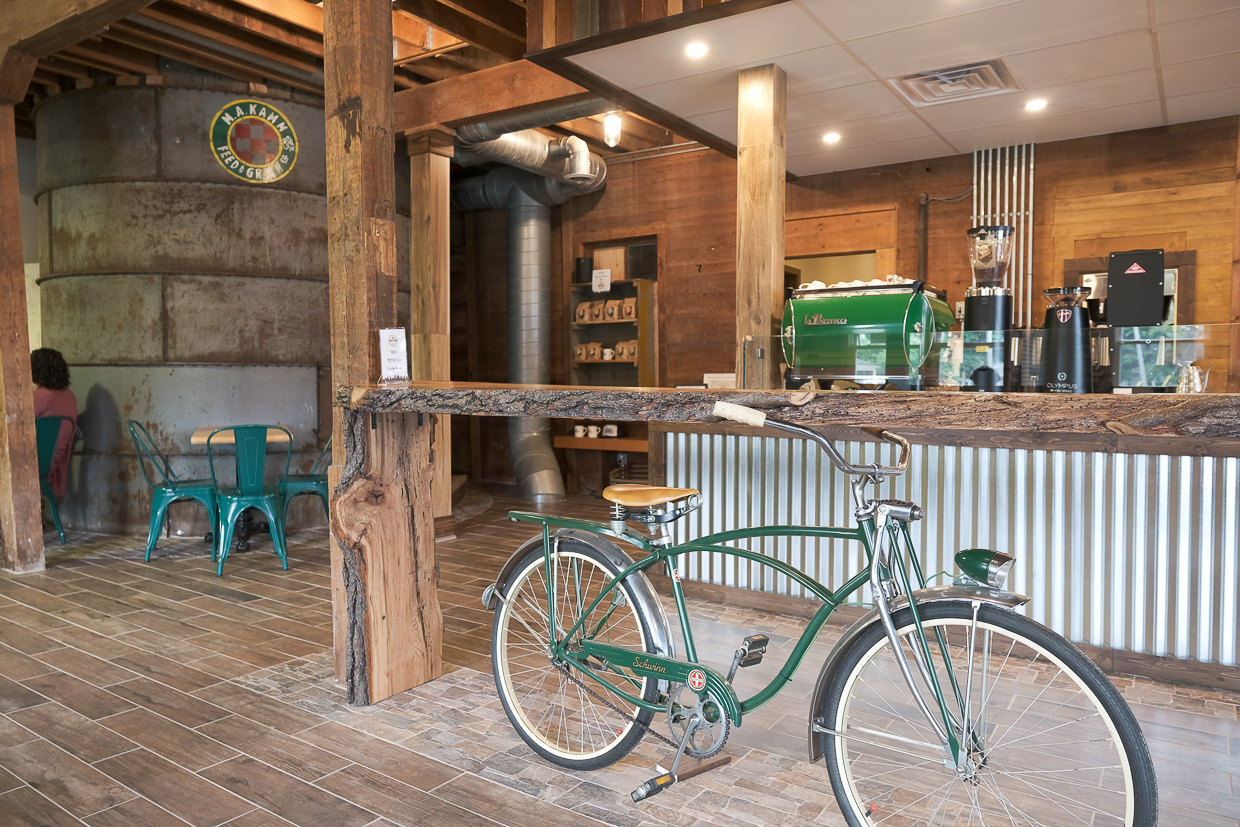 Additional space inside will also soon accommodate private events and a coffee education room for public events and wholesale training.
---
White Pine Coffee Roasters is located at 33 Pleasant St in Oxford, Michigan. Tell DCN's editors about your new coffee shop or roastery here. 
Howard Bryman
Howard Bryman is the associate editor of Daily Coffee News by Roast Magazine. He is based in Portland, Oregon.
Source: Daily Coffee News