Quality Coffee Flows in Florida at the Pumphouse Pouratorium
Pumphouse Coffee Roasters is fully primed with the opening of the Pouratorium, an approximately 7,700-square-foot flagship roastery, coffee bar, kitchen and training center in West Palm Beach, Florida. 
The Pouratorium occupies a portion of the ground floor of a massive former Serta mattress factory in the city's Warehouse District, where neighbors include an indoor soccer club, a crossfit gym and a coworking space, with additional retail spaces still available.
Taking advantage of an interior loading dock left over from the mattress days, the Pouratorium elevates the enjoyment of coffee both figuratively and literally. Its coffee bar, seating area and QC/training lab are part of an approximately 5,000-square-foot upper level that is four feet higher than the production floor and kitchen area. 
With the lab also visible from the cafe, customers have unique views into industrial activities all around them.
Used for green coffee profiling, quality control and training, the lab is also a space for public cuppings and classes. It also serves as a studio for the creation of content for YouTube, social media and education.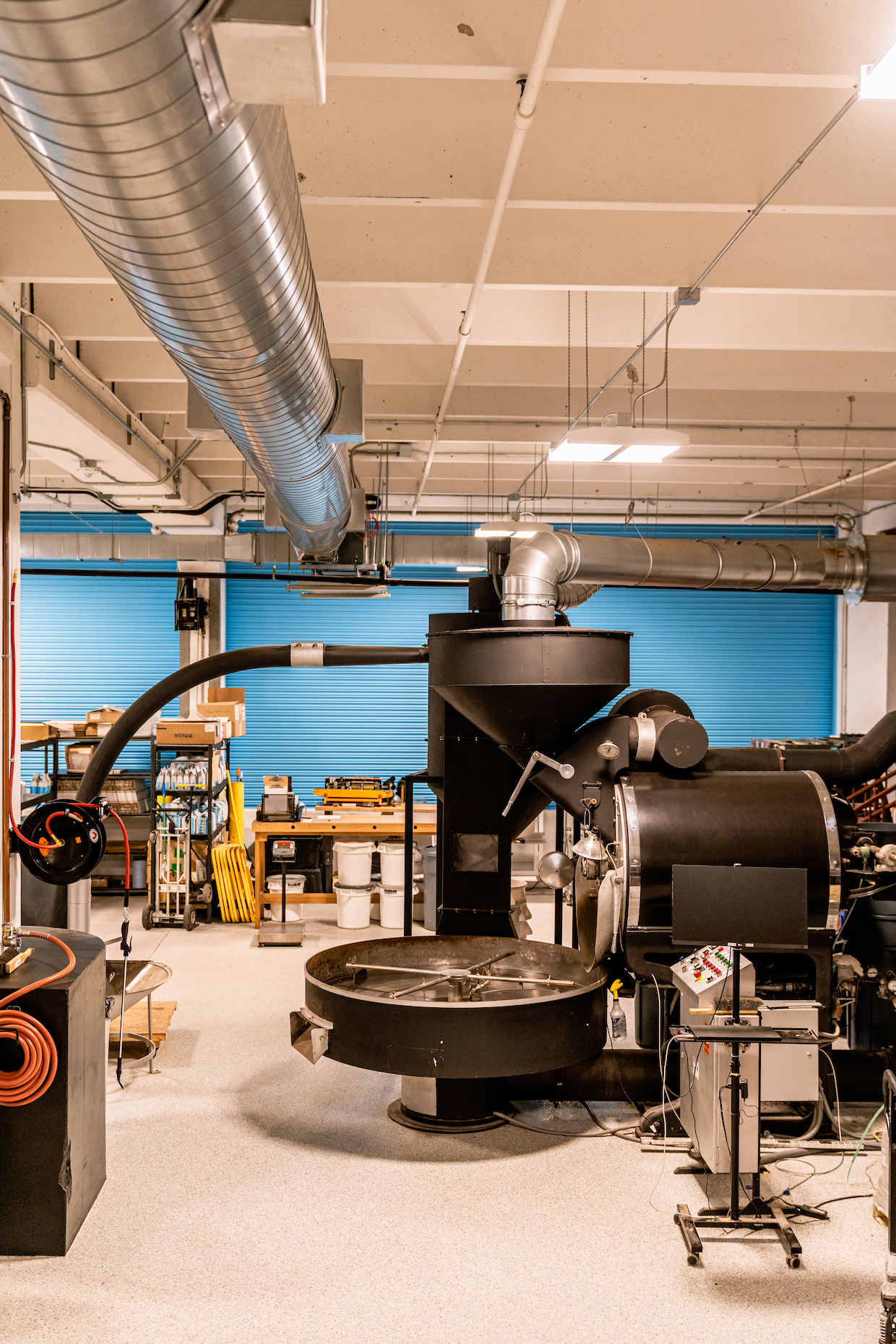 "A lengthy back bar in the lab has a plethora of 208-volt and 110-volt outlets behind the machines, so we can plug and play to our hearts' desire," Pumphouse Coffee Roasters Co-Founder Alex Le Clainche, who runs the company with his brother and business partner Christian Le Clainche, told Daily Coffee News. "What I've learned over the course of our business is that we always have machines coming and going, so it was important to me that we put a robust series of outlets so we can plug and play machines and adjust for training."
Goodies in the lab include a Kees van der Westen Mirage espresso machine that will soon also be joined by a flow-control-equipped Speedster. Multiple La Marzocco GS3 machines are also present, all fed by an Eversys R.O. water purification system.
Said Alex Le Clainche, "I even found a used Clover, if you can believe that, which will be going in the lab." 
The arsenal behind the retail coffee bar includes a high-gloss white powder coated Slayer Steam LP espresso machine and Curtis Seraphim pourover modules accompanied by Mahlkönig grinders and two Acaia Orion bean dosers. A matching white BKON brewer is used primarily for specialty teas but is also a fun resource for experiments with coffee, while beneath it, under the counter, a Curtis G4 batch brewer is tucked away.
A glycol chiller in an unseen storage room cools cold brew, kombucha, a draft latte and soda water on its way up to a custom copper and brass tap tower made for the shop by New York-based Tapped Beer. Pumphouse General Manager Emily James, who previously worked at the Pumphouse joint ice cream/coffee bar venture Cones and Coffee, keeps the new bar running smoothly.
"She ran [Cones and Coffee] so well the choice was always clear that she was going to manage this space," said Le Clainche. "When I would be working on bar with her, she would build customers' drinks ahead of them walking in just by identifying them by the car they pulled up in."
Behind an olive penny tile wall, the Pumphouse kitchen is turning out flavorful toasts, waffles, burritos and more. In the two ADA-compliant bathrooms next to it, a herringbone pattern runs floor to ceiling with a "Pumphouse blue" grout Le Clainche said pays tribute to the company's early days.
Pumphouse Coffee Roasters was founded by the brothers Le Clainche in Jupiter, Florida, in 2016, with a Probat L12 production roaster and big dreams for transforming the regional coffee scene. Since then the company opened Cones and Coffee in Jupiter through a partnership with Coral Cones, plus a retail bar inside of West Palm Beach's Grandview Public Market. The business also supports more than 100 wholesale clients. 
The new production floor now supporting all facets of the business has what Le Clainche calls dry and wet sides. The dry side features Probat G90 and L12 roasters as well as the packaging and order fulfillment of beans browned within them. On the wet side, a Deutsche Beverage Technology 15-barrel mash-tun stands by a 15-barrel brite tank for cold brew production and the kegging operations.
Head roaster and production manager Will Hagins previously worked with his sister, a vintner and cider producer, in Sonoma County.
"He's got a great sniffer and he and I still run QC, buying decisions, profile development and some other odds and ends in tandem," said Le Clainche. "He started with us washing kegs and now roasts about 85-90% of our coffee. Definitely the longest standing tree in the forest."
Coming soon down the Pumphouse pipeline is a modernized 1964 Probat G75 roaster that will replace the L12 on the main production floor as the L12 is relocated to the lab alongside the IR-1. This will support continued expansion in the company's wholesale business, while a potential second Pouratorium is also in planning stages for a location outside of Florida. 
"We're at around 22 employees right now, with the hopes of growing that to 30 in the coming months," said Le Clainche. "The dreams keep coming true."
---
The Pumphouse Pouratorium is located at 1016 Clare Ave STE 5A in West Palm Beach. Does your coffee business have news to share? Let DCN's editors know here. 
More From DCN
Howard Bryman
Howard Bryman is the associate editor of Daily Coffee News by Roast Magazine. He is based in Portland, Oregon.
Source: Daily Coffee News