Quality and Freshness Are Off the Hook at Dry Fly Coffee in New Paltz
With house-roasted coffees, locally sourced ingredients and the culinary prowess of a big city chef, Dry Fly Coffee is reeling customers into its newly opened roastery and bakery cafe in New Paltz, New York.
Founded by Noah Michaels, a Culinary Institute of America graduate and former chef at the famous New York City restaurant La Côte Basque, the cafe serves pourover and espresso-based drinks made with coffees roasted right behind the counter in an electric Bellwether V2 machine.
These drinks pair well with items from the naturally leavened viennoiserie menu of pain au chocolat, turnovers, cookies and croissants made on site using flour, fruit, chocolate and dairy that are all produced within the region.
The local sourcing commitment is part of the new company's broader commitment to reducing its environmental impact. Inside the shop, reclaimed wood is used for the counters, tables and other surfaces. A Huskee Cup exchange program is aimed at minimizing single-use cup waste, while biodegradable Biotre bags are used for coffee packaging. 
On the ground floor of a Platinum LEED certified multi-use building in New Paltz called Zer0 Place, Dry Fly Coffee is also heated and cooled by the building's geothermal heat pump system, and powers its Bellwether as well as its ovens with electricity drawn from solar panels on the building's roof.
"We chose to build out our space in accordance with the LEED rules, paying careful attention to building materials, VOC levels and energy efficiency," Michaels recently told Daily Coffee News. "We added a Victoria Arduino Eagle One as our espresso machine to be a centerpiece of our sustainability initiatives. Finally, we're working with a local shipping company, Schooner Apollonia, which does sail freight up and down the Hudson River to bring our green coffees up from the warehouses in New Jersey to us."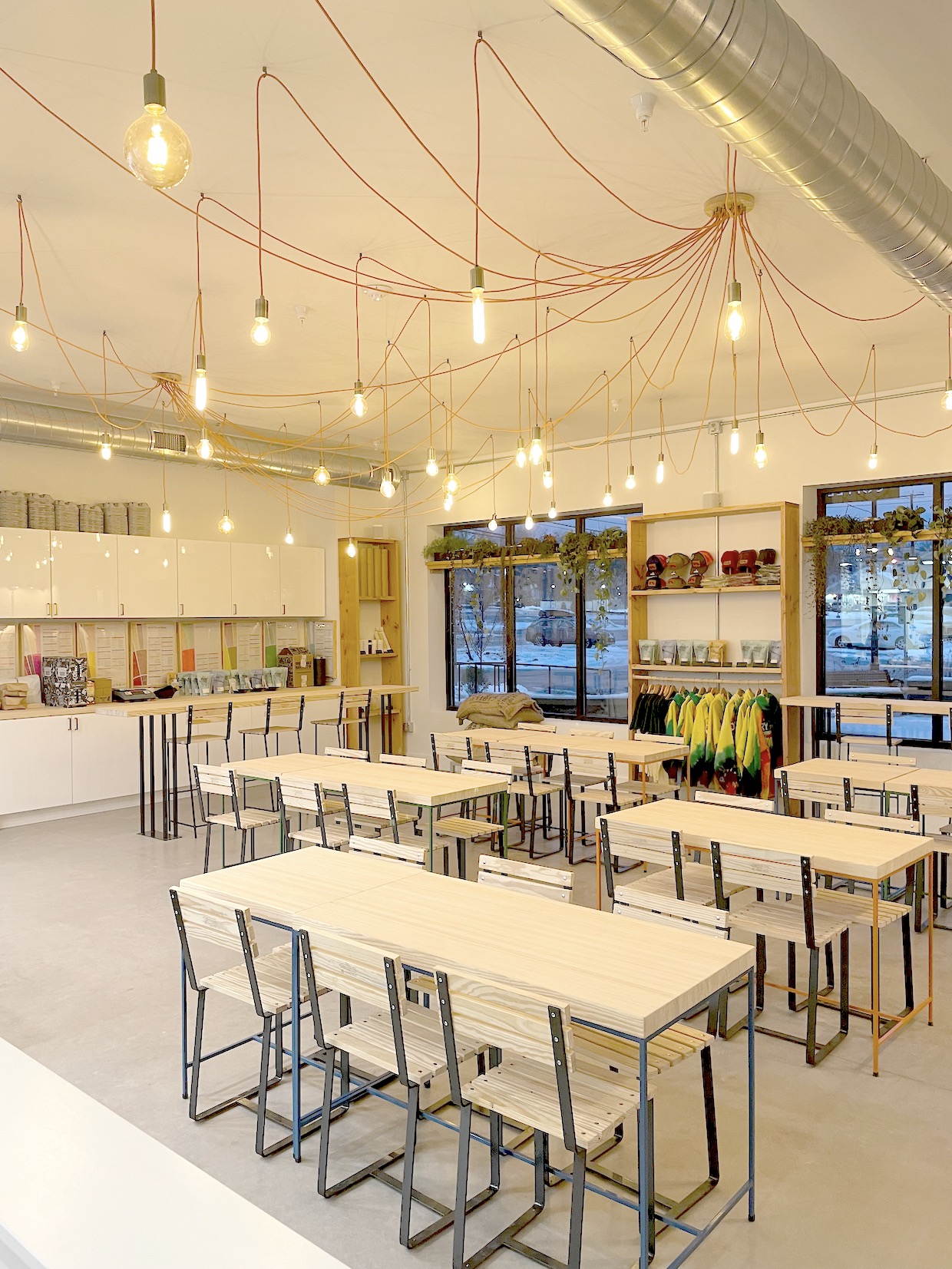 The layout of the 50-seat shop maintains a spirit of transparency, with views into the bakery and kitchen and out to the Wallkill Valley Rail Trail.
"This forces the staff to work cleanly and professionally, with intention to every action," said Michaels. "We used reclaimed wood from bowling alleys to make our bar tops and all of our furniture and added lots of plants to balance out the industrial, unfinished feel of the space and finally added a riot of different shaped LED lights to add just a little controlled chaos."
Some Dry Fly coffees are purchased through importers such as Covoya and Royal New York, and are profiled first on an Ikawa sample roaster prior to transferring into the Bellwether. Coffees for Dry Fly's core menu continue to be purchased from the Bellwether green coffee marketplace and roasted using Bellwether's prescribed profiles.
Michaels did apply some subtle roasting tweaks for differentiation in its Bellwether-sourced single origin coffee offerings, such as its Colombian Magia del Campos coffee, bought through the verified living income project between Bellwether, importer Sustainable Harvest and nonprofit Heifer International.
"We're generally looking to purchase coffees that have verifiable impact at origin, either supporting under-represented producers or by making major investments back into the community, and look to balance those priorities with coffees of amazing qualities so we can help tell those stories," said Michaels. "Usually we will roast a few different variables on our Bellwether and have a team cupping to decide which profile we think best represents the coffee's potential."
Michaels looks forward to further applying his culinary chops at Dry Fly as the food menu expands to include fancy toasts, egg dishes, bowls and stews in the near future.
"We've only been open for a little more than a month, so we are still working out a lot of things," said Michaels. "We're looking to really flesh out our menu and add a lot of food items. We've also been working on a new series of tropical-inspired drinks, for a little sunshine in the middle of the upcoming cold winter in New Paltz."
---
Dry Fly Coffee Company is located at 87 North Chestnut Street in New Paltz, New York. Tell DCN's editors about your new coffee shop or roastery here. 
More From DCN
Howard Bryman
Howard Bryman is the associate editor of Daily Coffee News by Roast Magazine. He is based in Portland, Oregon.
Source: Daily Coffee News