Metro Coffee Goes City Roast and Beyond in Casper, Wyoming
Casper, Wyoming, coffee house and hangout spot Metro Coffee has opened its third retail location this week while also rolling out its first house-roasted coffees. The launch of the roasting operation coincides with the coffee company's 20th anniversary.
Sean Peverley, a former medical technologist who with partners bought Metro Coffee in 2017, started loading hoppers and filling Metro-branded retail coffee bags this week. He and his son, Metro Coffee Operations Manager Carter Peverley, now roast the company's beans in a Diedrich IR12 roaster that stands at the center of the new 1,500-square-foot roastery.
The new location also serves beans and drinks directly to customers through a drive-through window and an indoor counter.
Both father and son recently obtained SCA skills certification in roasting, green coffee, and sensory skills under the tutelage of Mike Ebert at Firedancer Coffee Consultants. Sean Peverly told Daily Coffee News that their goals now for the green coffees they source through Olam is to match the styles and quality of the company's previous supplier, Denver-based Dazbog Coffee, while introducing some new lighter-roasted, single-origin options.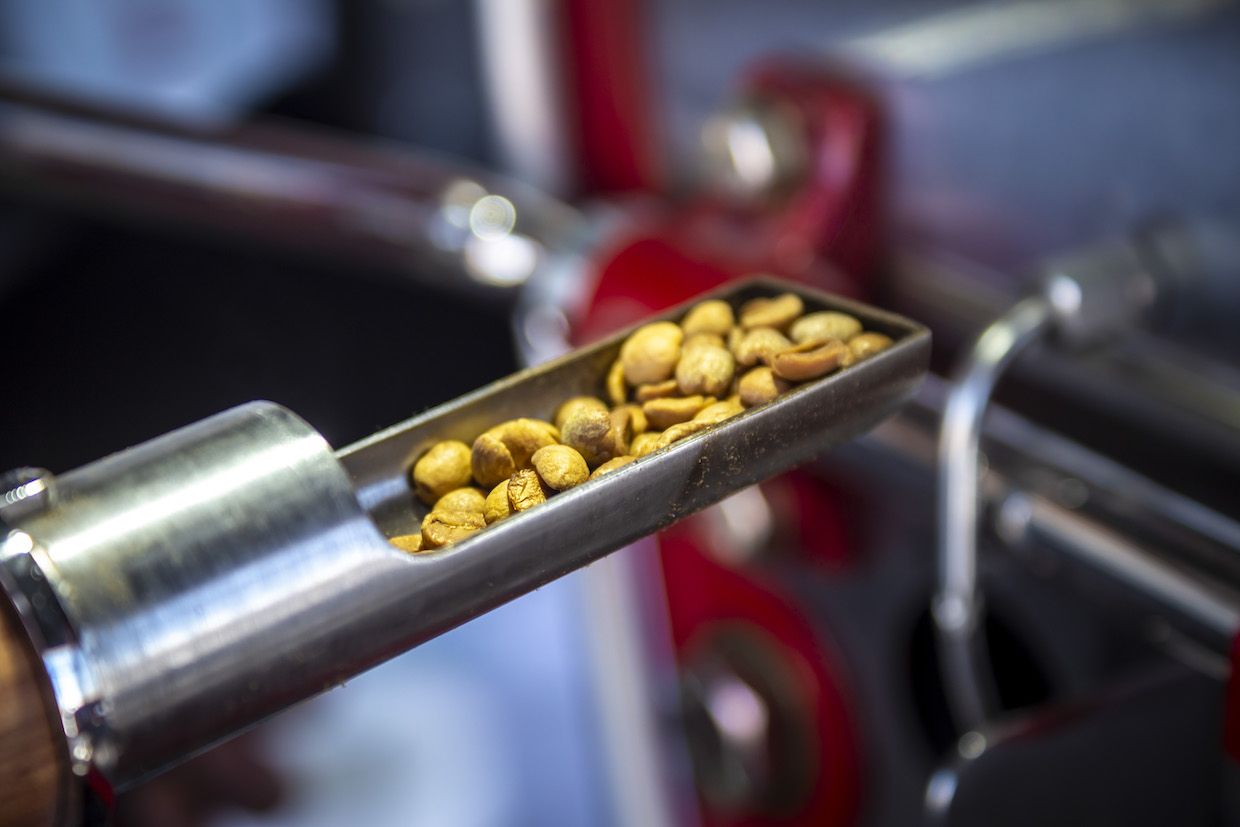 "On the light end we're going lighter than Dazbog for sure, but on the dark end we're trying to get in their same kind of wheelhouse," Peverley told Daily Coffee News. "Their whole premise is to make a strong espresso so you can, number one, get a good espresso, and then punch through a latte when you're putting milk and sugar in there. We want to make sure that you can still taste the coffee."
---
Related Reading
---
When Peverley and business partner Krisinda Taylor-Wilcox took over the business five years ago, they wanted to continue the company's nearly two-decade legacy of offering a strong community space in Casper with art shows, performances and more. Where they saw some room for change was in the drinks and their delivery, while the "lived in" feel of the original cafe needed some sprucing up.
"Customer service and quality are the huge changes that we made, and I think it's served us leaps and bounds at this point," said Peverley. "I come from a lab setting, so we clean and clean and clean; [Taylor-Wilcox] comes from an O.R. where it's disinfected beyond disinfected; so we walk into this place and think, oh, that's number one, let's make this place look way better."
Since then, Metro has become the resident coffee drinks provider at the Ford Wyoming event center in Casper, and in December 2020 Metro expanded to a second cafe on the east side of town.
As of this week, an Astoria Gloria espresso machine paired with a Casadio grinder and a Bunn batch brewer are helping bring drinks forth at the new roastery cafe. As Metro-roasted beans now flow to all three retail locations, more shops may soon be on the horizon.
"Right now we're all in Casper. We're central, we're east, we have the event area; our next location would probably be the west side of Casper," said Peverly. "Then we'll focus on that for a bit, and then at some point, look into franchising or moving outside of the city."
---
The Roastery by Metro Coffee is located at 411 W Yellowstone Hwy in Casper, Wyoming. Tell DCN's editors about your new coffee shop or roastery here. 
Howard Bryman
Howard Bryman is the associate editor of Daily Coffee News by Roast Magazine. He is based in Portland, Oregon.
Source: Daily Coffee News