Meridian Coffee Co. Expands the Coffee Circle in Plymouth, Michigan
Drawing new lines on the specialty coffee map of Southeast Michigan is Meridian Coffee Co. (Instagram link), a new roasting company that opened a cafe last month in Plymouth's Old Village.
One aim of the entrepreneurial endeavor by the father-and-stepson team of Reggie Wessel and Kilian Pauls is to help local coffee drinkers navigate away from fast-food-style coffee for a more craft-oriented experience.
"You can really taste the difference between small batch artisan roasted coffee and big commercial roasted coffee," Wessel recently told DCN. "There is a difference, and we just wanted to bring that to this side of Plymouth."
Nestled among a row of 1930s buildings, the approximately 1,700-square-foot Meridian cafe features a shiny La Marzocco Strada machine against a clean white wall and a modern black grid ceiling on one half. The other half of the shop includes locally made black walnut tables against an original brick with, with filament-style LED bulbs hanging from the original tongue-in-groove pine ceiling.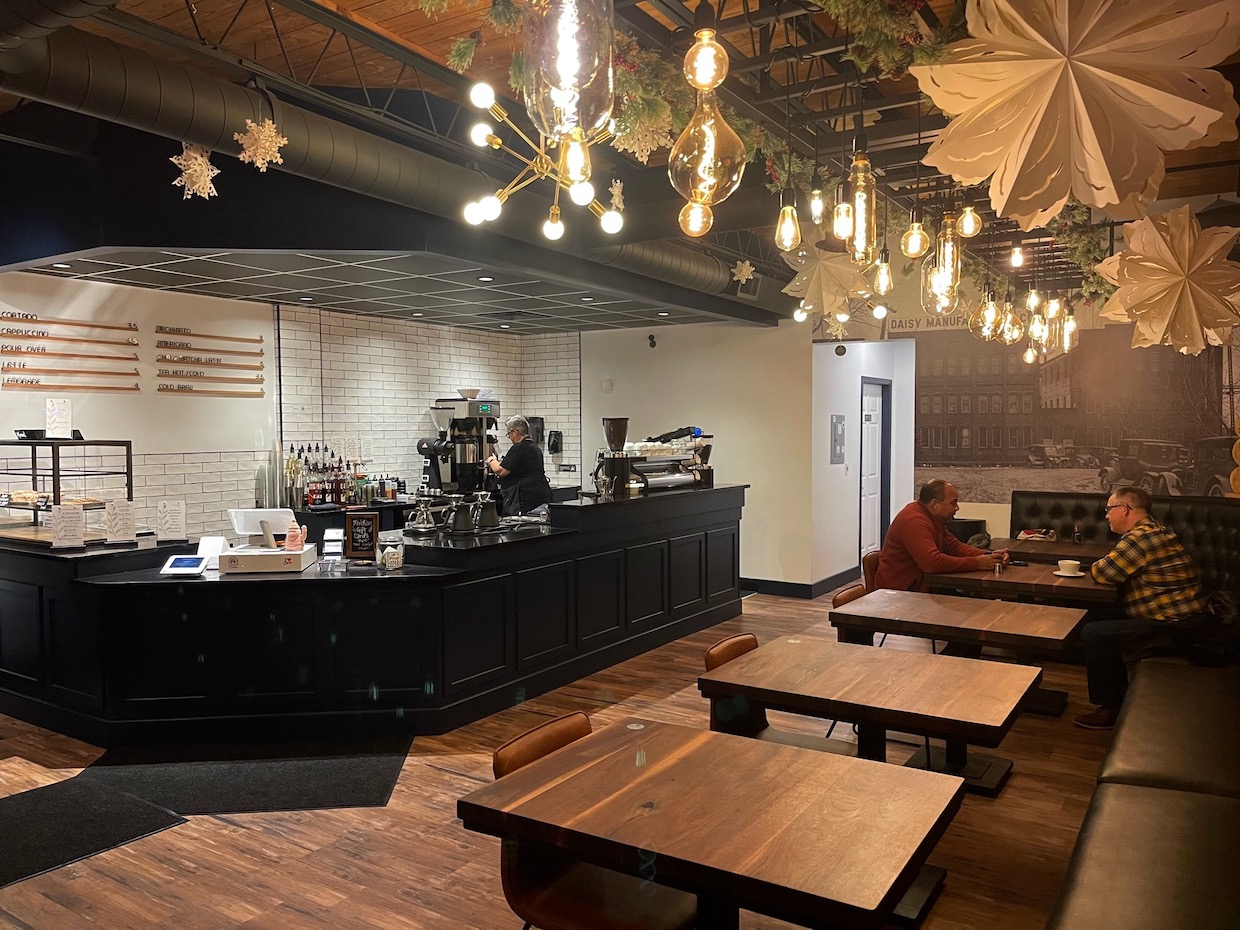 "We wanted more of a whiskey speakeasy kind of dark, softer feel to our cafe," said Wessel. "Our countertops are all starry night quartz, so they sparkle with the yellow, softer lights for a very natural look."
In building out the shop, Wessell and Paul maintained an emphasis on local materials, as well as local ingredients. 
"A local table maker made our tables, we got our chairs local, we get our dairy from a local dairy farm," said Wessel. "We try to keep as much local as we can."
Pauls roasts Meridian's coffees on a Diedrich IR5 roaster in a facility not far from the cafe that is located on the north end of the city. Soon that roasting operation will relocate into an additional 800-square-foot space under the same roof of the cafe. 
"Right now we're offering pourovers of Brazilian, Ethiopian and a Colombian coffee, and we sell all the equipment that we use in our shop to make a pourover so that people can replicate it at home," said Wessel. "We plan to move our roaster from our off-site facility to the back and have it on display where people can see us roasting our coffee, as well."
Drinks are served alongside pastries made locally by Cannelle Pastries. The menu veers only slightly away from coffee into a selection of teas, lemonade and other refreshments, though the poles between which Meridian extends will always be pure coffee.
"I won't have a blender in here; that's my one rule," said Wessel. "I will do no blended drinks and no granita machine. You know, it's just not my thing. We want to focus on our coffee drinks, and from the feedback we've been getting so far, people love them. People drive to come to our shop, which tells you something."
Wessell and Pauls previously operated Detroit Vapor Shop in the Old Village space but ultimately pivoted towards coffee as a better fit for the neighborhood. 
After training on a Probat roaster under Nick Ferris at the BD Barista School in Ann Arbor, the Meridian founders spent several months practicing on their Diedrich before commercially launching the roastery. 
"We have a couple of really good coffee shops in the area. Espresso Elevado in downtown Plymouth is a fantastic roastery; they roast their own," said Wessel. "We just wanted to bring something along those lines over here to the Old Village community."
---
Meridian Coffee Co is located at 636 Starkweather Street in Plymouth.Tell DCN's editors about your new coffee shop or roastery here. 
More From DCN
Howard Bryman
Howard Bryman is the associate editor of Daily Coffee News by Roast Magazine. He is based in Portland, Oregon.


Source: Daily Coffee News