In New Orleans, Current Crop Cultivates the Home Roaster Market
Home coffee roasting has taken up high-profile residence along New Orleans' busiest commercial corridor with the recent opening of Current Crop Roasting Shop.
After a soft opening that followed the festivities of Mardis Gras, Current Crop held its grand opening on Magazine Street on March 1, welcoming guests inside to sample green coffees and home roasting machines.
"The home roasting market and fan base is definitely growing, but it's still a small fraction of the consumers overall," Current Crop Roasting Shop Store Manager Ezra Remer told DCN just prior to the opening. "That's something we're trying to grow."
Current Crop occupies a mid-1800s one-story "shotgun house," in New Orleans, a city that is also a major U.S. coffee port. Inside, the shop currently offers a selection of more than 70 green, unroasted coffees for purchase in quantities ranging from as little as half a pound up to five-pound bags, according to Remer.
Three roasting stations inside the shop allow guests to roast small quantities of coffee from the shop's "bean library," as it's called, to try new coffees, explore new roasting machines and generally engage more deeply with the coffee production process.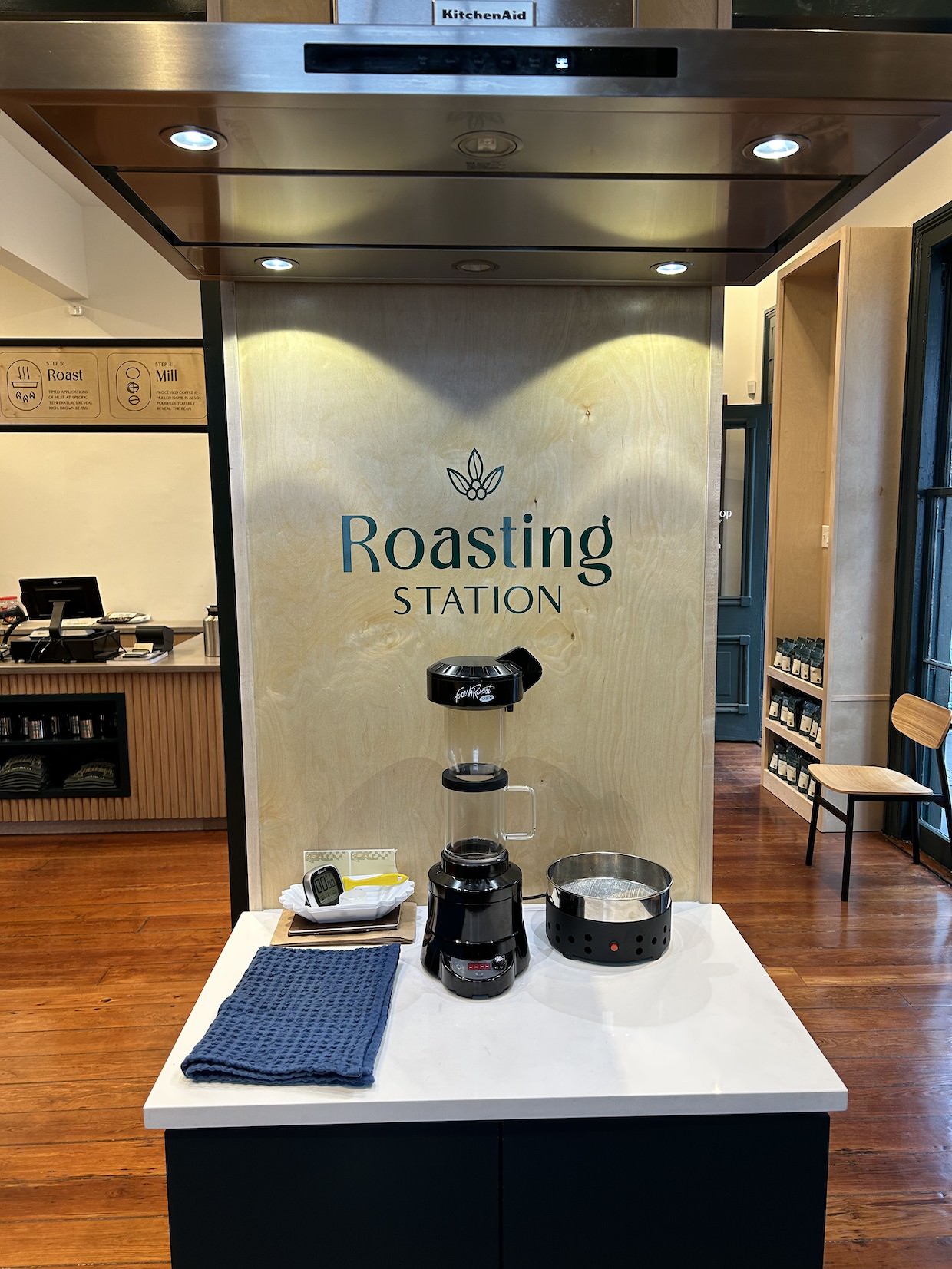 "The beauty of having a retail physical location is that people can come out here and try it themselves and learn about how the coffee gets here," Remer said. "The vast majority of people coming in are just curious. It's an educational experience as much as it is a retail store experience."
The roasting stations feature machines from the home-focused brands Fresh Roast, Genecafe, Behmor and Hottop, and all machines are also available for sale.
Current Crop Roasting Shop is founded and owned by John Puckett, who is also the owner of Coffee Bean Corral, a prominent home coffee roaster machine and online green bean marketplace based in nearby Jackson, Mississippi, that dates back to 1994.
In an announcement of the opening, Puckett said the retail concept is designed as a natural extension of the Bean Corral businesses, while offering direct, personal connections to New Orleans locals and tourists alike.
Catherine Mansell, a certified Q grader who formerly served as the lead green coffee buyer for Coffee Bean Corral before relocating to New Orleans, is now the director of product and planning at Current Crop.
In addition to coffee bean and roaster sales, the shop plans to roll out classes, tastings, cuppings and other educational events designed to further draw guests into the joys of coffee.
"We're incredibly excited to contribute to the coffee culture of New Orleans," Puckett said. "We want to bring the love of home roasting to all those who appreciate a good cup of coffee."
---
Current Crop Roasting Shop is located at 3931 Magazine St in New Orleans. Does your coffee business have news to share? Let DCN's editors know here. 
More From DCN
Nick Brown
Nick Brown is the editor of Daily Coffee News by Roast Magazine.
Source: Daily Coffee News