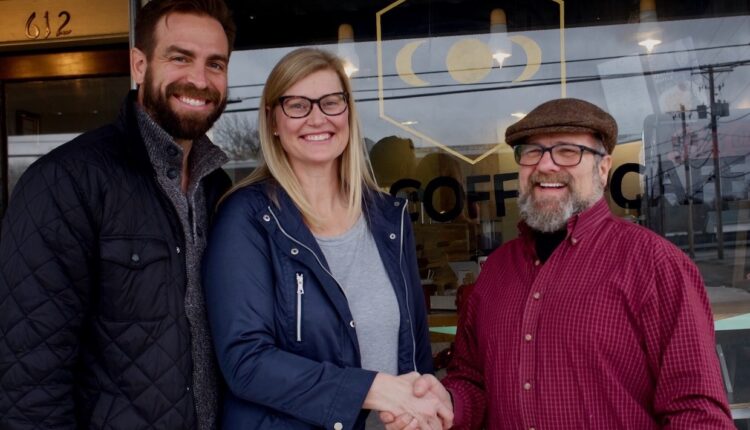 Honey Moon Coffee and Evansville Coffee Tie the Knot in Indiana
Two southern Indiana coffee companies have formally engaged in Evansville, with retailer Honey Moon Coffee Co. acquiring roaster Evansville Coffee Company. 
The companies declined to disclose the financial terms of the deal, but said that Evansville Coffee Founder Tim Piazza will remain on board for a few months to help with training and ambassadorship. 
Meanwhile, Honey Moon Coffee Co-Owners Zac and Jessica Parsons are planning to open a new location into which the roasting business will move. The move will include Piazza's 12-kilo US Roaster Corp Millennium production roaster. 
"We knew as we were growing, it was making more sense for us to explore either developing roasting capacity on our own, or at least exploring the possibility of a partnership or a merger or something like that," Zac Parsons recently told DCN. "It took a little bit of negotiating [to find] what made the most sense. We weren't just needing to acquire the capacity to roast, in terms of the equipment, but also his expertise, his processes, recipes that we had developed together."
Jessica Parsons echoed Zac's sentiment regarding Piazza's involvement and expertise. 
"It made a lot of sense for us," she said. "We would have a huge learning curve if we did this on our own."
The Parsons' relationship with Piazza extends back to before either coffee business opened. Piazza previously owned another Evansville coffee shop before launching the roasting business in 2016, the same year that Honey Moon opened its first coffee shop. 
"We didn't plan on both getting into coffee when we did," Zac Parsons said. "But we recognized that need in our community together."
Now with three retail shops in the Evansville area, Honey Moon been one of Evansville Coffee's key wholesale accounts. As the Parsons' prepare to begin roasting their own, they intend to amicably move away from their other main supplier, Black Lodge Coffee Roasters, based in nearby New Harmony. 
The forthcoming Honey Moon roastery will be located in the Rogers Academy of Hair building on Evansville's west side.
Said Zac Parsons, "As soon as we get clearance through the city and the county and the state, we will move into the new building, as well as opening our own fourth cafe location in another side of that building." 
The husband-and-wife Parsons duo plans to further engage guests in the craft and quality of specialty coffee, with hopes to ultimately provide roastery tours and other educational events. The couple is also exploring a venture that might lean into the "Honey Moon" name — coffee subscriptions designed as gifts to newlyweds.  
Meanwhile, the company has grown to include its first salaried workers last year, and one employee is currently roaster-training under Piazza's tutelage. 
Said Zac Parsons, "The better we do as a company, the better we're able to take care of our people, which is why we're open to growth in the way that we are." 
---
Does your coffee business have news to share? Let DCN's editors know here. 
More From DCN
Libby Allnatt
Libby Allnatt is a writer with a passion for trying new coffee shops. She lives in Salt Lake City, Utah. 
Source: Daily Coffee News