Hilton Head Island Coffee Coasts Into a Roastery Cafe
Tucked between the beaches and boughs of Hilton Head Island in South Carolina, two-year-old roasting company Hilton Head Island Coffee Roasters recently opened its first permanent coffee bar. 
Roughly half of the company's approximately 825-square-foot roastery is now devoted to the new coffee shop, which sits within close proximity to numerous other craft beverage purveyors, including Hilton Head Brewing Company, Island Winery and Hilton Head Distillery. 
From the coffee counter, guests can see straight back to the company's 6-kilo-capacity Mill City Roasters machine next to pallets of green coffee.
As ordinances on the island constrain exterior signage and design, the company made an extra effort to liven up the interior design, according to Hilton Head Island Coffee Owner Susannah Winters. 
"They want the focus when you come here to be the trees. They don't want any of the colors overpowering the natural elements — and there's a lot of outdated buildings and a lot of beige," Winters told Daily Coffee News. "We wanted to have a lot of colors, some vividness and some life when you walk in that feels different than the rest of the island, but is also still cohesive."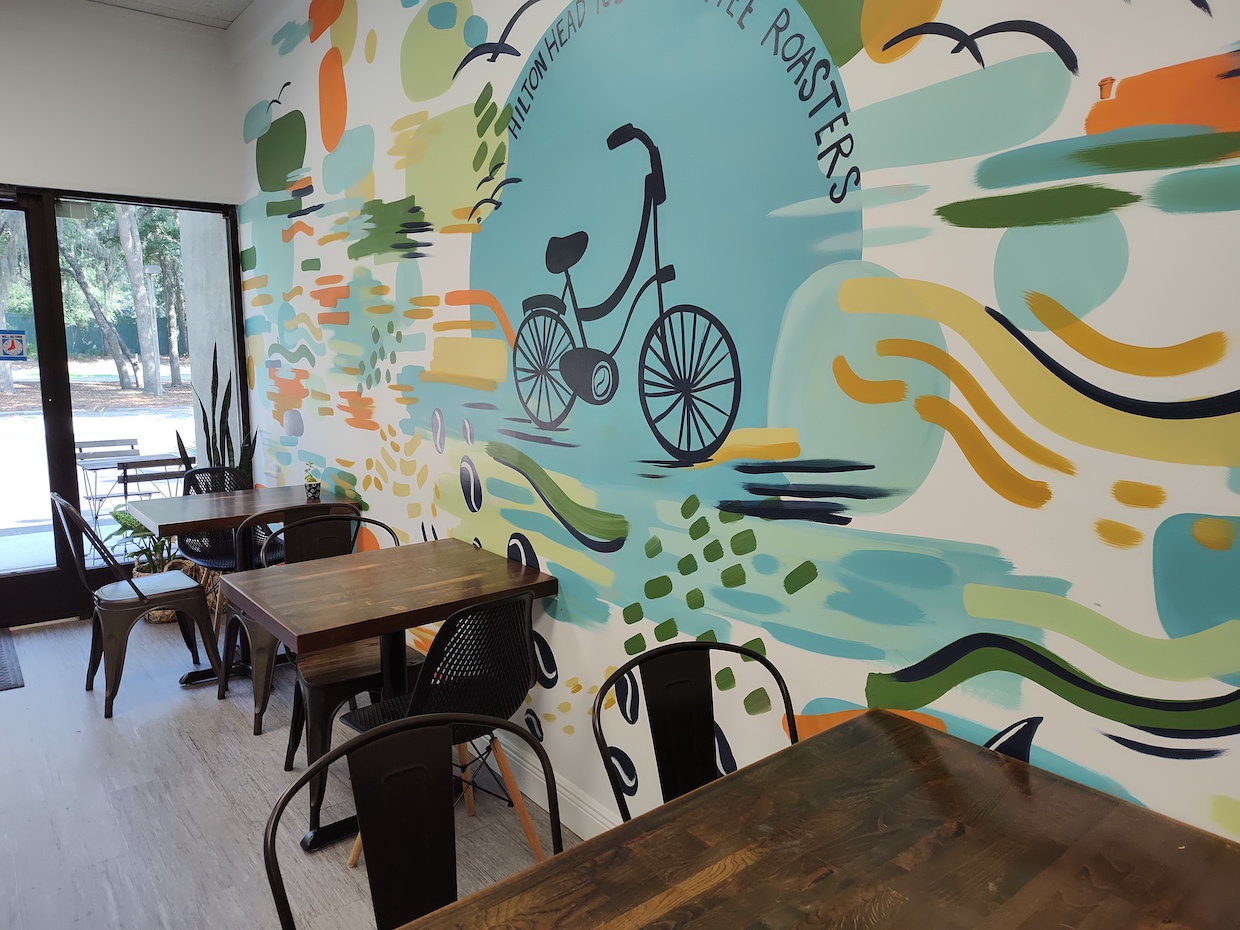 A colorful full-wall mural references the company's bicycle logo amidst some abstract and beach-oriented details, all of which plays off of stripes on the opposite wall. Guests, especially those with kids, are encouraged to find the 10 "hidden" coffee mugs in the mural. Bags of roasted coffee provide additional color pops. 
"We wanted them to stand out and just be really bright so that people smile when they walk in and feel almost tickled," said Winters. "It's just fun, and that's important to us as a brand, to keep it light in order for people to want to hang out and connect with each other."
Susannah and her husband Douglas Winters hatched the coffee business idea while living in San Diego. Susannah, who retired from the U.S. national sprint kayak racing team in 2007, had been working as a retail store manager for Lululemon, while Douglas Winters, who is trained as a civil engineer, worked in real estate.
After moving back east to be closer to family, the couple invested in a Wheelys coffee-bike franchise. Eventually they stepped away from that pursuit and moved to Hilton Head. Based on Douglas's acquired passion for roasting, the new business launched with sales first to family and friends, then at farmers markets. Since stepping up to the Mill City machine last Fall, wholesale and online sales growth has been swift. 
Offering roasted blends with names like Shark Fin and Island Time, Hilton Head Coffee also recently launched a Community Coffee program, in which $4 from each bag of a designated coffee is donated to one of two local nonprofits, as chosen by the coffee buyer.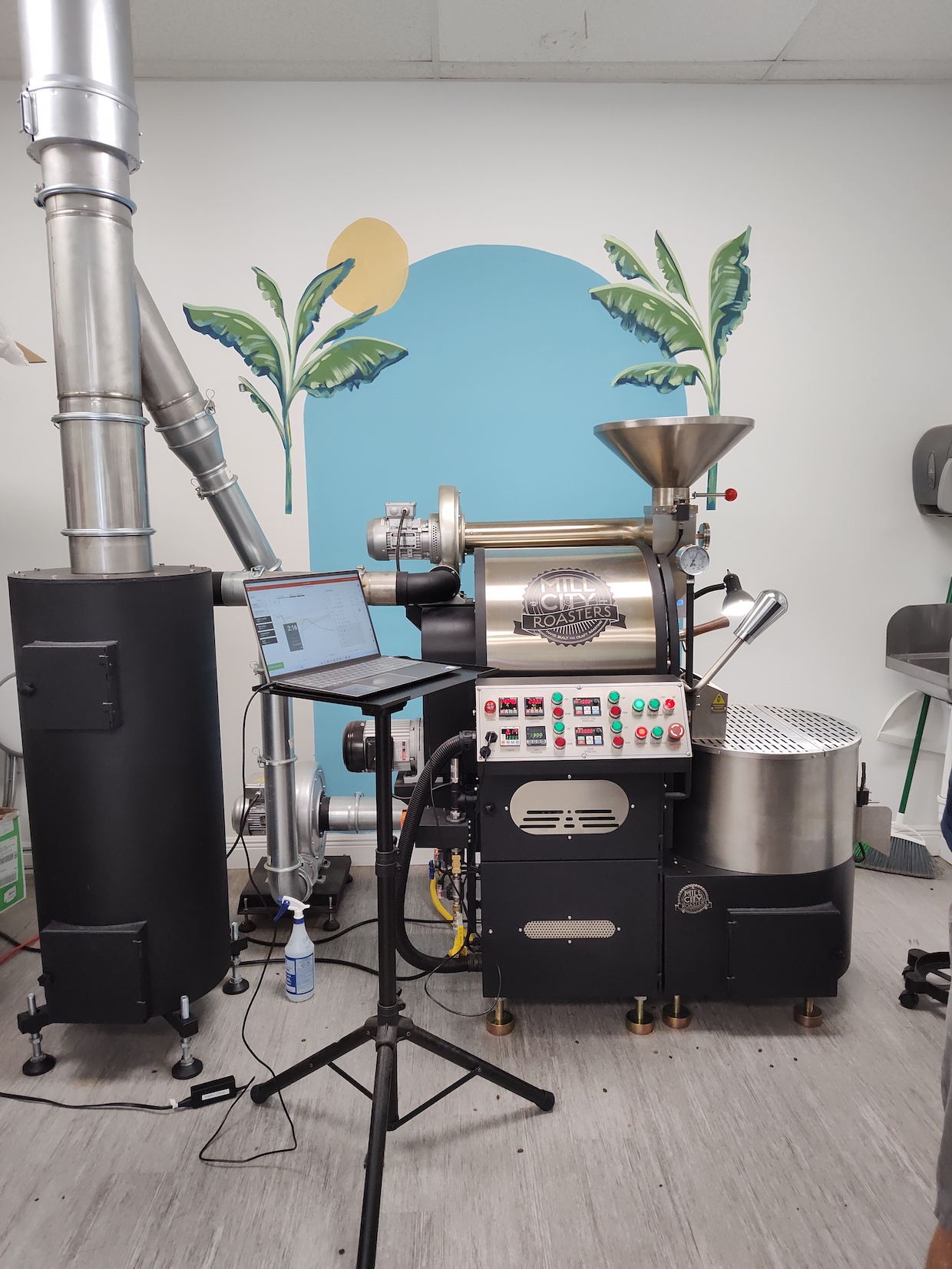 Susannah says the business seeks out ethically sourced green coffees from importers  Balzac Brothers, Genuine Origin, Royal New York and others, maintaining one certified options and numerous coffees that can be solid blend components. Lately, the coffee program has expanded to also include some more experimental or complex coffees. 
"We just roasted our first honey and anaerobic process coffee, a Costa Rican Jaguar, and it was kind of an experiment because it was really fruit forward," said Winters. "We were wondering if our customers would be into it, and they totally were. People that generally go towards a dark roast tried this light roast, fruity coffee and were like, 'Wow, I had no idea that coffee could taste like this.' When you give someone that experience, it's just so fun."
---
Hilton Head Island Coffee Roasters is located at 21 Cardinal Rd #105 on Hilton Head Island. Tell DCN's editors about your new coffee shop or roastery here. 
More From DCN
Howard Bryman
Howard Bryman is the associate editor of Daily Coffee News by Roast Magazine. He is based in Portland, Oregon.
Source: Daily Coffee News