Here is Somewhere for Coffee and Beer in Ossining, NY
For anyone who's been wandering around Ossining, New York, wondering where to find a freshly roasted specialty coffee drink or a locally crafted beer, the answer may just be Here.
Nearly three years in the making, Here Coffee + Beer opened late last year along the banks of the Hudson River on Ossining's Main Street. The hybrid concept was brought to life by partners Stacy Belmont and Dylan Hardman, who first met when Hardman was a barista and Belmont a patron at the Westchester County coffee institution The Black Cow Coffee Co.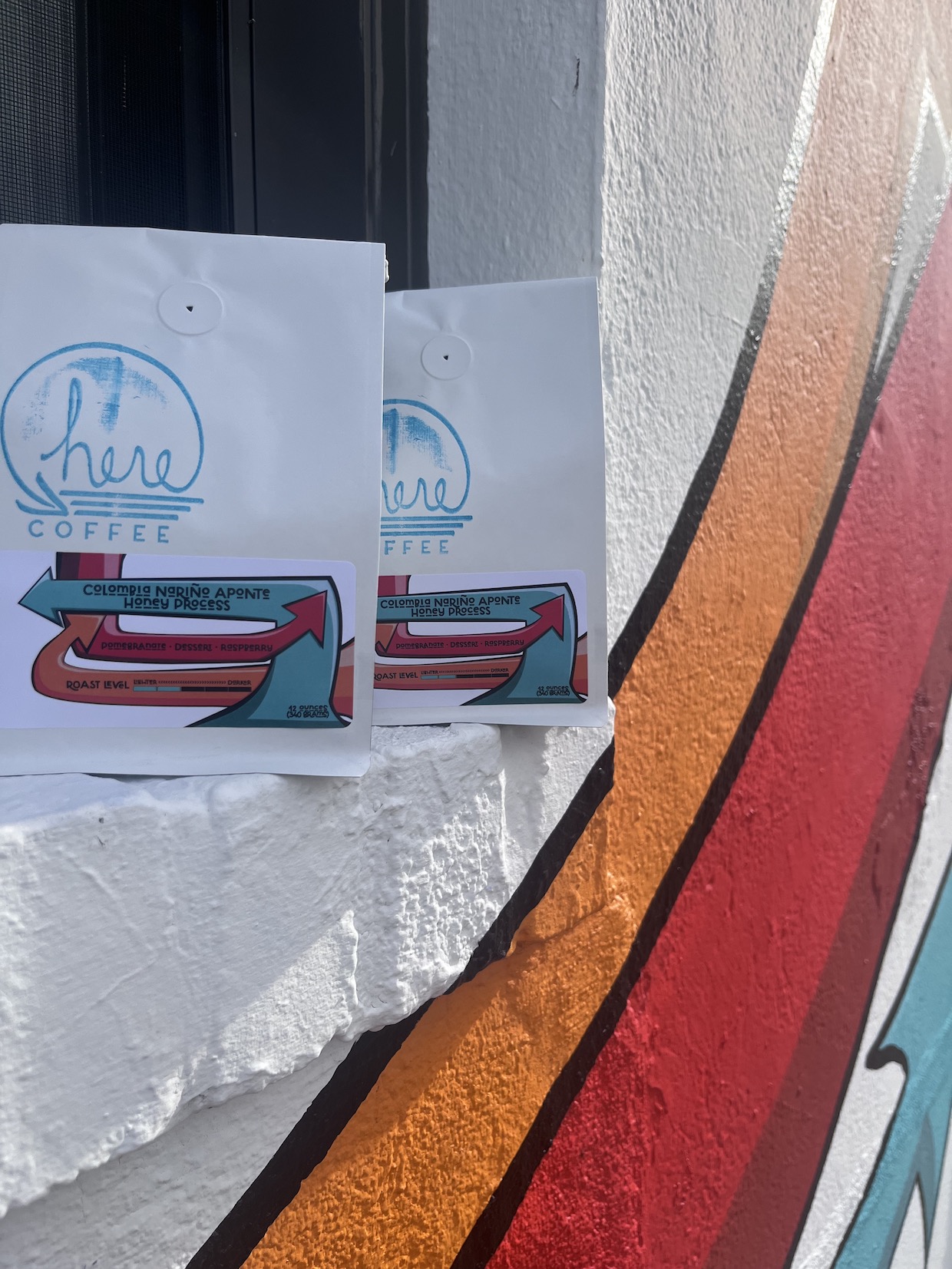 The pair is applying years of combined hospitality service to the new shop, which required significant structural renovations, repairs and permitting through the pandemic era before doors swung open to guests last November.
"We first noticed the space when we returned from Maine and would walk our dog by the river," Hardman recently told DCN. "It is unique to the area as it is a single-story corner lot with a rounded facade."
Inside, a LP-gas-retrofitted Diedrich IR-12 machine formerly owned by Roast magazine 2020 Macro Coffee Roaster of the Year Coffee By Design churns out fresh roasts under Hardman's watch.
Hardman said the roasting program has in part been inspired by a craft beer model, with two or three core blends offered continuously alongside two or three rotating seasonal single-origin coffees that may have differentiating characteristics such as single-estate provenance or innovative post-harvest processing.
Said Hardman, "Though we push a few degrees longer in the drum to pull out a little more sweetness in our espresso blend, our roast scale skews solidly to the lighter side with an emphasis on prevalent brightness and intense fruitiness."
At the retail bar, Here coffees make their way either to Bunn batch brewers, Chemex brewers or a La Marzocco Linea PB espresso machine for classic drinks, as well as specialty drinks featuring house-made syrups or a house chai concentrate.
"As we move into 2023 we look forward to hosting customers at our cupping bar, which overlooks our roaster, to teach them more about the roasting process and the origins of the coffee that they purchase," Hardman said. "We will also be doing pairing events with coffee, beer, and wine."
One such event was the recent "Recipricoffee," a fundraising event for one of Here's Ossining neighbors, the nonprofit group Riverkeeper, which works to protect and restore the Hudson River.
On the beer side, Here is currently offering packaged beverages for consumption on or off site, with a set of taps soon to come if all goes according to plan. Hardman said the beer curation leans heavily on specialty imports alongside local beers from the Hudson Valley and New York metro areas.
Though the roasting company has no immediate plans to begin brewing, Hardman said they do feel a certain kinship with their compatriots on the other side of the beverage aisle.
"People often do ask us, 'Why coffee and beer?' The easy answer is we love both of those things," Hardman said. "On a deeper level, we've always considered craft beer and craft coffee as parallel industries. Both involve raw agricultural product, processing which involves fermentation, an extraction process prior to consumption, and both are universally accessible. We've also always loved the craft beer penchant for collaboration, and as we grow we hope to find ways to apply that spirit to the craft coffee industry."
---
Here Coffee + Beer is now open at 20 Main Street in Ossining, New York. Tell DCN's editors about your new coffee shop or roasting business here. 
More From DCN
Nick Brown
Nick Brown is the editor of Daily Coffee News by Roast Magazine.
Source: Daily Coffee News