Helm Coffee Roasters Sets Sail in Indianapolis with Colorful Roastery Cafe
As a rising tide lifts all boats, Helm Coffee Roasters is a shining new coffee vessel steering guests towards quality coffee in Indianapolis. 
With a recently opened roasting facility a coffee bar, living-roomesque seating and event spaces, the women-owned, LGBTQ+ business is also helping to drive community engagement.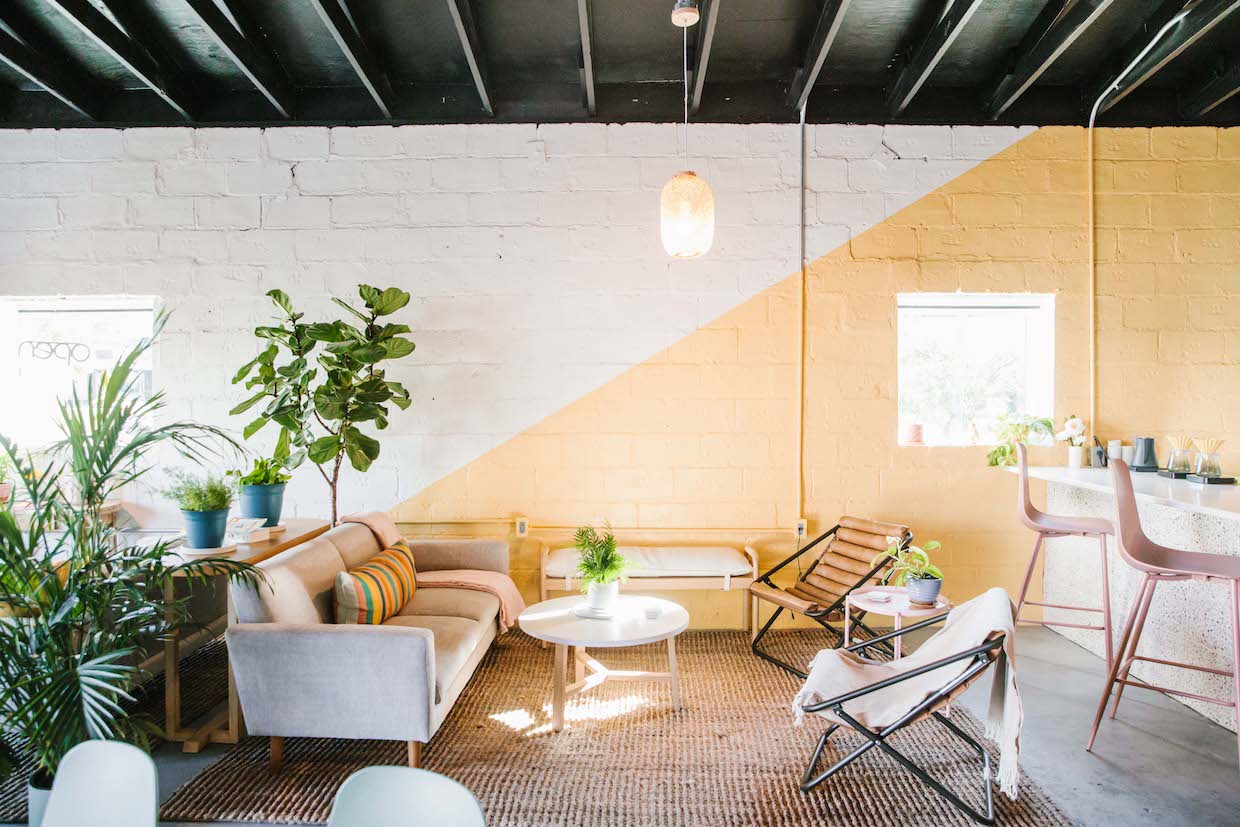 The 1,800-square-foot Helm headquarters maintains an industrial production feel with concrete floors, cinderblock walls, exposed rafters and and a Mill City Roasters machine installed next to sacks of green coffee.
These elements meet with vibrant colors, area rugs, hanging basket pendant lights and cozy couches to create a stylish and inviting third space. 
"We wanted to create a space that fostered connection and curiosity, so we played up the space's natural light, brought in a lot of plants, used a mix of community and individual seating, and added quite a bit of color," Helm Coffee Roasters Co-Founder Jillion Potter told DCN. "Ultimately, we wanted a place that we wanted to spend all day in, too."
A natural born leader prior to seizing the helm of Helm, Potter was captain of the 2016 USA Olympic women's rugby team and one of the first eight women to be contracted by USA Rugby to play professionally in the United States. Potter fell in love with coffee as she traveled the world as an athlete, turning that passion into a profession after retiring from her life in sports.
Potter progressed from barista shifts into the roastery for Denver-based Coda Coffee prior to pandemic. After a brief break from coffee, she returned to the bean biz to co-found the Helm Coffee in late 2021 with Carol Fabrizio, a coach and consultant who previously served as chief communications and marketing officer for USA Gymnastics.
Team Helm started out quietly with some popups around town and direct-to-consumer sales through a website designed by Potter. 
"I wanted something that was colorful, a little bit different, and made me smile," Potter of the online aesthetic. "It was nice to slowly enter the Indianapolis scene, and we continue to make growth progress."
Label artwork for the company's roasted coffee bottles — used in lieu of paper — was done by Luke Speers, who also happens to be the director of coffee at Amberson Coffee in Indianapolis. Local muralist Nick Abstract contributed the artwork for the bag designs, which are also not shy on color.
"We are pretty unapologetically progressive ourselves, and that shows up in a lot of little ways in our space," said Potter. "We are very 'out' and make it clear that we are an LGBTQ+-positive space."
The first event held in the Helm space raised funds for reproductive healthcare. Proceeds from the company's shirts go to the Indiana Youth Group (IYG), an LGBTQ+ youth support nonprofit, as well as to the American Civil Liberties Union (ACLU).
Behind the terrazzo-tile-fronted white coffee bar, a white Ground Control brewer stands tall for batch brews. Manual drip brews and cold brew are also available, as are house-blended chai and house-made alternative milks, though there is no espresso at Helm.
"It started out as a cash flow and personal bandwidth decision, but we've really leaned into it," said Potter. "We may do espresso later on, but our lean menu allows us to focus on what we want to emphasize: coffee, community and connection."
Events inside the space have included live music, art and food pop-ups and fundraisers as well as resources specifically for new parents, including support group meetings, lactation support classes and a yoga class for new parents.
Said Potter, "We have young kids ourselves and wanted to use part of our brick and mortar space to help parents feel connected and supported."
---
Helm Coffee Roasters is located at 2324 Shelby St. in Indianapolis. Tell DCN's editors about your new coffee shop or roastery here. 
More From DCN
Howard Bryman
Howard Bryman is the associate editor of Daily Coffee News by Roast Magazine. He is based in Portland, Oregon.
Source: Daily Coffee News