Dope Coffee Opens Roastery, HQ and Event Space Metro Atlanta
Hip-hop-infused Atlanta-area roaster Dope Coffee Company has launched operations inside a new 6,000-square-foot headquarters and event space in South DeKalb.
The new location includes the company's roastery and tasting room, packaging and warehousing operations, offices, a multi-media production studio, space for live performances and community events, and a new Dope Coffee cafe.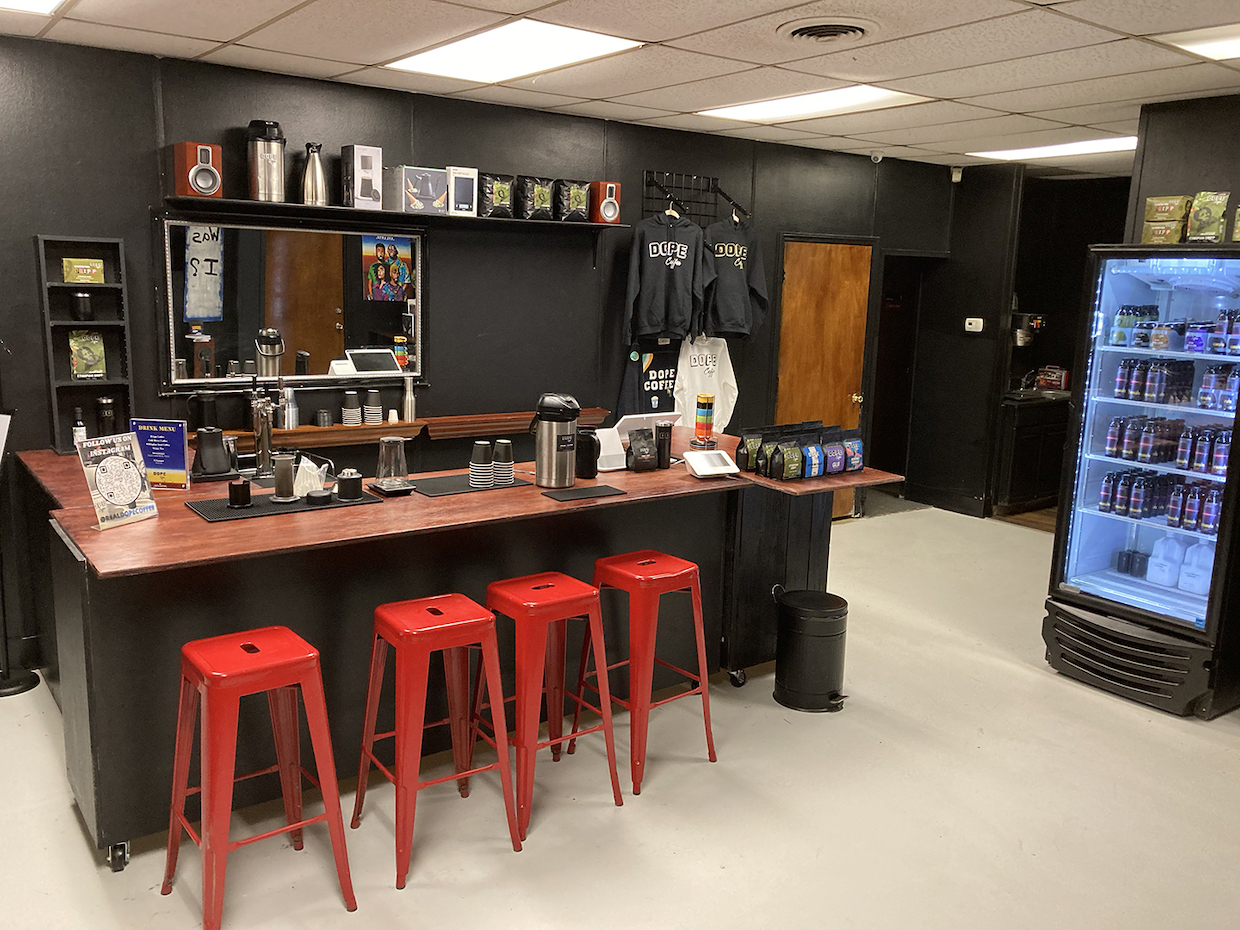 Occupying approximately 1,600 square feet, the Dope cafe offers ample room for lounging with batch-brewed drip coffees, individual manual brews, hibiscus tea, cold brew or an oat milk latte dispensed on a 3-faucet nitrogen tap. Available by request, manual brew methods include Fellow XF pourovers, Aeropress and French press.
"A unique feature of our cafe is that we offer free coffee pods daily," Dope Coffee Co-Founder and CEO Michael Loyd told Daily Coffee News. "Since we manufacture Keurig 2.0 compatible coffee pods, we offer that as a daily goodwill gesture to the community."
Roasting operations continue to be led by Dope Coffee Chief Product Officer Michelle Loyd, a chef and registered dietitian.
Said Mike Loyd, "She approaches the coffee with a culinary mindset which leads to really great tasting coffee."
Coffee Crafters Artisan X-e and Artisan 3-e roasters, whose open fluid-bed chambers with wide viewing grates make for great educational resources, remain the engines of production in the new roastery. Attached is a 700-square-foot tasting room where the company will conduct coffee training, community coffee nights and other educational events. 
"We have a really simple menu, and part of our coffee program is coffee knowledge," said Loyd. "In the south where we operate, there is very limited knowledge about coffee. Therefore we focus on sharing knowledge about the origins of our coffee with our customers."
Construction and design of the new digs were primarily handled by Loyd and a group at Dope.
"Every cabinet and shelf was built by hand; we did all of the demolition," said Loyd. "We had a very lean startup budget. We only spent money at Lowe's and Home Depot. Other than that we did all of the work ourselves."
Among the fruits of that labor is a music and content production studio featuring visual works from local artist and community organizer Chad Livsey (@chadlivs).
"We draw a lot of our inspiration from hip hop and it brings its way directly into the cafe through the art that's shown," said Loyd. "The daily vibe of the cafe is mostly jazz with hip hop in the afternoons and evenings."
Founded by Michael and Michelle Loyd in 2019, Dope Coffee launched with online retail sales in 2020 and has grown ever since. This year, the brand plans to have products in retail stores in the Southeast and Western United States.
One product Loyd is currently excited about is a Grade 1 Burundi natural-process coffee that will be roasted and packaged under the name Vets2Industry Coffee by Dope Coffee. The collaboration with the military-veteran-run nonprofit Vets2Industry will result in $4 per bag sold for the group's operations. 
Said Michael Loyd, "I was a Marine Officer for seven years so supporting this organization through a partnership has been a great way to align my business and personal values together."
On Feb. 18 Loyd and company are holding grand opening celebration event called the Dope Coffee Brand Experience, featuring free coffee and breakfast, a ribbon-cutting ceremony, roasting demos and live music performed by Loyd (a.k.a. CEO Creative Mike The Rapper) and Dope Coffee CMO Stace Loyd.
---
Dope Coffee Company is located at 5360 Snapfinger Woods Dr. Unit 134 in Decatur.
More From DCN
Howard Bryman
Howard Bryman is the associate editor of Daily Coffee News by Roast Magazine. He is based in Portland, Oregon.


Source: Daily Coffee News