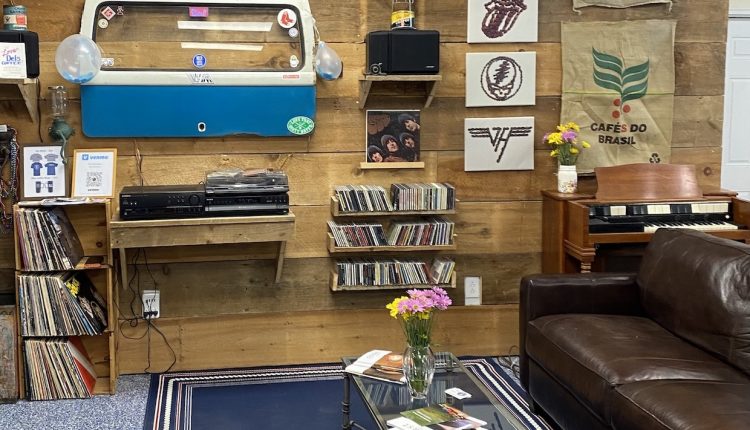 Del's Coffee Roasters Opens its Barn-Inspired Doors Outside Boston
Weekly public tastings now taking place inside the roastery of Waltham, Massachusetts-based startup Del's Coffee Roasters highlight the journey coffee takes from farm to cup. The environment in which that learning experience takes place reflects yet another transformative journey.
Del's Coffee Founder and Owner Paul Delmonico built the interior of the shop out of half-century-old unfinished pine that was removed board-by-board from the barn that once stood on his family's land in rural Stow, Massachusetts, about 15 miles away.
"Since I couldn't roast in my family's barn, I decided to bring the barn to my roastery," Delmonico told Daily Coffee News. "While removing the wood from the inside of the barn, I found the old hatch from my 1978 VW bus, which I cleaned up and hung on the walls so that patrons can slap their favorite local bands' bumper sticker on it."
Pine walls now surround the Diedrich IR-12 roaster through which Delmonico browns green coffee currently sourced through Genuine Origin and Royal New York. The same wood was used to build the roastery's tasting bar, a brew station with a La Spaziale espresso machine, and shelving for a turntable, LPs, CDs and a pair of speakers.
---
Related Reading
---
"Music has always been the centerpiece of my life," said Delmonico, who plays in two bands in the area. "I still have my entire record and CD collection from my youth… I am constantly inspired by all the different types of music I listen to and therefore want to keep that vibe while I'm roasting coffee."
An avid home roaster while working as a salesperson for scientific instruments company, Delmonico three years ago attended a weeklong roasting course at the School of Coffee in Vermont, which also happens to have serious barn vibes.
While the pandemic delayed the buildout of the production roastery, Delmonico continued to hone his roasting skills and make local bike deliveries of beans. Now, inside a 1,100-square-foot home base, Delmonico hopes to help make the intricacies of specialty coffee and its production more approachable to consumers.
"I want to make specialty coffee accessible to everyone, not just the coffee aficionados, " Delmonico said. "I have found that so many of my friends and acquaintances had no idea that coffee or espresso can possess so many natural flavors, and opening their eyes and taste buds to this has been really cool."
Del's has begun hosting a weekly tasting series, while Delmonico plans to expand outreach through group educational offerings, work with fundraisers and connections with new coffee clients.
"I am most happy when I am around other people, talking about coffee, music, etc., and have really enjoyed meeting many new folks and have learned a lot from every interaction," said Delmonico. "I look forward to meeting with more and more cafe and restaurant owners to help them with their coffee needs."
---
Del's Coffee Roasters hosts tastings at its roastery in downtown Waltham at 100 Felton Street. Do you have a new coffee shop or roastery? Let DCN's editors know here. 
Howard Bryman
Howard Bryman is the associate editor of Daily Coffee News by Roast Magazine. He is based in Portland, Oregon.
Source: Daily Coffee News