Afterglow Coffee Cooperative Lights Up in Richmond, Virginia
Coffee roasting company Afterglow Coffee Cooperative has remodeled its home base in Richmond, Virginia, welcoming in guests to a new cafe area while illuminating the production process.
Local coffee drinkers may recognize the Scott's Addition space as a former outpost of Lamplighter Coffee, which operated there for roughly a decade before scaling back during the pandemic.
Afterglow Coffee Cooperative, which was founded by five former Lamplighter employees who have agreed upon a worker-owned cooperative model, has remodeled the 3,400-square-foot space to include seating for about 20 guests with clear views of a Diedrich IR-12 production roaster.
"Our goals were to open up the space and bring it more in line with our new brand aesthetic," Afterglow Co-Founder Alan Smith told Daily Coffee News. "We wanted to reuse as much of the material on hand as possible, not only for sustainability, but also because the cost of building materials has skyrocketed. This meant we had to be a lot more careful than with your typical demolition, taking stuff apart piece by piece instead of knocking everything down with a sledgehammer."
Wood from the old Lamplighter bar has been repurposed to support Afterglow's back bar and a counter overlooking the roastery. A new black-and-white color scheme is complemented by potted plants throughout the space, while new counters are made of paper-based composite Richlite. Tables and chairs were purchased from other restaurants that unfortunately shuttered during the pandemic.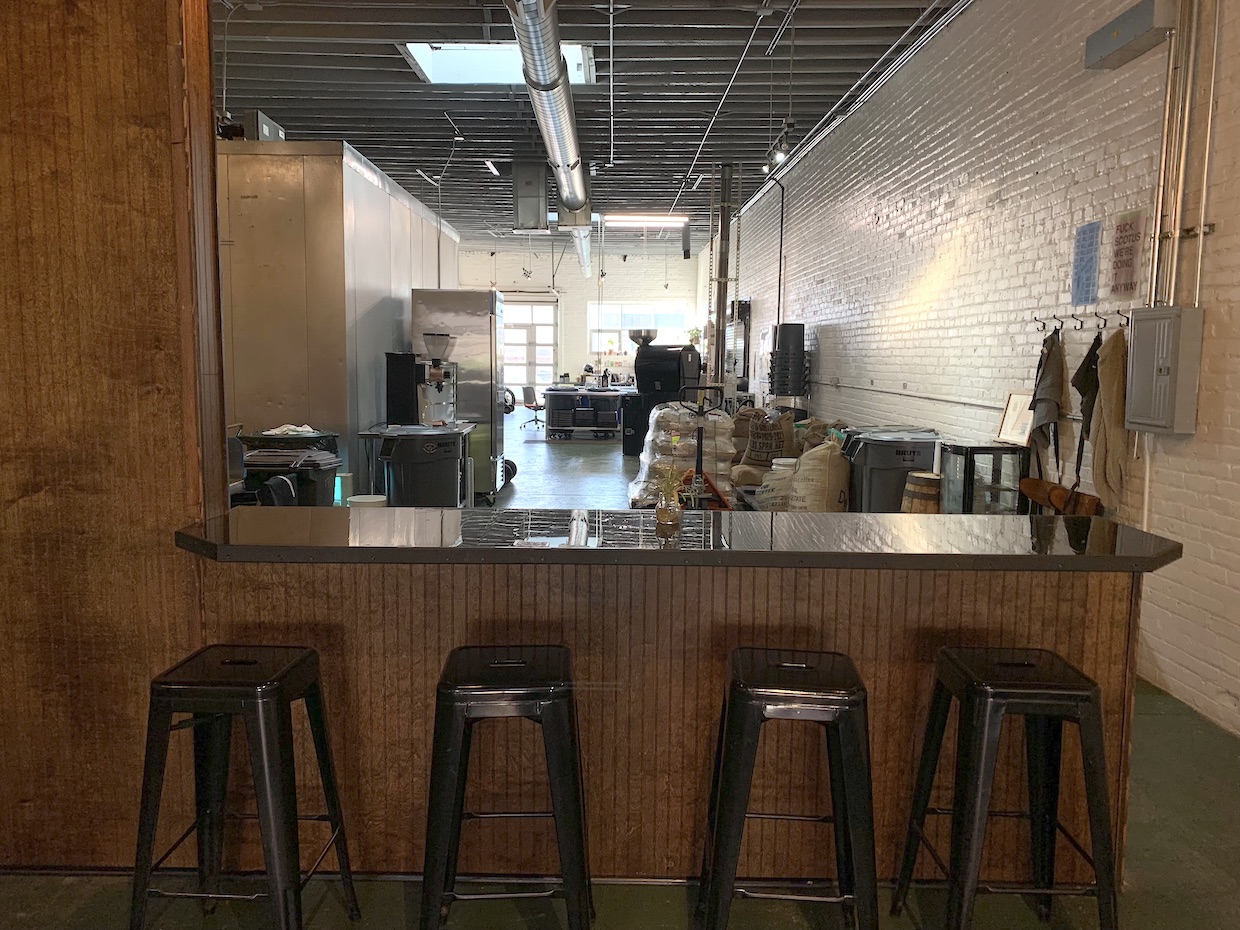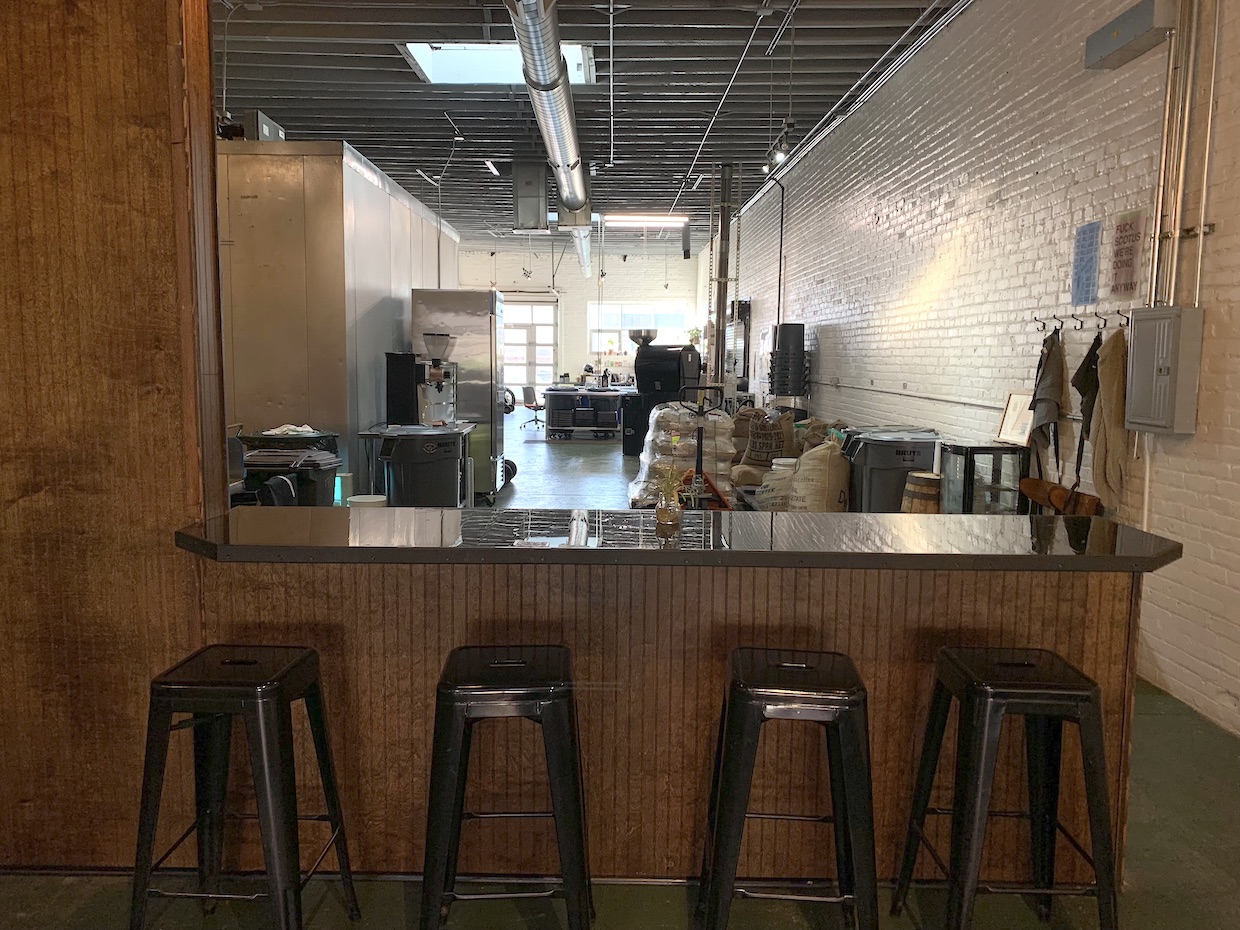 It was Lamplighter's own decision to shut down the facility that prompted former employees Allison Maves, Aimee Maki, Julius Delacruz, Alan Smith and Eric Mason to band together to purchase the roastery, take over the space and continue to build upon Lamplighter's wholesale roasting and retail business.
---
Related Reading
---
Today, Afterglow serves approximately 100 wholesale customers throughout Richmond and beyond, while roasting takes place on the same machine that Smith and the other Afterglow founders have gotten to know through the good part of a decade. Yet a key difference in the new operation is Afterglow's cooperative management model, in which all five owners share responsibilities and decision making.
"We don't have a head roaster, or 'head' of anything else," said Smith. "We all have our strengths based on past experience, but one of our goals is to share those skills with everyone on our team so that we can all work together to make well-informed decisions, and so that anyone can jump in and help where needed."
Big decisions, such as bringing on new members, determining hours of operation or designing the menu require consensus. More granular, day-to-day choices are led by the people who choose to focus in a particular area.
"Of course, anyone can weigh in on anything at any time, and we find that the more input we gather, the better our decisions are and the happier we are with the outcomes," said Smith. "Building consensus can be time-consuming, but it is a practice that is new to us and we are constantly improving our processes."
The complex challenge ahead involves finding ways to expand the cooperative without requiring new members to invest in an ownership stake.
"All five of us brought our own money to buy in, but we do not want future members to have to bring cash, since that presents a big accessibility issue; so we are working out how to bring on new members in a reasonable and equitable way," said Smith. "We don't have plans to ever open other Afterglow shops, since we want a space that all of the members have an equal hand in creating. But we'd definitely love to find more wholesale partners to work with, especially others who have cooperative or worker-owned businesses."
---
Afterglow Coffee Cooperative is located at 1719 Summit Ave, Richmond, VA 23230. Tell DCN's editors about your new coffee shop or roastery here. 
Howard Bryman
Howard Bryman is the associate editor of Daily Coffee News by Roast Magazine. He is based in Portland, Oregon.
Source: Daily Coffee News