22 New US Coffee Roasters in 2022
Dozens of specialty coffee roasting businesses launched throughout the United States in 2022, proving yet again that the coffee landscape offers plenty of room for smaller local and regional brands.
Many of the new roasting outfits in the list below (in no particular order) evolved out of a need to supply their own growing cafe operations, while others had behind-the-wholesale aspirations from the outset. 
And while quality and experimentation remain hallmarks of the specialty coffee industry, a good number of these companies launched with more ambitious visions towards ethical coffee sourcing, environmental stewardship or social progress. 
As we continue our 2022 Year In Review, here we look back at 22 new roasting companies whose coffees may soon be appearing on shelves near you:
Color Drop is the newest venture in Erich Rosenberg's decades-long coffee career, which has included six years as head roaster for Denver's Novo Coffee, and more recently a stint as green coffee trader for Denver-based Unravel Coffee Merchants.
Rosenberg said a period in the education and quality-assurance department for import company Atlantic Specialty Coffee was particularly impactful on his coffee appreciation.
"Doing that kind of work [for Atlantic] you often find yourself roasting and tasting 100-150 different coffees a week, getting exposed to coffee from all over the world," said Rosenberg. "This is where our philosophy of 'a place for every coffee, and a coffee for every place' comes from."… Read More
Created by coffee roasting veterans Nanelle and Andy Newbom in San Diego, Torque Coffee is built upon a model the Newboms call "proportional pricing," through which coffee farmers or producers are paid a fixed percentage price associated with the retail price of the roasted coffee bag.
In short, producers receive 20% of the retail price of Torque Coffee bags, which are currently priced at $20. After calculating loss due to shrinkage during roasting and other expenses, the farmgate-level price paid to farmers is $4.75 per pound of green coffee. Adding symmetry to the equation is the fact that 20% is the same proportion per bag that Torque counts as profit… Read More
Longtime professional coffee roaster and consultant Rob Hoos has launched a new roasting business called Iteration.Coffee.
Yet unlike nearly every other coffee roasting business, where the goal is to move as much coffee as possible at the highest price point possible, Iteration.Coffee is focused squarely on innovation and education.
The 420-square-foot Innovation.Coffee roastery occupies a converted two-car garage in Rainier, Oregon, providing a fully functioning production and lab space for test projects while supporting the Hoos Coffee Consulting business… Read More
Founded by friends Louis Montemayor, George Ellis and Daniel Stone in July, the brand is taking a novel approach to specialty coffee, combining it with chile flavoring and various levels of spicy heat.
The new coffee line is being promoted by equally spicy social media marketing, led by Austin's Bandolier Media, where the Roasty Buds founders are also partners and co-workers… Read More
The new coffee roasting brand is owned and operated by Bellingham-based Tony's Coffee, the 2021 Roaster of the Year in the "macro" category. The new brand is designed to promote and support coffees that have been grown in agroforestry environments, in which trees and shrubs surround crops for more sustainable land uses.
"We started Forecast because we believe that agroforestry is a critical tool in fighting climate change and creating stronger food systems," Tony's Coffee Director of Sales and Sustainability David Yake told Daily Coffee News. "Our goal is to celebrate farms that produce beautiful coffees and are on the leading edge of agroforestry and regenerative farming methods." … Read More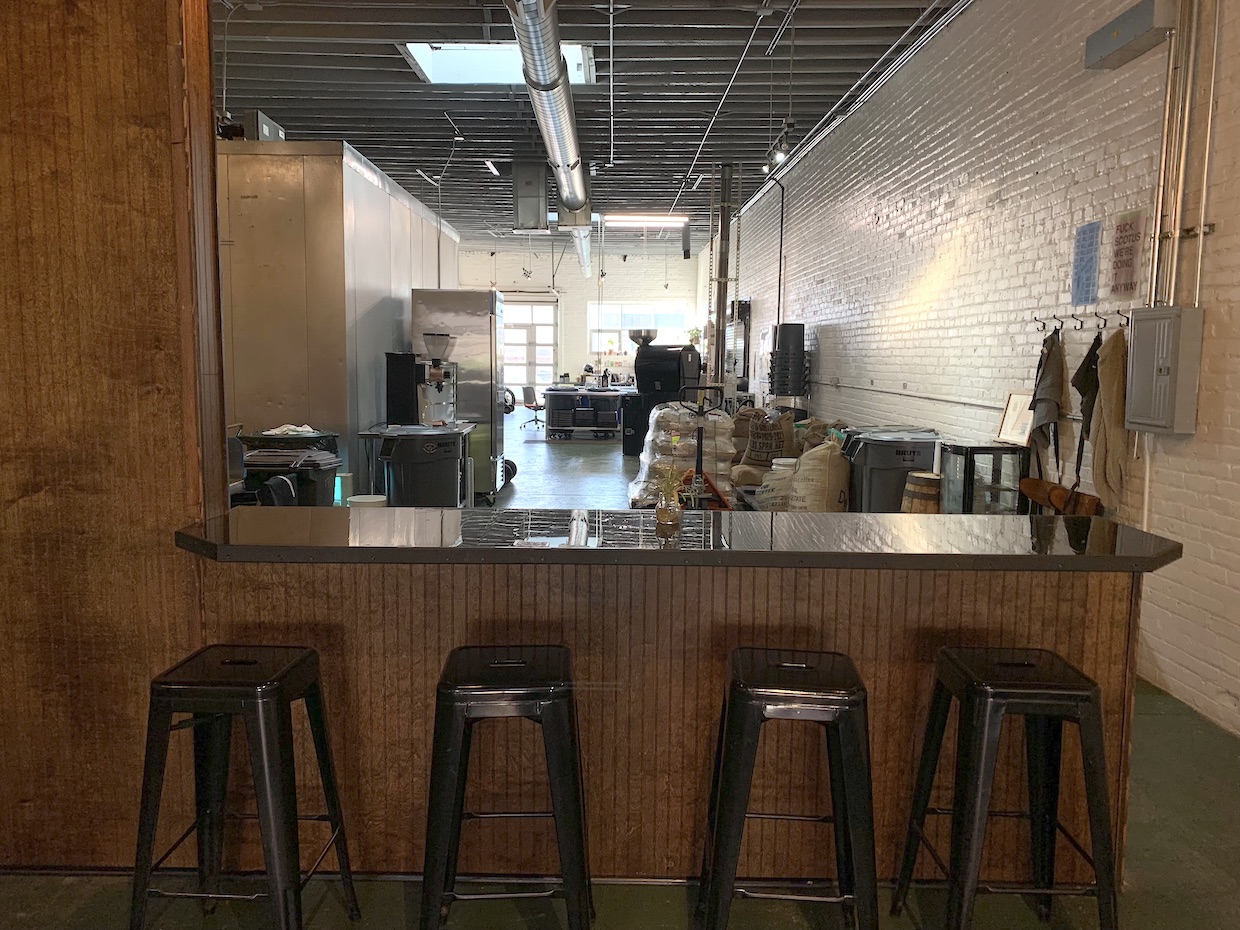 Local coffee drinkers may recognize the Scott's Addition space as a former outpost of Lamplighter Coffee, which operated there for roughly a decade before scaling back during the pandemic.
Afterglow Coffee Cooperative, which was founded by five former Lamplighter employees who have agreed upon a worker-owned cooperative model, has remodeled the 3,400-square-foot space to include seating for about 20 guests with clear views of a Diedrich IR-12 production roaster… Read More
A new women-owned roasting company in Austin, Texas, called Sightseer Coffee plans to stare down injustices against disadvantaged groups throughout the coffee supply chain through careful sourcing, lovable roasts and unflinching public discussion.
Founded last November by Kimberly Zash and Sara Gibson, Sightseer is one of the core tenants of the Rising Tide Roast Collaborative co-roasting facility in Austin, which Zash and Gibson also operate… Read More
A new coffee company called Nam Coffee is creating a direct connection between the world's second-largest producer of coffee, Vietnam, and the second-largest consumer market in the United States, Los Angeles.
Nam Coffee Founder Vince Nguyen has roots that run deep in both places… Read More
A new beacon signaling high-quality coffee has appeared along Florida's Gulf Coast under the name Bright Land Coffee.
From a 2,100-square-foot roasting and cold brew production facility in Oldsmar, just west of Tampa, the Black-owned roasting company has been expanding in the first quarter of this year into grocery stores and cafes.
Led by Co-Owners Gary Lambert and Peter Prince, Bright Land sources coffees from all over the world, with a notable focus on Jamaica… Read More
A row of 10 pinball machines rounds out the amusements in the expansive 12,000-square-foot playground for grownups, where behind the scenes a 70-kilo-capacity Diedrich roaster anchors a coffee roasting production facility.
The coffee component marks a sixth Ohio location for Steel Valley sister company Stonefruit Coffee Company. With Steel Valley branding throughout the roastery and entertainment areas, Stonefruit is the logo prominently emblazoned behind the coffee bar, where a Conti espresso machine supports the espresso menu and brewed coffee comes strictly via manual pourovers… Read More
Dandy Lion Coffee Owner Charlie Hansen roasts the beans on a Mill City Roasters machine before cold-brewing to numerous concentrations, including some that act as an espresso-like base without the requirement of an espresso machine.
Another differentiating component of Dandy Lion Coffee is its embrace of dandelions. From its inception in 2019, the company has packaged, sold and promoted roasted dandelion root as a vitamin- and antioxidant-rich brew on its own or as a coffee additive… Read More
South Bend, Indiana-based roasting company Zen Cafe has rebranded to become Kodachrome Coffee.
The change is intended to provide a sharper focus on the company's attention to craft, as well as on the relationships with producers developed over Kodachrome's 10-plus years in business… Read More
Having found firm footing over the past eight years throughout Minnesota's Twin Cities, the company formerly known as Bootstrap Coffee Roasters is writing a new chapter with a fresh brand and name: Backstory Coffee Roasters.
The new brand is fully reflected in Backstory's original original St. Paul roastery cafe, and in the company's online and wholesale channels. It's also come to life through a new Backstory retail bar in Minneapolis… Read More
Through the convergence of several businesses in the Topeka-area town of Meriden, Kansas, a new company called Mighty Beast Coffee Roasters has been unleashed.
The new Mighty Beast-branded coffee roasting and retail outpost is inside the Meriden food and retail destination Boone & Bounty. The brand was formed by the merger of former local coffee retailer Pharm House Coffee, local roaster Caffiend and Boone & Bounty… Read More
"My mom makes trips to Nicaragua to visit the farm every couple of months," Blandon said. "We grow caturra, maracaturra, bourbon, castillo, etc. We have been generally doing the washed procss for four generations, but we're currently also experimenting with the honey and natural process."
As Stemma settles into its first shop, the company also plans to launch direct-to-consumer online sales, as well as wholesale operations… Read More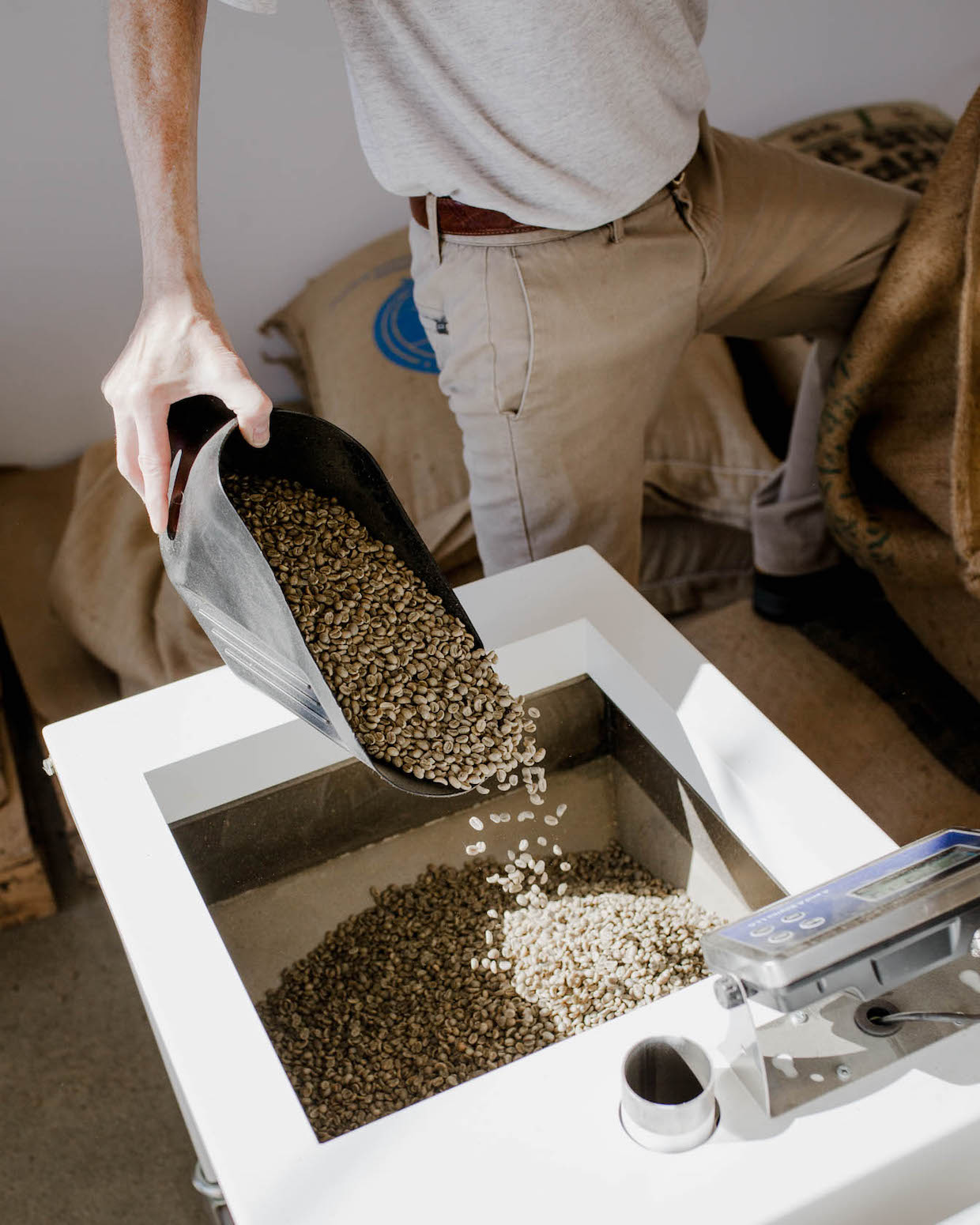 The family behind Binghamton, New York, craft brewery Beer Tree Brew is bringing forth beans and brews through a new company called Batch Coffee.
Approximately half of Batch's new 4,000-square-foot home base is dedicated to the company's roasting operation, made possible through a bright white Diedrich Roasters DR-25 machine. The remaining half of the space is split evenly between a colorful retail cafe and a full kitchen… Read More
With a recently opened roasting facility a coffee bar, living-roomesque seating and event spaces, the women-owned, LGBTQ+ business is also helping to drive community engagement.
Label artwork for the company's roasted coffee bottles — used in lieu of paper — was done by Luke Speers, who also happens to be the director of coffee at Amberson Coffee in Indianapolis. Local muralist Nick Abstract contributed the artwork for the bag designs, which are also not shy on color… Read More
Erin Nenow is piloting the new roasting business in San Marcos, which involves a suite of shared commercial roasting machines at the nearby California Roasting Collective.
In its sourcing operations Nenow says the brand strives to focus on coffee quality, but also on supporting progressive coffee-producing cooperatives that are committed to the economic and social betterment of large groups of small-scale coffee farmers… Read More
The warm glow of coffee will soon be drawing the public to a new tasting room at the new roastery of Golden Lantern Coffee Roasters in Laguna Hills, California.
Opened to wholesale customers earlier this Spring, and soon to open to the general public, the Golden Lantern tasting room's dark-stained wooden surfaces, charcoal-colored walls and austere concrete flooring will provide the backdrop for colorful coffees coming from the adjoining production space… Read More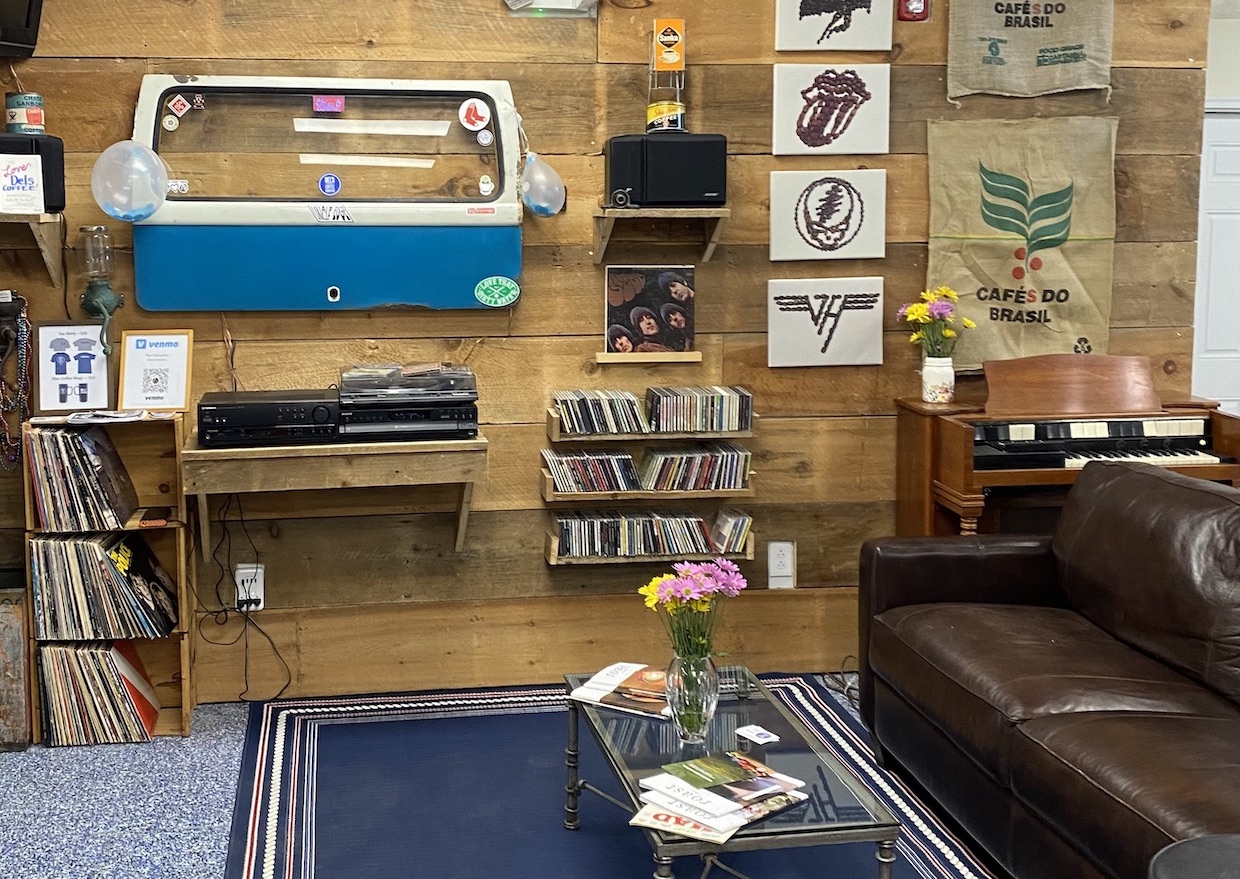 Pine walls now surround the Diedrich IR-12 roaster through which Delmonico browns green coffee currently sourced through Genuine Origin and Royal New York. The same wood was used to build the roastery's tasting bar, a brew station with a La Spaziale espresso machine, and shelving for a turntable, LPs, CDs and a pair of speakers.
"Music has always been the centerpiece of my life," said Delmonico, who plays in two bands in the area. "I still have my entire record and CD collection from my youth… I am constantly inspired by all the different types of music I listen to and therefore want to keep that vibe while I'm roasting coffee." … Read More
After building a network of progressive retail locations throughout Savannah, Georgia, the owner of The Coffee Fox and three other sibling cafes has introduced The Coffee Fox Roasting Co.
The company started roasting late last year, putting forth a fresh brand with four core coffee blends: Flywheel Espresso, Knockout Cold Brew, Foxy Blend and Halftone Decaf. Available through subscriptions or individual 12-ounce bags, the blends are joined by a rotating selection of single-origin offerings… Read More
The year-old roasting company recently unveiled a retail coffee cart that showcases exclusively Colombian-grown coffees — a reflection of the background of Colibri Co-Founder Maria Mejia, who moved to the United States from Colombia roughly a decade ago.
"Colombia is so vast and beautiful," Mejia told DCN. "The more I get to go back to connect with my origins through coffee, the deeper I fall in love with our mountains, infinite green landscapes, colorful towns and welcoming people." … Read More
More From DCN
Source: Daily Coffee News