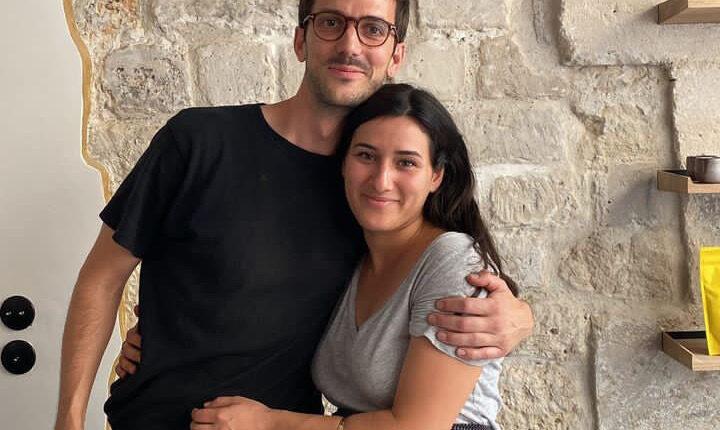 Three Questions with Ella Fatima McElroy of Clove Coffee Shop in Paris
On Rue Chappe, just before a steep ascent to Sacré Coeur in the Montmartre district in Paris, sits one of the city's newest coffee spots, Clove Coffee Shop (Instagram).
Since its opening in late 2022, the shop founded by Ella Fatima McElroy and her partner Florent Marcault has quickly become one of the city's top coffee destinations while maintaining its friendly neighborhood appeal. 
"This is like the one nice, quiet spot in a super busy area," Fatima McElroy, an Afghan-American who came to France six years ago, recently told DCN. "It's perfect because we have tons of local neighbors who come back all the time, and we get to meet people from all over the world who love coffee." 
The stark design of Clove, with black machinery atop white countertops, is offset by an exposed brick wall. Upon close inspection, guests may notice small pots cleverly displayed in the small holes where damaged bricks have broken away. 
As with all the drink cups used at Clover, those pots come from the hands of Fatima McElroy, who learned how to make pottery during the pandemic. Each of the shop's drink ceramics were crafted for the menu. For example, short, off-white cups handle double espressos, while larger mugs with a glazed brown swirl finish hold filtered coffee. 
Fatima McElroy spent the months between 2021 and the shop's August 2022 opening perfecting the cups. She was nervous about using her work, and so she kept creating until she had cups that met her standards. "I was shocked that people liked them so much," she said.  
This attention to detail — in design and in coffee preparation — has made Clove incredibly popular in its first year. The shop offers coffees roasted by Dak Coffee Roasters in Amsterdam and Stéphane Ribes of The Picky Chemist in Belgium. 
"We actually took ourselves off Google," said Fatima McElroy. "It was getting too chaotic, and we wanted to focus more on service, not like a Starbucks with people taking stuff to-go. We want it to be a good experience."
Here's more from a recent conversation with Fatima McElroy: 
What about coffee excites you most?
Water… Paris has different sources of water, so here in the 18th, we have different water than someone in the 13th. So understanding our water and testing and adapting it for coffee, for me, has been a huge excitement and passion. 
Since 2023, creating water for espresso has been our big focus. We've been really interested in new fermentation processes of coffee. We have a lot of fermented processes that are coming out of Colombia, and a lot of locals are nervous to try them because they'll say it's gonna taste like alcohol, so we tweaked the water, and I think it creates a very delicate and balanced cup.  
What about coffee troubles you most?
The fact that people are less open to conversations about different types of coffees. I think the future of coffee is going to be more fermented, and there are going to be new processes because of climate change. I think we have to be open to accept different flavors and processes of coffee from different regions… Sometimes that's hard, especially in France where it's a little bit purist and people want something very specific, like a washed Ethiopian. 
I come from a poli-sci background, so I sometimes think, "Is it really necessary to insist that we have a washed coffee from a country that's struggling with water or insist that we get this expensive lot of coffee from Yemen when they're in a civil war.?" We don't talk about this. 
What would you be doing if it weren't for coffee?
I think I'd be doing full-time pottery. I was supposed to be working in intelligence studies in the United States, so France has definitely calmed me down and opened my eyes in many ways. I think it'd be really cool to make pottery tailored to coffee shops and their different styles and different kinds of ambiances. 
---
Is there someone in coffee who inspires you? Nominate that person for DCN's ongoing "Three Questions" feature. 
More From DCN
Jen Roberts
Jen Roberts is a Paris, France-based writer and avid coffee drinker. She's currently writing a book on women in coffee.


Source: Daily Coffee News