Sunday Service Motor Co. Revs Up Albuquerque with Beans, Beer and Bikes
A new coffee spot in Albuquerque, New Mexico, called Sunday Service Motor Co. has hit the ground running, seven days a week.
Occupying a 4,500-square-foot space that formerly housed a Harley-Davidson dealership, the new beverage destination includes a roastery and a beer brewery, with a coffee bar and crafts on tap.
Approximately one quarter of the space remains dedicated to two-wheeler repair, offering an outfitted DIY space for an access fee. Another quarter is set aside for roasting and brewing production, while the remaining half is fully open to the public, with comfortable seating indoors and a 250-square-foot patio.
"We wanted to stay true to the heritage of the building, so we have a lot of garage doors leading in and out of certain areas," Sunday Service Co-Founder Stephen Park told Daily Coffee News of the interior designed in collaboration with Karen Haley of Denver-based Davis Partnership Architects. "But we did want to make sure that the inside felt comfortable."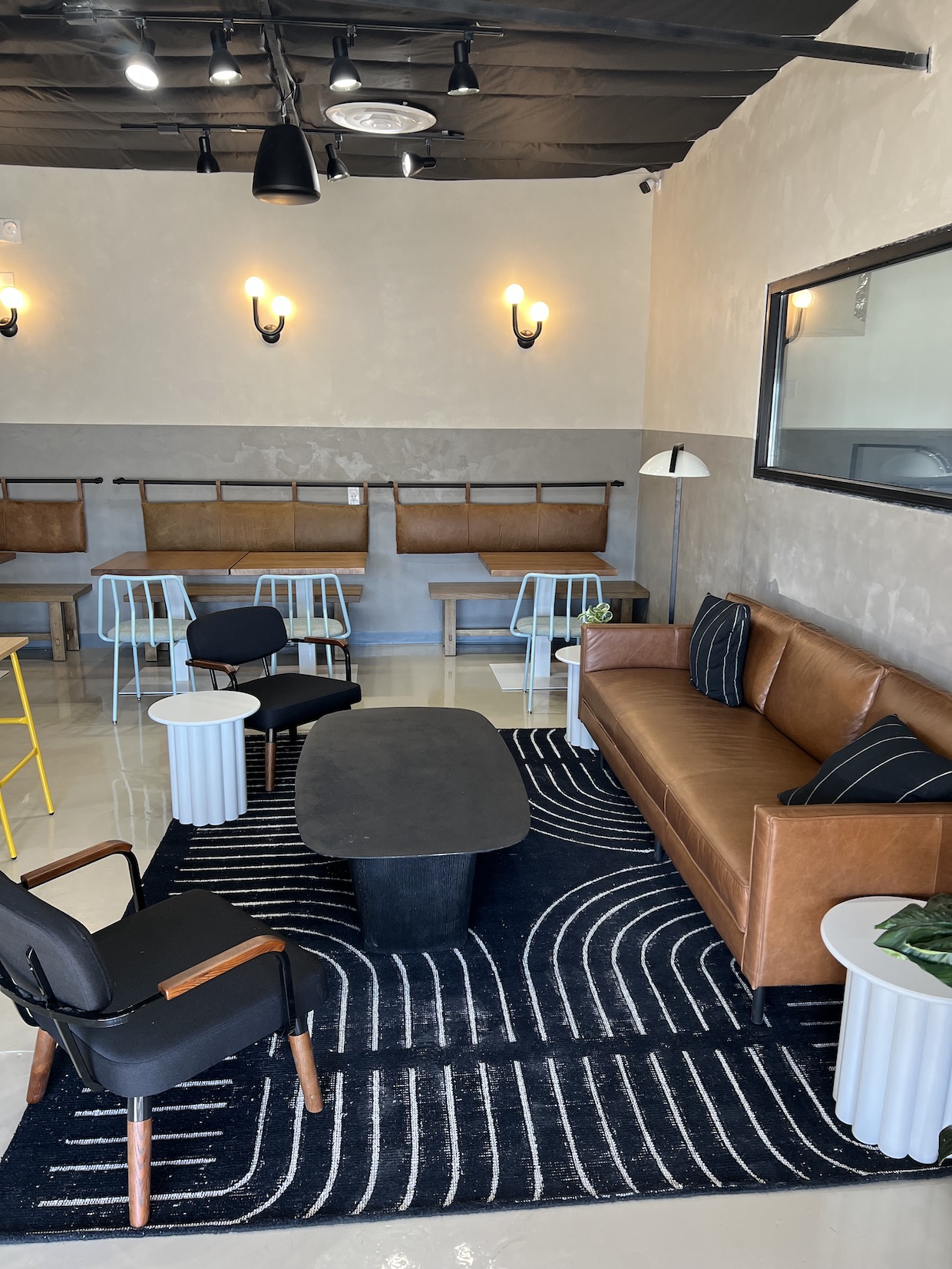 Park and co-founder Kevin Anderson grew up in Albuquerque and were friends in elementary school. As adults, they reconnected by chance in Atlanta, discovering a mutual passion for motorcycles alongside Park's interest in coffee and Anderson's interest in brewing. 
After both working in software sales, the two moved back to Albuquerque and officially opened Sunday Service earlier this month. The opening also marked the launch of Garden Company Coffee, a separate entity founded by roaster Alex Harrison that runs the coffee roasting operation. 
Furniture within the clean, modern interior includes stools and chairs that seem built for speed or comfort, while a large brown leather couch at one end adds some warmth. At the opposite end, pops of color from a terrazzo-style stone surface livens up the shiny black-tile-fronted bar.
Resembling a racing vehicle in its own right, a SanRemo F15 espresso machine drives the best out of beans roasted by Harrison, who owns the on-site, 5-pound-capacity Buckeye Coffee roaster.
Harrison sources coffees mostly through Genuine Origin, working towards high fruit and berry notes that aficionados might enjoy, as well as the sweetness and roastier depth in more easygoing coffees.
"I go for this wonderful rounded flavor where I can notice multiple things; there's still a good clarity in the cup," Harrison told DCN. "I'm not trying to make a pretentious brand only for a certain group of people. It's more fun to approach it with a community perspective."
Led by Anderson, the beer program features flagship titles from a variety of local craft brewers, while the house brewery introduces an East Coast-style IPA along with coffee beers such the No Brainer coffee stout, made with fresh Garden Co. roasts.
"We're kind of all over the place in terms of style," said Park. "But at the end of the day, it's really what we want to drink and really what we feel like the community wants to drink."
Local bakeries are tapped for fresh pastries and grab-and-go foods. Heartier fare will soon come from a rotation of food trucks parked outside the shop.
"Alex and Kevin and I are all very aligned with the same mission and the same goal," said Park. "We certainly want to grow and see where this takes us, but what we want to do today and in the near future is make sure we get this location right. We really want to become an anchor here, at our location and for the community around us."
---
Sunday Service Motor Co. is located at 2701 Fourth NW in Albuquerque. Tell DCN's editors about your new coffee shop or roastery here. 
More From DCN
Howard Bryman
Howard Bryman is the associate editor of Daily Coffee News by Roast Magazine. He is based in Portland, Oregon.
Source: Daily Coffee News