Mandarin Coffee Stand Provides a Coffee Lover's Rabbit Hole in Pasadena
A new multiroaster coffee bar in Pasadena, California, called Mandarin Coffee Stand is hopping into the Year of The Rabbit with an emphasis on Chinese-grown coffees and an inspired seasonal coffee drinks menu. 
Helmed by seasoned barista Sherry Gao, the five-month-old shop has been showcasing coffees from China's Yunnan growing region, among other places, served as pure espressos and drip brews. The shop also offers more creative concoctions, like a latte flavored with osmanthus flower and cardamom bitters or a pineapple espresso tonic with house-made pineapple jam, Chinese crystal sugar, lime juice and tonic water.
The Mandarin House blend is a combination of Guatemalan and Ethiopian coffees roasted, appropriately enough, by Quebec-base Rabbit Hole Roasters, winner of Roast Magazine's 2023 Micro Roaster of the Year award. Rabbit Hole also supplies the shop with its hallmark Yunnan coffee, though Gao said she would ultimately like to have more Chinese coffees in the rotation, as well.
"We try to keep [Chinese coffee] available all the time in our shop, but it also depends on how much coffee the roaster has in their warehouse," Gao told Daily Coffee News. "I was told by David [Lalonde, co-founder of Rabbit Hole] that it has been really hard to import Chinese coffee lately due to the tax and logistic issues. Also, because the internal demand keeps getting higher, there isn't much coffee left for external buyers. Luckily they are able to get a fresh crop in this year."
In addition to Rabbit Hole, Mandarin Coffee Stand has featured coffes from German roasting company The Barn, Danish roaster La Cabra and Istanbul-and-Chicago-based roaster 4LW. Additional roasters Gao plans to welcome onto the bar soon include Chicago's Metric Coffee, Las Vegas's Dayglow Coffee and Danish company Prolog.
Mahlkönig EK43 and E65S grinders begin each coffee's transformation from bean to beverage on the brass-surfaced bar, where a Synesso S200 espresso machine, a Curtis batch brewer and various pourover brewers await. Pasadena's hard water is tamed by a Pentair RO filtration system.
Under warm lighting, the intimate 400-square-foot is within the Burlington Arcade, a covered alley of retail stores built to mirror its namesake in London, England. Some seating is available outside. 
"Our shop is pretty tiny, and that's why we call it a coffee stand," said Gao. "The idea came from small coffee stands in Japan where people would come and grab a quick coffee, standing by the bar and chat with baristas and move on with their days."
Gao, who studied hospitality management at UNLV prior to diving into the Los Angeles specialty coffee scene, was a barista at Cafe Dulce in Little Tokyo prior to working for both Go Get Em Tiger and Intelligentsia Coffee.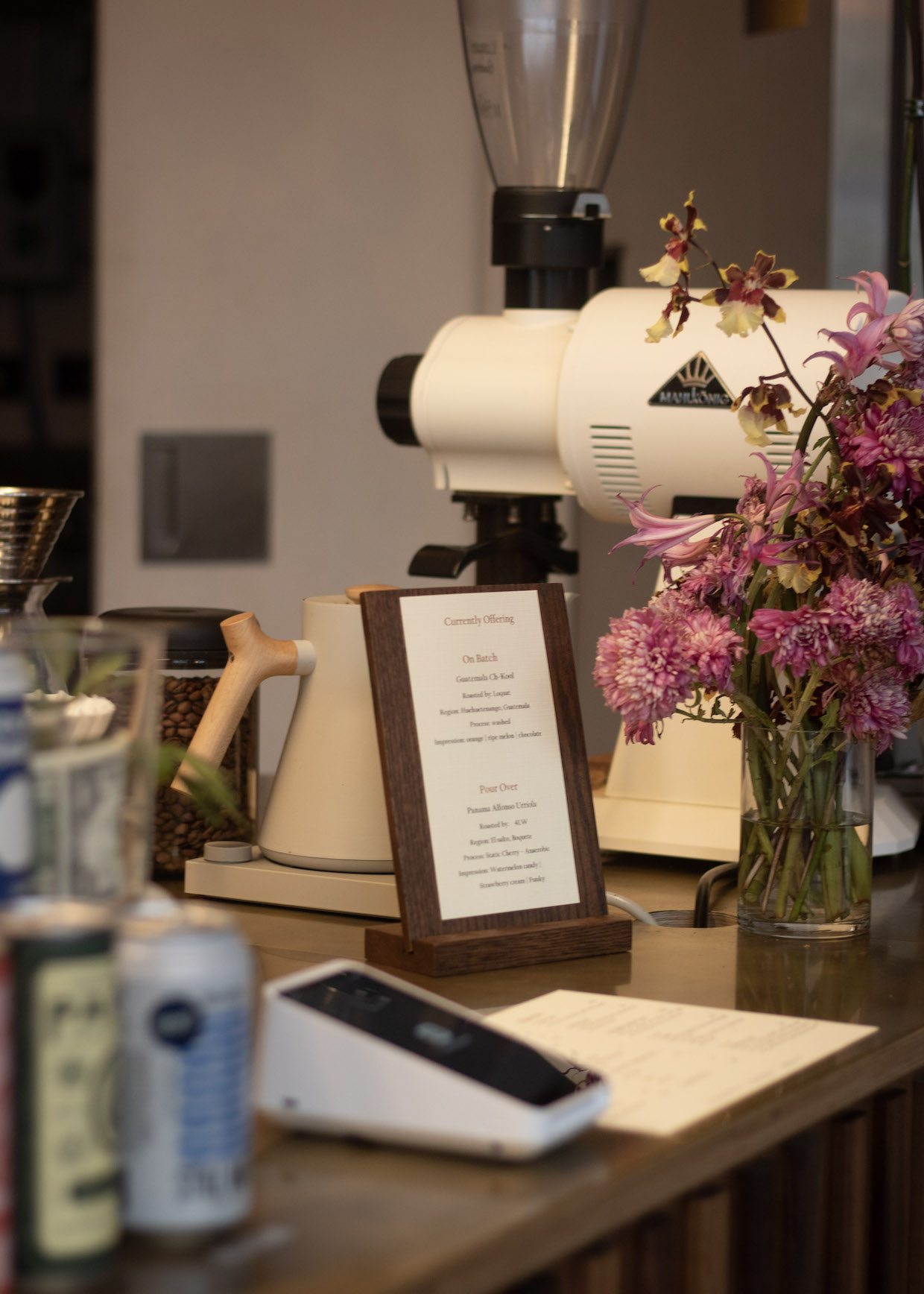 In early 2022 she launched Mandarin Coffee as a pop-up brand while the retail space underwent seven months of minor interior work before a grand opening that included a latte throwdown with some 80 baristas. 
While Mandarin Coffee may host additional events, for now the shop is continuing to celebrate the Lunar New Year with a Blossom Latte, featuring house-made ginger and pink peppercorn syrup combined with the house espresso, milk and a topping of freshly ground pink peppercorn and pink salt.
"It is savory, spicy, sweet, and warm," said Gao. "We are continually developing our signature drink offerings. There are so many flavors that we want to share and incorporate with coffee, so stay tuned."
---
Mandarin Coffee Stand is located among the Burlington Arcade at 380 S. Lake Avenue, Suite 111, in Pasadena. Tell DCN's editors about your new coffee shop or roastery here. 
More From DCN
Howard Bryman
Howard Bryman is the associate editor of Daily Coffee News by Roast Magazine. He is based in Portland, Oregon.
Retail
California/Pacific
Source: Daily Coffee News