Here Are 10 Exciting New Coffee Shops in the Southwest
The good times in desert climes continued this year with a variety of inspired cafes opening throughout Arizona, Texas, New Mexico and Nevada.
Some of these new hotspots invite guests to share in exciting direct connections to places far outside the United States — such as Eritrea, Brazil or Australia — while some are dazzling right where they are, with adventurous design and multifaceted services.
As we continue our 2022 Year in Review, here we take a look back at 10 exceptional coffee shops that opened this year in the Southwest offering quality as high as Saguaro cacti:
Phoenix's mocktail and coffee supply has risen significantly with the opening of Provision Coffee's three-story second retail location.
Situated at the front of a glass-enclosed structure called The Link, which binds two office buildings together in Uptown Phoenix's 7th Street Corridor, the new Provision cafe raises the bar for creative concoctions while rising to new literal heights in interior design… Read More
Vertically integrated farm-to-cup coffee company Peixoto Coffee Roasters has expanded with a vertically oriented second cafe in Gilbert, Arizona.
With 20-foot-high ceilings, the new cafe lures guests from a 1,600-square-foot service level up to a 500-square-foot mezzanine by way of metal-and-wood staircase that connects the spaces to accommodate as many as 100 people. … Read More
A 96-inch freezer is mounted on the wall behind the new Austin bar. Through its glass panels, guests can see 12 hoppers of coffee that maintain a temperature of around -6°F. Three of the hoppers are reserved for "Showcase" beans that are served as either espresso or pourover on a monthly basis, and nine are for the shop's "Deluxe" pourover program.
Custom dosers mounted under the freezer beneath each hopper drop beans directly into a Titus Nautilus grinder. One grinder is mounted on rails, allowing it to slide between the nine Deluxe dosers, while each Showcase hopper drops beans to a dedicated Nautilus grinder. Frank Durra of Titus Grinding built unique parts for the system and flew to Austin to help design and assemble it. … Read More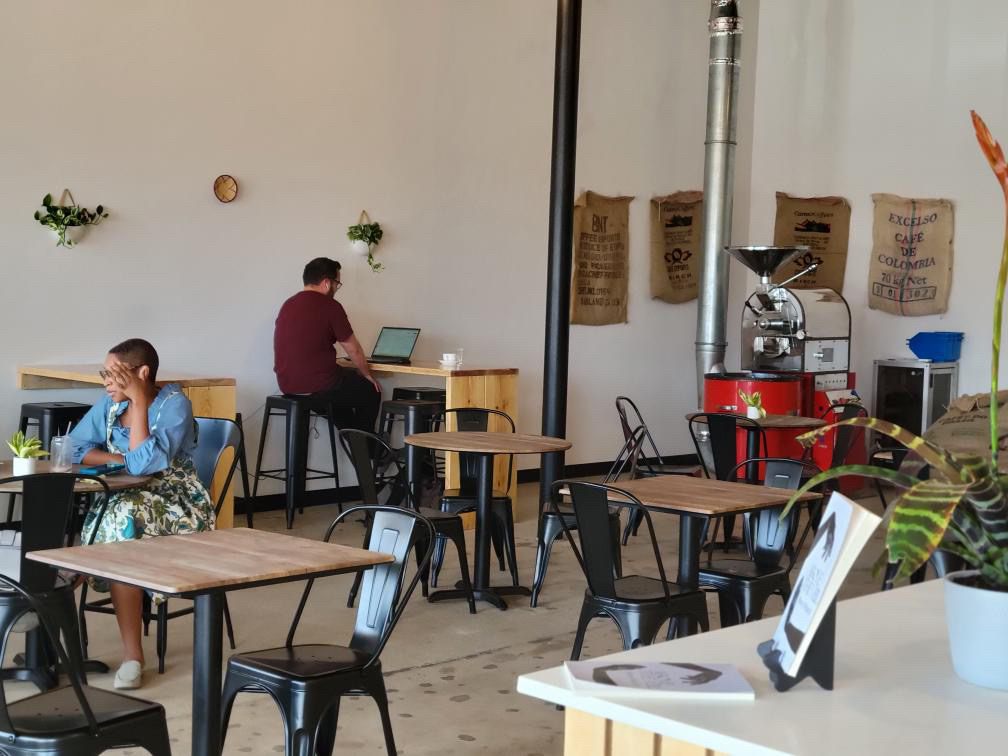 The stars have aligned for specialty coffee in Far North Dallas as Eritrean family-run roasting company Tre Stelle Coffee has opened its first cafe.
Traditional Eritrean and Ethiopian baskets hang between artwork from by local artists on the cafe's bright white walls, while the company's Ambex YM-15 roaster is visible throughout the shop. … Read More
Difference is indeed the cause for celebration at Dig It!, which caters to people of all abilities both behind the bar and in the house. The shop is closely associated with the Las Vegas-based nonprofit Garden Foundation, founded by Taylor Gardner Chaney, whose sister Lindsay was born with Down syndrome.
The interior space previously occupied by Golden Fog Coffee has been reimagined with a modern aesthetic, splashes of bright neon colors and highly Instagrammable elements like a pink ceiling, lots of plants and a pair of disco balls. … Read More
Texas coffee company Pax & Beneficia has opened its third, its largest and its sparkliest coffee house yet in the Dallas–Fort Worth metroplex, featuring a new in-house roasting operation.
Much like the company's first shop in Las Colinas, as well as a second that opened inside the AC Hotel in downtown Fort Worth last year, the new 2,700-square-foot location in Grapevine, Texas, opulently blends Turkish coffee culture and Arabesque design with Scandinavian coffee and design influences. … Read More
Lavish flavors captured in adventurous concoctions are at the heart of Wild, a vividly designed coffee shop, cocktail bar and dispensary in Houston.
Opened by cousins Adyson and Andrew Alvis, the duo behind Houston establishments Grinder's Coffee Bar and The CBD Apothecary, the new shop has one menu for cannabis-based provisions, one for creative craft cocktails and one for a coffee program focused on beans sourced and roasted for the shop by Jacob Ibarra of Tenfold Coffee. … Read More
Single Speed Coffee Roasters has cruised into a new brick and mortar roastery cafe amidst the ponderosa pines of Flagstaff, Arizona.
Greenery dangling from planters on the ledge of an upstairs balcony adds touches of nature in between the clean white walls of the airy modern-industrial space, where guests can find seats in the 200-square-foot loft or the 1,000-square-foot main level. … Read More
Seattle specialty coffee mainstay Caffe Vita opened a roastery and cafe in Phoenix, offering sunny new digs for locals and Seattleite snowbirds alike.
In an approximately 2,00-square-foot space that for more than 70 years was home to the local costume supply institution Easley's Fun Shop, a Probat UG22 roaster centers the 500-square-foot production roastery. … Read More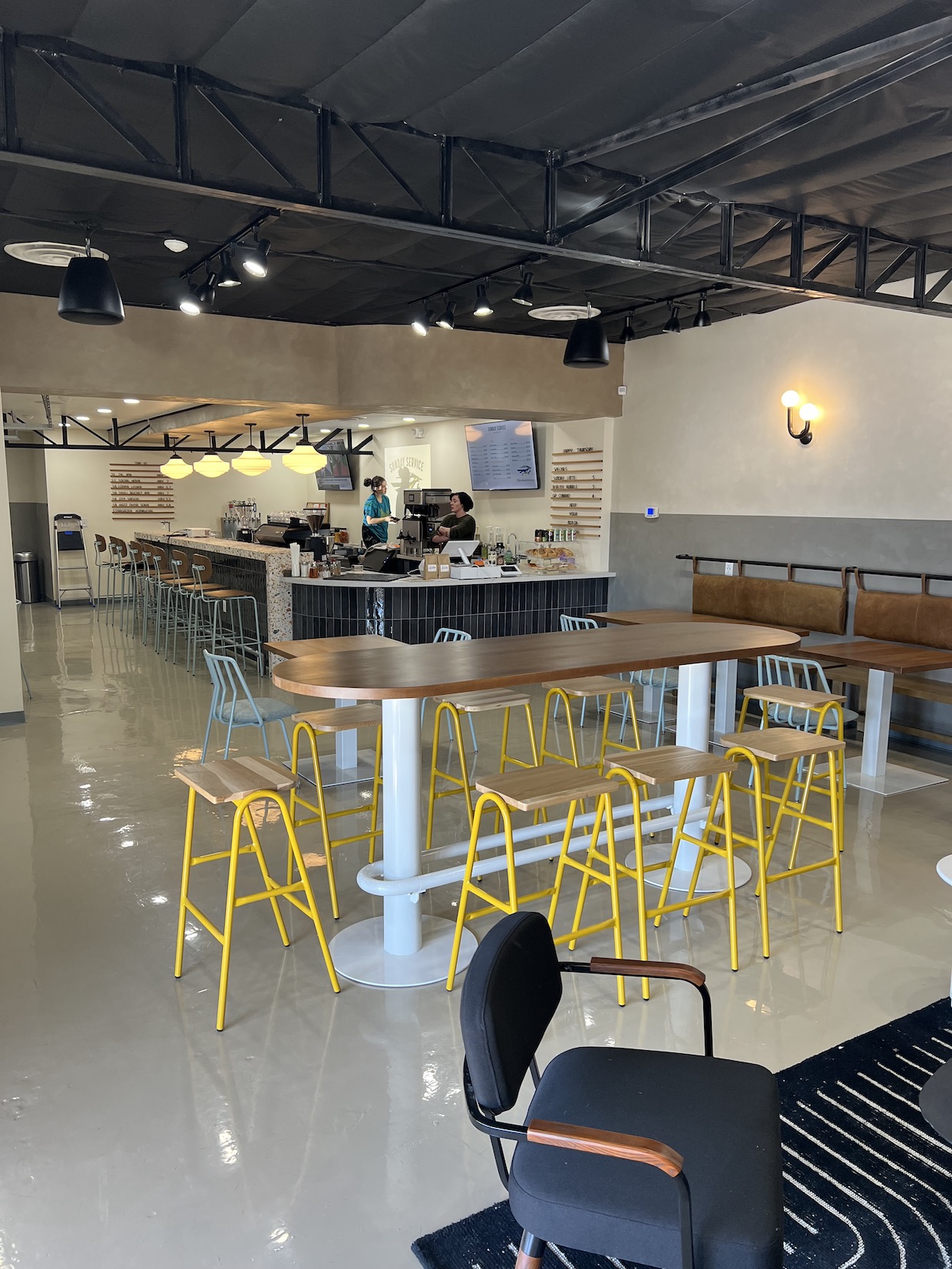 A new coffee spot in Albuquerque, New Mexico, called Sunday Service Motor Co. has hit the ground running, seven days a week.
Occupying a 4,500-square-foot space that formerly housed a Harley-Davidson dealership, the new beverage destination includes a roastery and a beer brewery, with a coffee bar and crafts on tap. Approximately one quarter of the space remains dedicated to two-wheeler repair, offering an outfitted DIY space for an access fee. … Read More
More From DCN
Source: Daily Coffee News