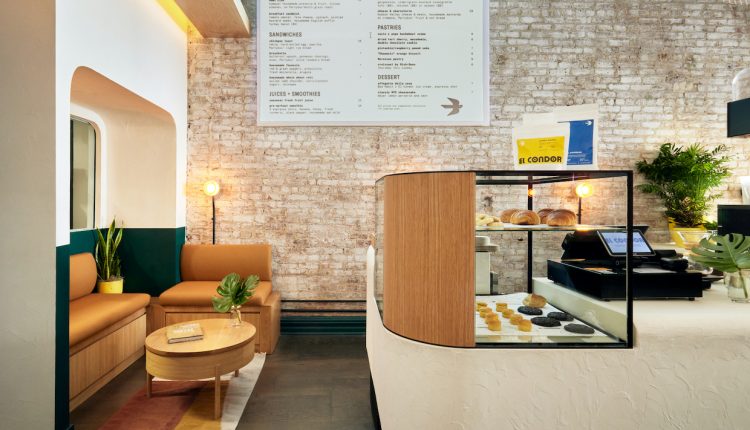 El Condor Coffee Swoops Into New York; Nashville and Houston Next
With table service, open tabs and outlets at every seat, New York City's El Condor Coffee Roasters hopes to keep customers comfortably nested in the West Village.
The 500-square-foot cafe that opened last month also accepts reservations for its 18 seats amidst the festive yet sleek Palm Springs midcentury-modern-inspired interior.
With a separate conference room also available for reservations, the El Condor food-and-beverage concept is designed to appeal to casual walk-ins or more structured occasions such as dates or business meetings.
"It's a coffee shop, and I'm not expecting anybody to think about booking a table for [the casual coffee shop] kind of experience, but we wanted to add the convenience of potentially doing it," El Condor Co-Owner Nicolas Simon told Daily Coffee News. "For all those different kinds of occasions, we want our coffee shop to be flexible."
El Condor also focuses on its workers through a progressive package of compensation and benefits, plus opportunities for training and advancement. Wages start at $20 per hour, and both front-of-house and back-of-house employees will earn additional income through a revenue sharing tied to the company's roasted coffee sales.
The no-tipping establishment's goal is to provide a baseline annual pay rate of $50,000, while keeping workers incentivized, motivated and inspired.
"When I go to a basketball game, those guys get paid whether they win or lose, and nobody in the stadium at the end of the game is going to say 'I like the game, I'm going to pay 20% extra' and that goes towards paying the players," said Simon. "That's not the way it works; it shouldn't be working this way, and I don't understand why the service industry is the only one doing this."
---
Related Reading
---
Following consultations with Jacob Ibarra of Houston-based Tenfold Coffee, El Condor's in-house coffee sourcing and roasting program involves a Bellwether roaster installed beneath the cafe.
El Condor Operations Manager Tyler Dorso now sources coffees through importers such as InterAmerican, Balzac Brothers and Falcon Coffees before creating roast profiles for filter coffees and cold brew made possible by a a Ground Control batch brewing system. Espresso comes through the shop's Faema E71 machine before reaching custom ceramics made by North Carolina-based East Fork Pottery.
From a kitchen visible to customers come fresh, seasonal baked goods, while  Chef Youssef Aderdour creates breakfast and lunch options for the all-day menu. The shop also offers beer and wine.
Simon, who was formerly an operations director under renowned chef and restauraterur Alain Ducasse, co-owns El Condor with real estate broker Mucjon Demiraj. The two are also partners in the hospitality consulting company Wilcuma.
A second El Condor cafe is slated to open in New York City this summer. Leases have also been signed for third and fourth outposts, with projected openings in the Fall 2022 in Nashville and Spring/Summer 2023 in Houston.
Each of the El Condor locations will maintain the Palm Springs mid-century vibe with open kitchens and indoor/outdoor seating where possible, though each will be uniquely adapted to its locality, according to Simon.
"I'd rather try to not start from a blank page every time, but try to reinvent the story a little bit every time," said Simon. "We want to maintain a common thread to the design and the style, but at the same time we want to stay away from copy/pasting what we've done here."
---
El Condor Coffee Roasters is located at 95 Greenwich Avenue in New York City. Tell DCN's editors about your new coffee shop or roastery here. 
Howard Bryman
Howard Bryman is the associate editor of Daily Coffee News by Roast Magazine. He is based in Portland, Oregon.
Source: Daily Coffee News