Eight Exciting Coffee Shop Openings in the Mountain States This Year
As the sun goes down on a comparatively quiet year for specialty coffee retail openings on the inland western frontier, we find a remarkable variety of coffees from the shops that did sprout up. 
In Colorado, in particular, multiple new multiroasters are bringing a veritable avalanche of non-local brands to brew behind their bars. Other shops offer direct connections to the coffees of Guatemala and Ethiopia, while one pioneering cafe has introduced a "no-waste cafe" model. 
Continuing our 2022 Year in Review, we now look back between the tumbleweeds at some exciting new cafes in the mountain states.
Convivio's coffee program focuses primarily on coffees roasted on or near where the coffees were farmed and milled. In its current soft-opening phase, that includes roasted beans from Guatemala-based Gento Coffee and Paralelo 14, as well as from Nicaraguan coffee company Vega Coffee.
"Our goal has been to create a warm, welcoming space where the community can feel at ease, and we wanted to evoke that connection to Guatemala and the earth, where our coffee comes from," Convivio Café Cofounder Vivi Lemus told DCN. "But what matters most to us is to create a place where nothing is too precious or fragile. We want to be a place where one is reminded about stepping into abuela's house — that warm, cozy feeling." … Read More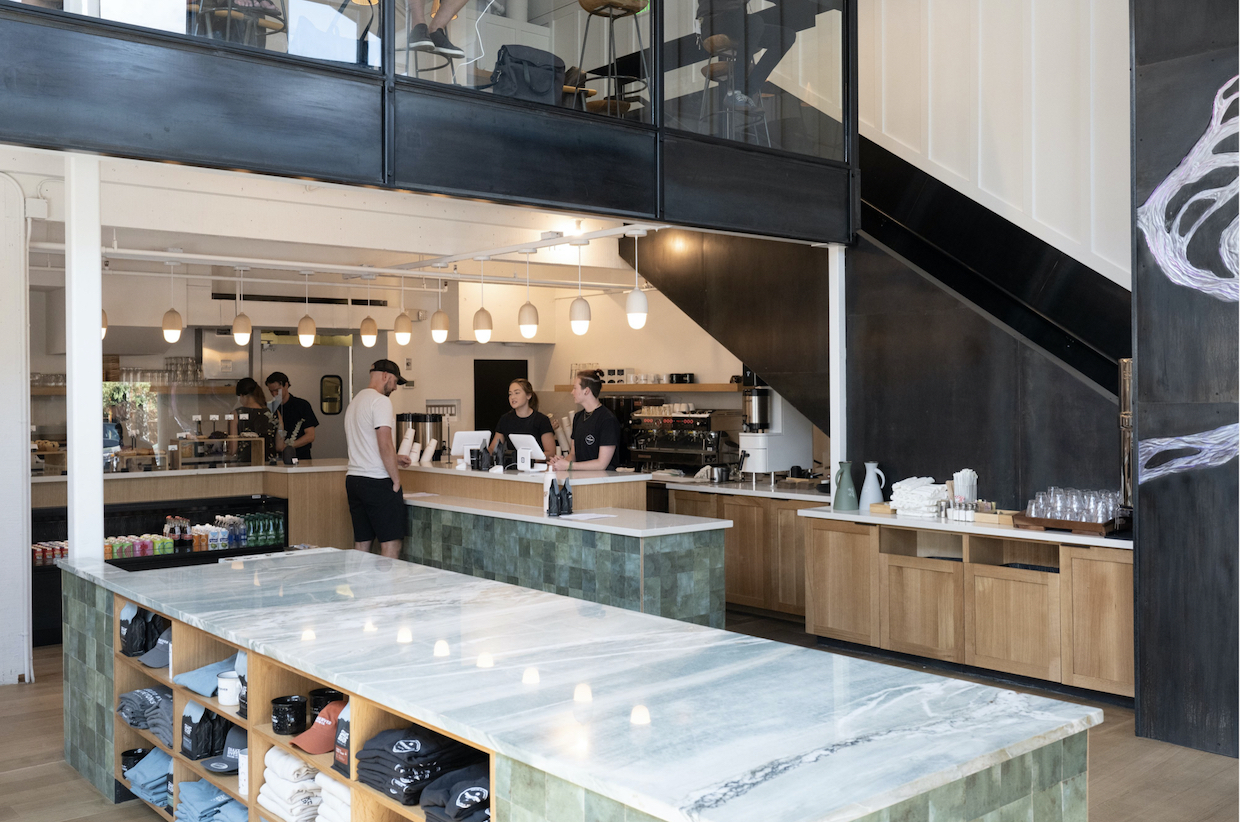 Under the shop's 25-foot-high ceilings, guests are now swept into a world of carefully sourced, freshly roasted and deftly brewed coffee. Seating for roughly 50 people is spread throughout the main level, a 750-square-foot loft and a 500-square-foot outdoor patio.
"The heart and soul of Snake River Roasting Co. has always been and will always be about relationships," Snake River General Manager Cait Rifkin recently told DCN. "As a roasting team, we absolutely love what we do, but have wanted a platform to be playful with our coffee and share with our customers our story and experience in a different way. The cafe gives us that opportunity." … Read More
Konjo Founder Hirut Crusan grew up on her family's coffee farm in the Sidama region town of Yirga Alem and now roasts coffees sourced from nearby locations for whole bean sales and drinks. Once a week, Crusan also performs a traditional Ethiopian coffee ceremony.
"I grew up in Ethiopia, and that's the main thing your family is expecting and will teach you — how to cook, and how to roast coffee," Crusan told Daily Coffee News. "That's one of our cultures, to teach the girls at a very young age. At home every morning they roast a little batch, every day, even now. So, while not commercially, I definitely roast a little bit for myself, and have for a long time." … Read More
The new beginnings never end at the split-level multiroaster cafe January Coffee, which just celebrated its grand opening in Boulder, Colorado.
With two floors of seating and an outdoor patio, the cafe offers guests a menu of classic and creative espresso drinks, drip coffee, cold brew and manual brews, all kept in perpetual freshness through the introduction of different roasting companies every few months… Read More
"Initially, it drove me crazy seeing how many single-use products were involved in the brewing and roasting process," The Fox Den Founder Patricia Acheson told DCN. "It wasn't long after that I began looking into solutions to reduce the materials used when making and serving coffee."
What Acheson created was a cozy cafe that features second-hand furniture, colorful rugs and a bar decorated in the thrift-store coffee mugs in which coffee is served. Guests may also bring their own vessel or purchase glass jars… Read More
Casper, Wyoming, coffee institution Metro Coffee has opened its third retail location this week while also rolling out its first house-roasted coffees. The launch of the roasting operation coincides with the coffee company's 20th anniversary.
Sean Peverley, a former medical technologist who with partners bought Metro Coffee in 2017, started loading hoppers and filling Metro-branded retail coffee bags this week. He and his son, Metro Coffee Operations Manager Carter Peverley, now roast the company's beans in a Diedrich IR12 roaster that stands at the center of the new 1,500-square-foot roastery… Read More
Taking branding to a literal extreme, the new multiroaster coffee purveyor will provide one free daily 12-ounce coffee for as long as it lives to anyone who gets the Procession Coffee logo tattooed on their arms or legs and promises to tip the barista at least $1.
"We thought about capping it, but honestly at this point we're gaining so much traction that I kind of want to just keep it going," Procession Coffee Co-Founder Joshua Bosarge told Daily Coffee News of the more than 20 super fans who have already walked the walk. "They're not doing the thing where they come and get the drip and then leave. They're coming and they're buying the Blue Monday drink and a latte as well. They're really coming out for us." … Read More
Among the mesas, orchards and farms on western slope of the Colorado's Rocky Mountains, Rubicon Coffee is on the ascent in the town of Paonia.
Having recently relocated its production operations into a 750-square-foot space and doubling capacity with a new Diedrich IR12 roaster, the company is now offering walk-in drip coffee and roasted bean sales on site… Read More
More From DCN
Source: Daily Coffee News