Design Details: Tiny Arms Coffee and Ceramics in Lowell, Massachusetts
With one hand in coffee roasting and the other in ceramics, the industrial craft-focused brand Tiny Arms has launched in Lowell, Massachusetts.
Tiny Arms Coffee Roasters and Tiny Arms Ceramics are the sibling brainchildren of native New Englanders Jon Santos and Kate Cutlip, the former an experienced barista and roaster, and the ladder a designer in multiple formats.
Tiny Arms is located inside Western Avenue, a former Lowell mill building that's been converted into studios occupied by more than 300 artists. The brand operates a small cafe overlooking the building's loading docks.
After initially roasting with a Bellwether machine upon the coffee brand launch in 2021, Santos has since been regularly making the trek to the Shared Roasting co-roastery in New York as Tiny Arms awaits the arrival of a new Loring machine of its own.
We recently caught up with Santos via email to talk more about Tiny Arms' roasting program and its playful packaging, which for each new coffee features a cartoon T Rex in different light-action scenarios.
[Note: Answers may have been edited or shortened for clarity.] 
What's up with the name Tiny Arms?
When my partner and I first met, we were joking about the idea of opening a coffee shop. When going on a walk we were making up business names based on random things we saw, and when we stumbled upon a T Rex on the side of a building, she blurted out 'tiny arms.' We laughed, and then three years later we made it official.
Who is behind the artwork?
Kate is… At the beginning of the pandemic she decided to play more digitally and our branding was really born from there. With a love for children's books and fun illustrations Kate wanted to capture that playful imagery in our packaging as well.
What was your approach to the coffee box design?
In the coffee industry sometimes things feel a bit serious and we wanted to stand out in a sea of black and white packaging. Keeping it playful and colorful in the scenes on our packaging hopefully pulls people in, but most importantly makes them smile.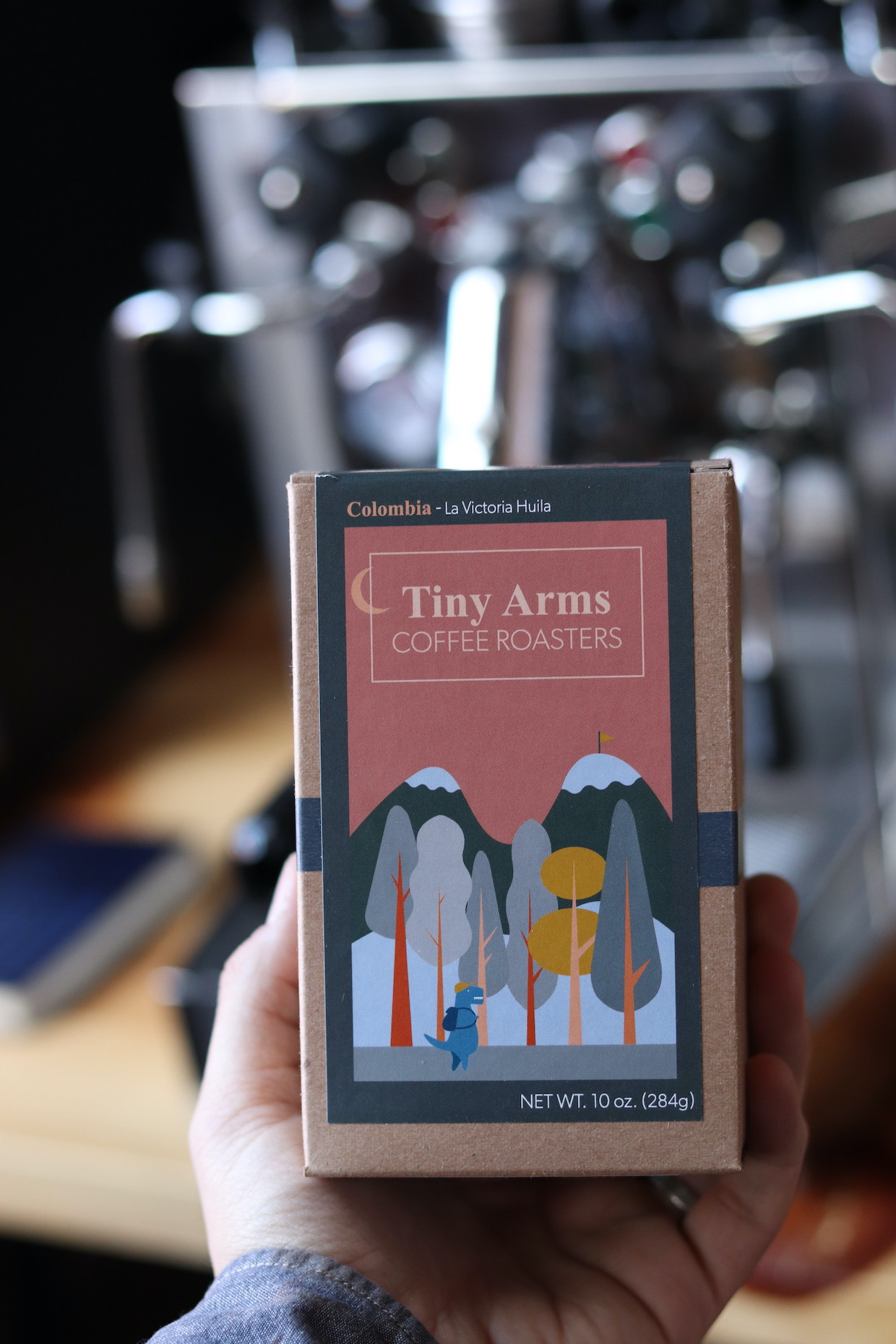 How, specifically, does the art relate to the coffees inside or the brand overall?
As of now we haven't been intentionally pairing coffees with scenes. Sometimes we are working on a label and Kate is like "I want to see a dino doing this!" I wish there was more of a rhyme and reason but at the end of the day it's just what we are feeling in the moment. I think with any specialty market it can be kind of intimidating to get into it. Our hope is that with our colorful playful packaging people will see a dino hiking a mountain, bird watching, or sorting mail and be a little less intimidated to enter the fun world of coffee!
What is your approach to sourcing and roasting?
Our goal is to source great coffee from people who get paid well. We work strictly with trusted importers who pay the farmers they work with significantly over the market price. The goal is to build real long term relationships with the farmers. With proper pay and long term relationships farmers are able to receive feedback and invest back into their farms to improve. Coming from a family of farmers in Brazil, if I exploit people for their product it is the same as me exploiting my family.
Our roasting is inspired by our love for food and other roasting companies such as Coffee Collective, Touchy Coffee, and Little Wolf. We believe that every coffee should be a sensory experience just like a great meal is. As for roast level, we lean towards light to medium with the goal of roasting coffee for its full potential. This year we have started to do both a light and medium roast for some coffees so they can be enjoyed both as filter and espresso.
How do you see Tiny Arms growing in the future?
While we enjoy getting to know our neighbors by having the cafe open, we are really excited to focus more on growing the roasting side of the business. We played it a little safe with coffee sourcing last year but are super excited by some of the more interesting coffees we will be releasing in the next couple of months. We aren't exactly sure what is in store for us beyond that, we are trying to take things one day at a time and grow organically.
---
DCN's ongoing "Design Details" series highlights specific details in coffee shop/roastery interior design or coffee-related packaging and branding. Share your project for consideration here. 
Source: Daily Coffee News