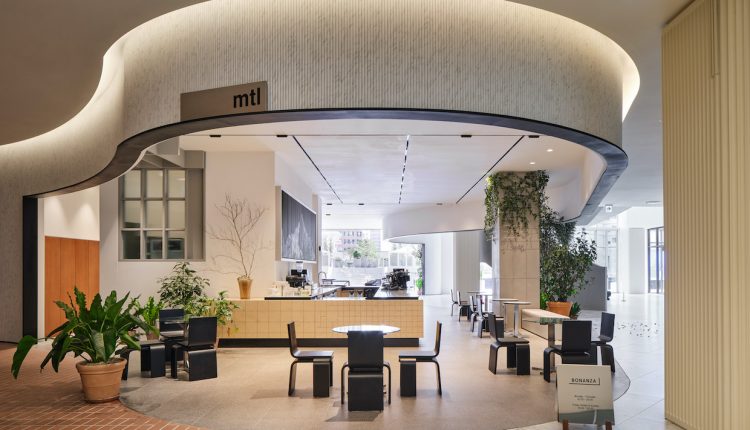 Design Details: Flowing Spaces at mtl in South Korea
Opened last year inside a new Lotte department store in the South Korean city of Dongtan, a new lifestyle brand called mtl blends coffee with other retail and lounge spaces.
The South Korean firm tasked with imagining the integrated retail concept was Seoul-based stof, which sought to create a united brand presentation within the busy mall without "a specific hierarchy among the programs," according to a project description shared with Daily Coffee News.
A tri-vision (a.k.a. "three-message sign") billboard located behind the bar displays messages of veganism, eco-friendliness and minimalism that are central to the mtl brand. Coffee for the bar is provided by Berlin, Germany-based roasting company Bonanza.
Meanwhile, stof used numerous physical elements to extend the brand's reach to the adjoining outdoor terrace.
"Shortcuts are arranged throughout the space for the natural transition between programs within a unique streamlined structure through which visitors can see layered landscapes from public spaces to staff spaces, and from inside to the terrace," the firm stated. "The grid structure installed on the ceiling changes [with] each component, such as windows and shelves, emphasizing the connectivity of the space, while these intersecting shaped elements are also applied to coffee bar furniture, chairs, and tables."
The furniture choices for interior spaces corresponded with program needs, such as tables with hooks to hang merchandise purchased at the department store, spacious bench seats for moments of rest, and high tables by the windows for more active communication.
"The finishing materials for furniture — made of birch, plywood and copper — give unity between elements," stof stated.
---
Read more from DCN's ongoing Design Details series here. Coffee shop owners, designers or architects are welcome to submit their recent coffee-focused projects for editorial consideration here. 
Source: Daily Coffee News