Bricco Blends Breaks Down Barriers to In-House Oat Milk for Cafes
An Austin, Texas-based startup vegan food and beverage manufacturing startup called Amalia Foods has launched Bricco Blends, a powdered oat milk base for coffee shops and cafes.
Bricco Blends involves a dry blend of organic oat powder, pea protein and a short list of complementary ingredients that transforms into oat milk when combined with water.
The startup says the formulation allows for a longer shelf life, a smaller shipping footprint, considerably less packaging waste and lower costs per quart as compared to existing liquid solutions. The company also says the oat milk tastes delicious and performs well in steaming and foaming.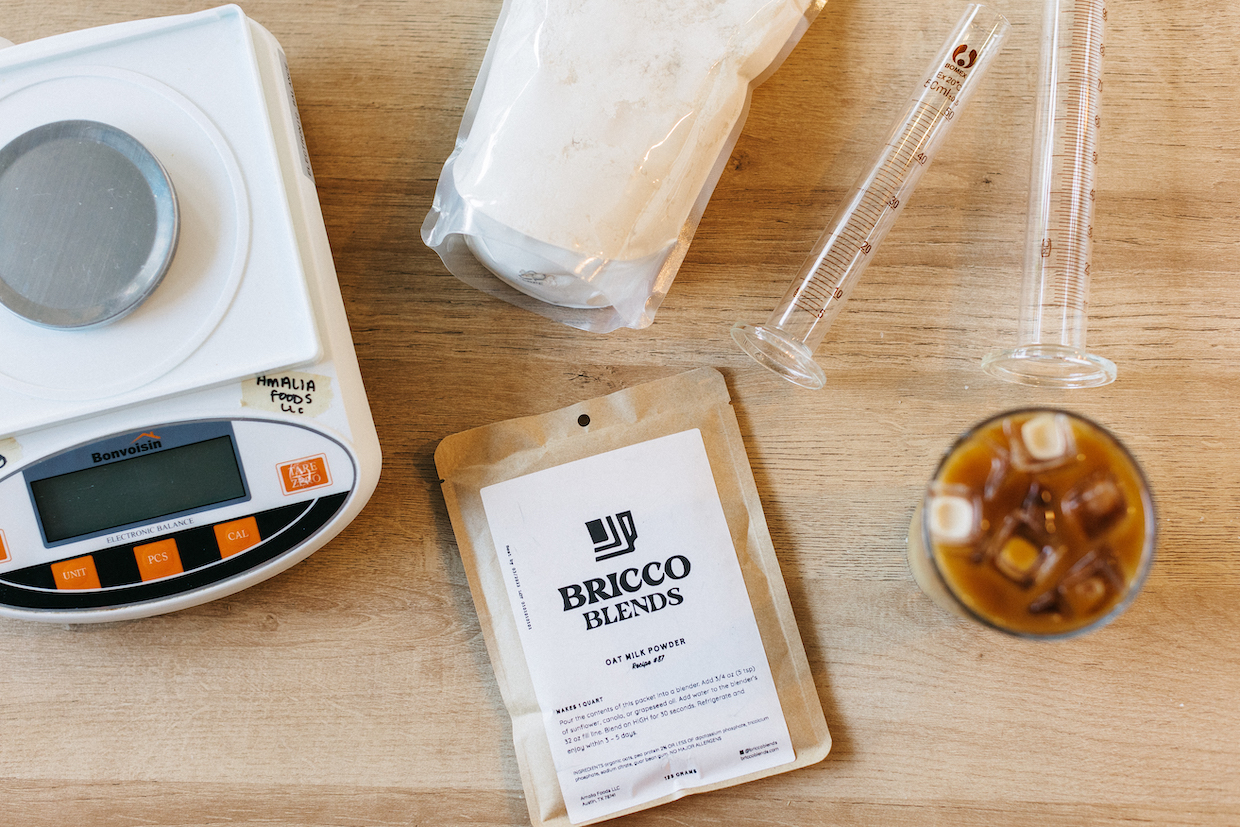 The product is the creation of Amalia Litsa, founder of Amalia Foods and owner of the Austin vegan specialty coffee shop Dear Diary Coffee.
Sales of Bricco Blends in 120-gram pouches and 25-pound bulk bags have just launched via the Dear Diary web store. A 25-pound bag of the oat milk base, yielding 94.5 quarts of barista-style oat milk, is sold online for $295.87.
"Big oat milk is hard on small business," Litsa told Daily Coffee News. "Consumer demand has skyrocketed, and coffee shops are just kind of getting dragged along. Most shops can add an upcharge, but vegan food businesses are suffering due to the sheer cost. Bricco Blends can turn that around."
By Litsa's calculation, a coffee shop using 10 gallons of oat milk per week would save potentially thousands of dollars per year compared to existing sources. The move would also keep potentially thousands of contemporary milk cartons out of the landfill.
Bricco Blends come in standard plastic-lined bags, which Litsa said are "nothing to write home about" in terms of environmental sustainability on an individual basis, although at a typical commercial volume of oat milk consumption the powdered concentrate requires exponentially less voluminous packaging and shipping than liquid alternatives.
The overall reduction in packaging material could be particularly impactful considering the limited or nonexistent capacity of many municipalities to recycle the most common carton products used by coffee retailers.
"Oats are dry," said Litsa. "Why are we spending millions of dollars every year to ship heavy liquid in unsustainable packaging across the country?"
Despite the demand for alternative milks in coffee shops, in-house milk production remains out of reach for many purveyors. Other new milk-making systems such as the Brewista-owned Nutramilk and single-use-pouch-focused NuMilk have emerged in recent years, while Bricco represents the newest entrant into the field. Bricco milk is currently being steamed and poured at Dear Diary, which opened in April of 2020.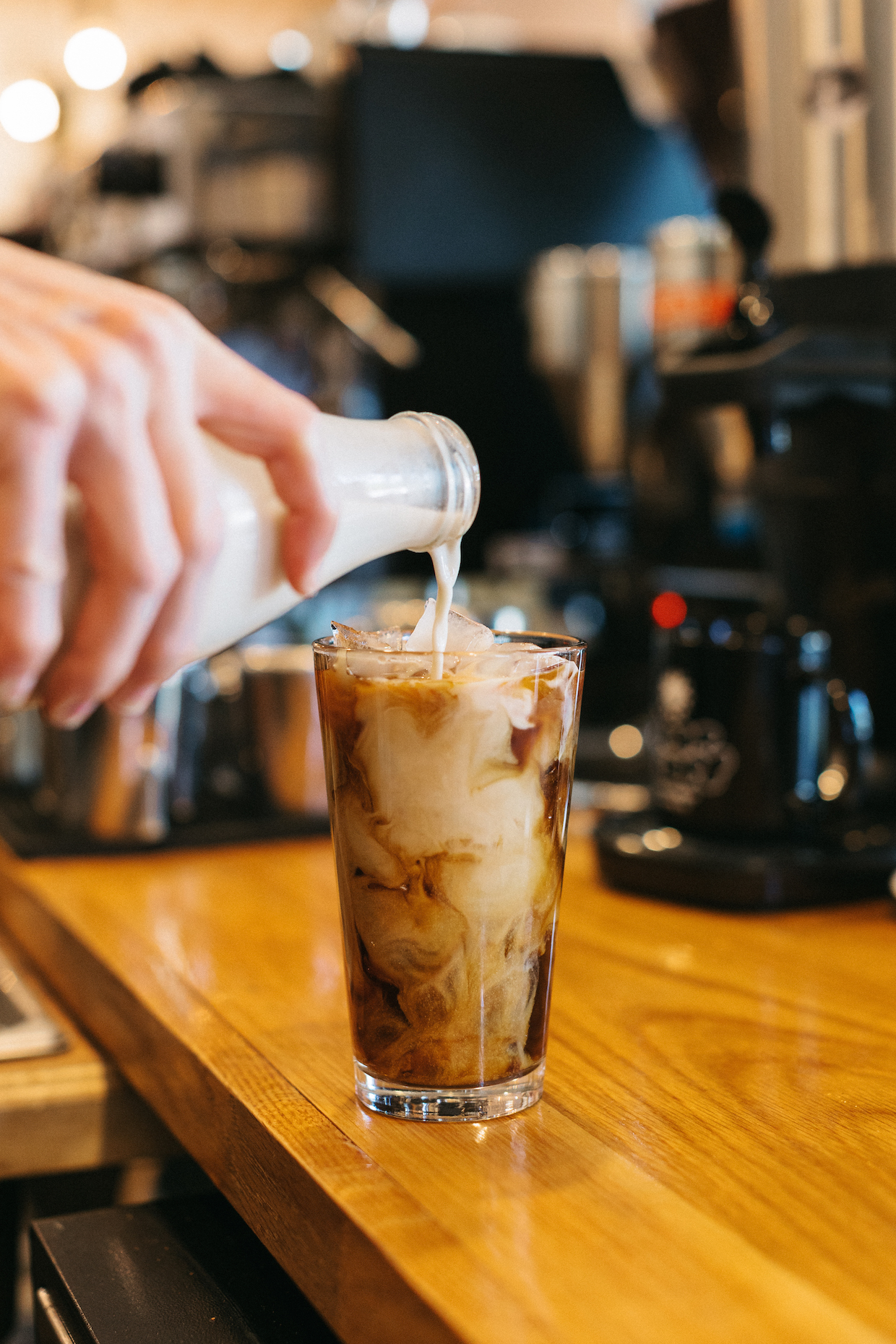 "My team is pretty enthusiastic about it," said Litsa. "We found that we can dump the ingredients in a 5-gallon pony keg and blend the oat milk with a common drill attachment. It looks cool to have oat milk on tap, and kegging it really extends its shelf life."
At Dear Diary, the oat milk tops shots and brews of coffees that are sourced and roasted by Sara Gibson and Kimberly Zash of Austin's Sightseer Coffee and Rising Tide Roast Collaborative.
"Our entire vertical is woman-led," said Litsa. "Sightseer only purchases coffee from women-owned farms or women-led collectives, and they've chosen Dear Diary to be their exclusive coffee shop retailer. They are warehousing Bricco Blends for me, which sets the stage for distribution."
Litsa is currently expanding the Dear Dairy web store to accommodate other products, such as artwork, gifts from local vendors, and more products under the Amalia Foods name, such as a vegan honey alternative called Hunny Bunny.
An add-on called Bricco Blends Olio made from safflower oil and sunflower lecithin is also available for amplifying the richness of the standard barista-style oat milk.
"Coffee shops are milk shops, honestly," said Litsa. "Only 20% of a latte, America's most popular coffee drink, is coffee. I want to see specialty coffee roasters sell their custom blended oat milk alongside their house roasts. I want to see neighborhood coffee shops become destinations for both beans and creamer. It's not really possible with cow milk, but it is possible with plant milk."
---
Does your coffee business have news to share? Let DCN's editors know here. 
More From DCN
Howard Bryman
Howard Bryman is the associate editor of Daily Coffee News by Roast Magazine. He is based in Portland, Oregon.
Source: Daily Coffee News