Bad Mother Gives Life to Great Coffee in St. Petersburg
Some things are too good to pass up. One of those is the home of Bad Mother (Instagram), a new multiroaster specialty coffee bar in downtown St. Petersburg, Florida.
The shop sits in the first-floor public area of the Station House co-working and event space in a historic St. Pete building. A frequent guest of the building, Chris Reynolds, had his eye on the space for months following the closing of a tea bar. 
A designer and creative director, Reynolds teamed up with partner Emily Demikat, whose background is in marketing, to bring a new coffee-focused concept to life.
Bad Mother plans to offer coffees from a rotating selection of roasters, beginning with some highly regarded roasting outfits such as Florida's own Eastlick Coffee Co. and Brooklyn, New York-born Sey Coffee.
"We've noticed a lot of really good coffee in our community," Reynolds recently told DCN. "A lot of great cafes roast in house, and I 100% admire that, but for our shop, we are not equipped to roast, so we figure, why not align with people that already do that really well, bring them in and give them credit?"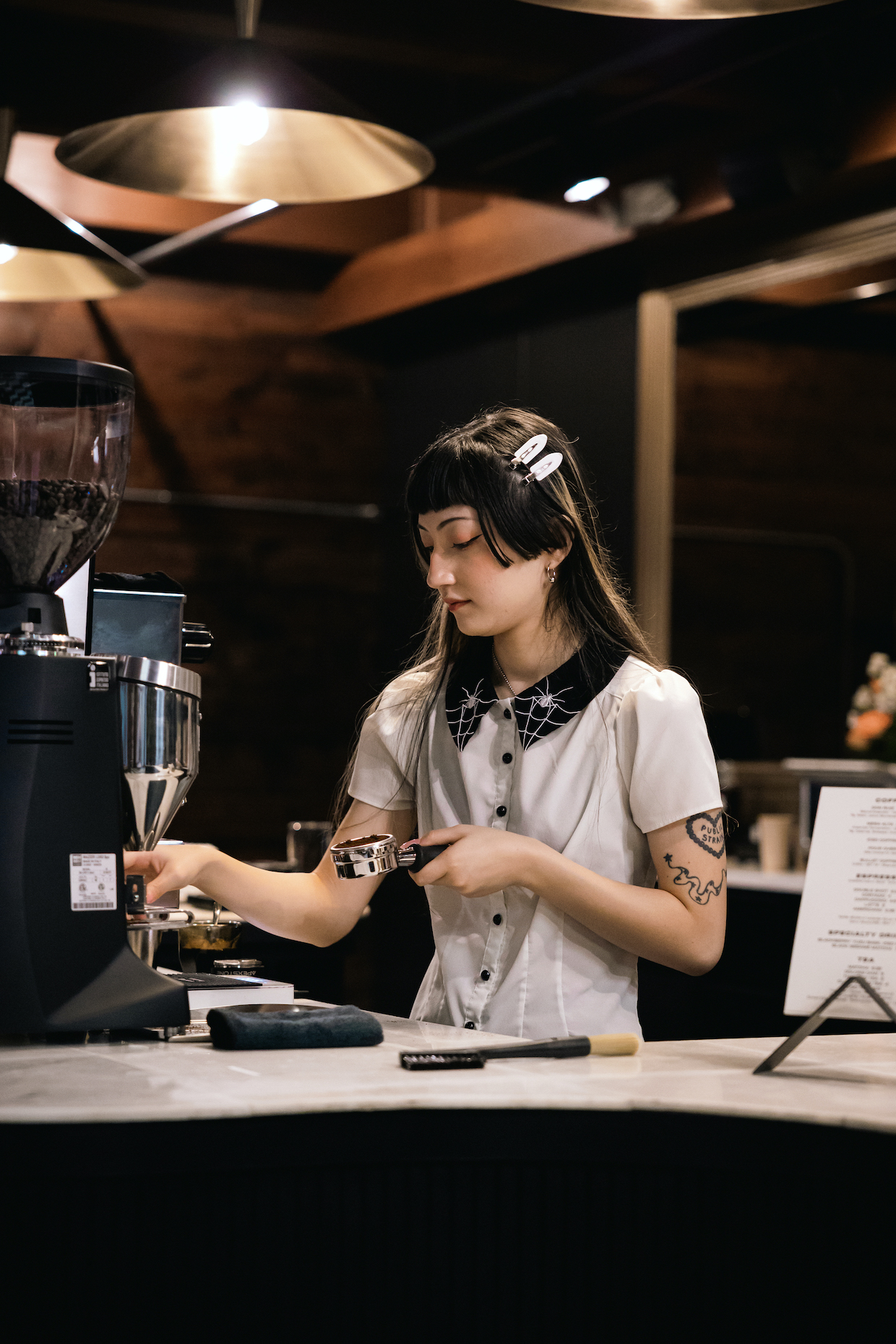 All these great coffees now flow through the bar at Bad Mother, which boasts a black-and-white color scheme that allows those coffee brands to shine through.
"We wanted something that was fun and unconventional that would stick and align with our modern approach to coffee," Reynolds said. "What we found is that the name definitely sticks with people, it resonates… It's kind of open for interpretation."
Gold accents and greenery provide pops of color within the largely black-and-white space and the minimalist coffee bar, where a La Marzocco Linea espresso machine stands front and center following some extra plumbing and electrical work. 
"Since we are in a 100-year-old building with an industrial feel and a lot of brick and wood beams — those types of industrial elements —we wanted our brand and style to complement it and honor the integrity of the space," Reynolds said.
Drip and iced coffees are complemented by house-made syrups, while the shop also features different coffees through a pourover program with Origami drippers.
The shop does not have a kitchen, but Bad Mother sources fresh croissants, quiches and other baked goods from local vendors, including bagels from Pete's General.
Reynolds said Bad Mother's place within the Station House venue may soon allow for additional events such as coffee workshops or other artistic or musical activities. 
"The coffee bar seems to be the fabric of the space where people tend to gather. They're here regularly," Reynolds said. "Before, when the space was vacant for a good chunk of the year, the vibe was a lot quieter, a little dead. Since opening the shop, we've seen a lot more people hanging out and working there. It sort of revitalized the space."
---
Bad Mother is located in Station House St. Pete at 260 1st Ave S in St. Petersburg. Tell DCN's editors about your new coffee shop or roastery here. 
More From DCN
Libby Allnatt
Libby Allnatt is a writer with a passion for trying new coffee shops. She lives in Salt Lake City, Utah. 


Source: Daily Coffee News