10 Exciting Coffee Shops that Opened in the Southeast This Year
As part of our continuing 2022 Year in Review coverage, we look now to the Southeast United States, where a fresh crop of independent coffee shops has taken root.
The year saw some lovely new additions to well-established coffee cities like Atlanta, Charlotte and Nashville, yet an unusually high proportion of exciting openings in 2022 came from the Sunshine State of Florida, where a new era in coffee has apparently dawned.
Among the approximately two dozen profile stories on new shops in the Southeast that DCN writers and editors put together in 2022, here are 10 of our favorites: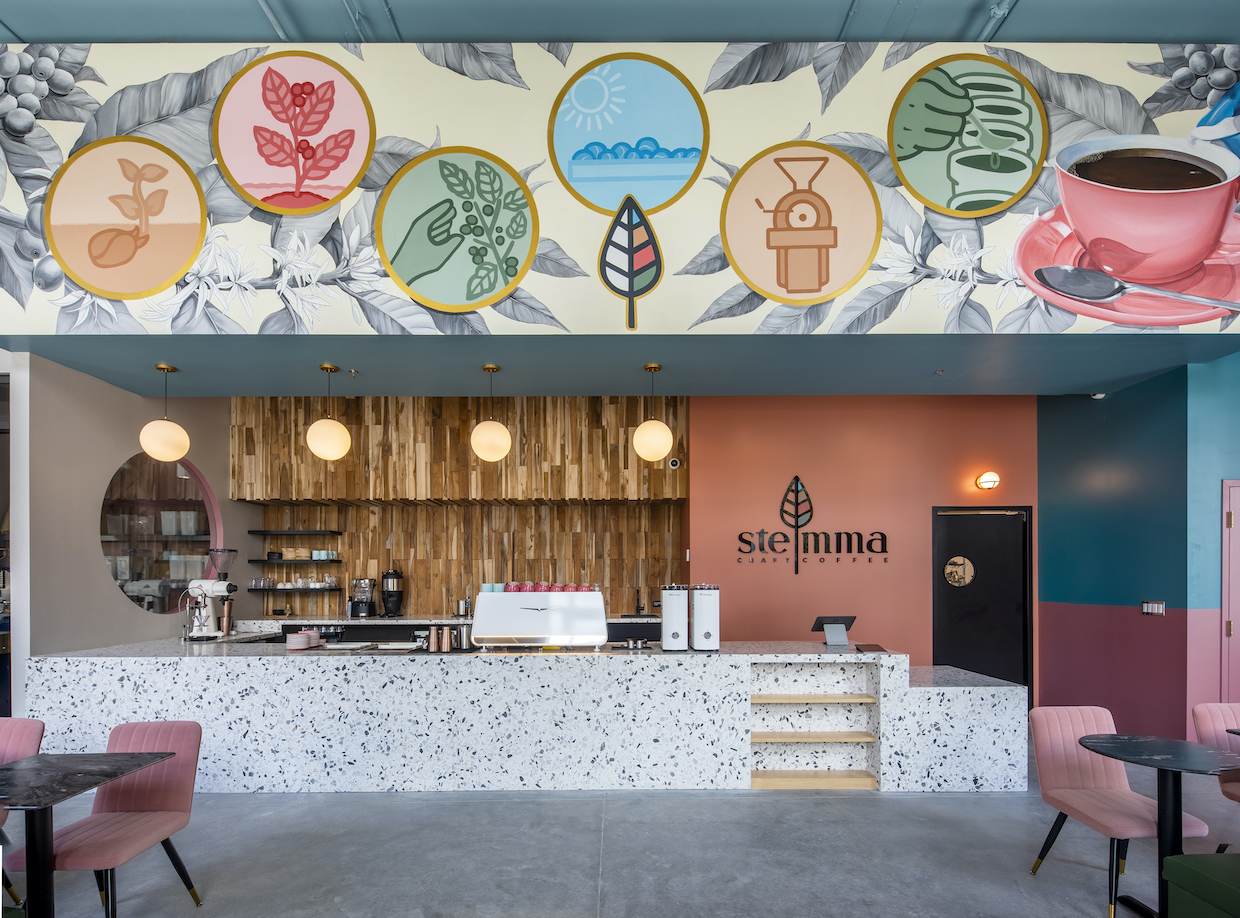 Beans stemming back to a coffee farm in Jinotega, Nicaragua, are now freshly roasted and brewed in downtown Orlando, Florida, at the colorful roastery cafe of Stemma Craft Coffee.
"We consider ourselves 'seed to cup' because we grow, import, roast and freshly brew every day," Stemma Craft Coffee CEO and Co-Founder Rebecca Maria Blandon told Daily Coffee News. "We hope that people appreciate the coffee process as much as we do and always feel welcomed when they walk through our doors."… Read more
Night Swim Coffee cannonballed into the coffee pool of Charlotte, North Carolina, opening three full-service retail cafes plus a flagship roastery cafe in a span of just five months.
Doors to the roughly 5,000-square-foot flagship location in the lower South End opened in February. Roughly 1,300 square feet are devoted to the retail coffee bar, while the rest houses Night Swim's production roastery, including a Loring Falcon S15 roaster… Read more
In a welcoming space just shy of 1,000 square feet with tall windows, June Coffee emphasizes the concept terroir through a custom bar that features bricks made from red clay. The cafe also highlights the building's past life as a woodworking shop, incorporating repurposed wood for interior wall cladding and other elements.
"Everything's local," said Founder Jimmy Truong, who worked with Birmingham-based Locke General Contractors for the buildout of a design led by David Baker Architects. "I wanted to create a fun, approachable and inviting, warm space with people."… Read more
Adding dizzying bursts of color to the front of a new workshop facility in Nashville is Matryoshka Coffee.
With a name referencing Russian nesting dolls, the shop within a shop is technically inside the new home of Nashville-based coffee equipment sales and repair company Technico Service… Read more
Atlanta's East Pole Coffee opened its second cafe this month, occupying an approximately 1,500-square-foot space in the Poncey-Highland neighborhood that by night transforms into a wine bar called Sea Legs.
The coffee shop is equipped similarly to East Pole's original Armour location, with a custom painted La Marzocco Linea PB ABR espresso machine paired with a Mahlkönig E80 espresso grinder, a Fetco brewer for batch drip coffee, a Mazzer ZM bulk grinder and a pair of custom Marco SP9 modules for the pourover program… Read more
The open-concept, minimally decorated space provides clear views of the roaster from various seating areas, including sofas and chairs, booths outfitted with USB connections and a children's table.
"We wanted to create an immersive experience in the craft of small batch roasting, brewing, and tasting, as well as a community space where individuals and groups can spend time relaxing, working, or socializing," Vessel Coffee Founder Sarah Cowherd told Daily Coffee News. "Our open-concept design brings all of this together."… Read more

Evoke Coffee Company has expanded from its strictly mobile setup to create one of the first Black-owned brick-and-mortar specialty coffee spots in Charlotte, North Carolina.
Evoke Coffee Founder Joe Keenan is taking advantage of a spacious 1,800-square-foot central Charlotte location to go beyond the traditional coffee shop model, offering mobile setups and configurations for community events and conversations, including an ongoing series called "Coffee After Dark."… Read more
The opening was nearly a year-and-a-half in the making after Co-owners and business partners Corey Alexander and Bradley Bruce decided to merge their beverage-oriented visions for a community gathering space. Bruce wanted to open coffee shop, and Alexander always wanted to own a bar.
"Ultimately, we're a neighborhood that is so diverse but has very few places where people can just come and hang out," Alexander said. "Our baristas are going to greet you, talk to you… We love regulars. We want people who come in to feel like regulars, sit at the bar and talk to the barista or me or whoever's in the shop. A little community is what we really aim for."… Read more
Some things are too good to pass up. One of those is the home of Bad Mother (Instagram), a new multiroaster specialty coffee bar in downtown St. Petersburg, Florida.
The shop sits in the first-floor public area of the Station House co-working and event space in a historic St. Pete building. A frequent guest of the building, Chris Reynolds, had his eye on the space for months following the closing of a tea bar… Read more
An inter-peninsular bond over specialty coffee has grown stronger with the opening of Korea-inspired Haan Coffee's roastery and cafe in Orlando, Florida.
Haan Coffee worked with GDP Design Build to create a space in the city's Mills 50 district that's deeply attuned to Korean architectural traditions, with the goal of creating an experience that promotes balance, community and curiosity… Read more
More From DCN


Source: Daily Coffee News