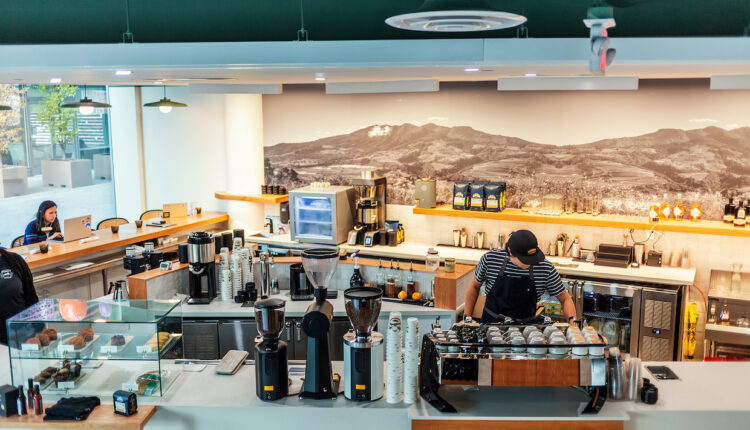 10 Exciting Coffee Shop Openings in the Northeast This Year
Continuing DCN's 2022 Year In Review series, we look now to the United States Northeast to find a titillating assortment of independent coffee shops that we profiled throughout the year. 
The region's grand old cities and dense suburbs continue to support the biggest of chains alongside Northeast regional specialty chains such as Bluestone Lane, Gregorys Coffee or rapidly expanding upstart Blank Street Coffee. 
With some exceptions, this list tends instead to focus on single, independent new shops with singular visions towards coffee service, quality, aesthetics or guest experiences.
Here are 10 of the most exciting Northeast coffee shop openings that we covered in 2022:  
Panama-based coffee company Cafe Unido has realized a vision to unite high-quality Panamanian coffee with equally high-quality food and other beverages. 
Following the more coffee-centric stall the company opened in 2019 inside the Latin American marketplace La Cosecha in Washington D.C., the new cafe in the Shaw neighborhood is the company's first full brick-and-mortar spot with a full kitchen in the U.S… Read more
The shop is designed to provide a comfortable, inspirational and communal space for writers and crew members of television and film productions working in the city.
Inside the roughly 1,500-square-foot Lost Draft space, a rentable 300-square-foot private room is set aside for table reads and events. In the main shop area, neutral tones and textures accented by vintage fixtures and film-inspired details are intended to inspire colorful imagination… Read more
Offering a collection of flavor profiles one precise coffee cup at a time is Compilation Coffee Roasters, a new all-pourover coffee shop in New York City's East Village. 
Following a concept created by two deeply experienced specialty coffee professionals, the roughly 275-square-foot shop gets right down to business with standing room only and an intense focus on single coffees done right… Read more
Why did the Little Wolf cross the road? To open its first standalone brick-and-mortar cafe. Yes, Little Wolf Coffee has strayed into new territory with the opening of a 1,000-square-foot brick-and-mortar cafe in the coastal Massachusetts town of Ipswich
Bathed in the brand's cheery signature blue, the first Little Wolf Coffee shop is located across the street from the company's six-year-old roastery… Read more
While persimmons won't typically ripen on the tree until autumn or winter, Philadelphia's Persimmon Coffee is ready to serve with the opening of its first brick and mortar cafe.
Continuing a coffee program that involves roasting and serving a single carefully selected, high-quality coffee each month, the company now serves its drinks in handle-free custom ceramics made by Domenic Frunzi Ceramics inside a bright, 350-square-foot space in Fishtown… Read more
On a colorful pedestrian thoroughfare in New York City's Chinatown neighborhood, professional coffee roasters Spencer Okada and Khanh Tran have opened the first  Artbean Coffee Roasters cafe, pairing high-quality drinks with high art.
Designed for takeaway service only, the 200-square-foot coffee shop doubles as a gallery for sculptures as well as portraits that hang on an 8-by-9-foot wall… Read more
With table service, open tabs and outlets at every seat, New York City's El Condor Coffee Roasters hopes to keep customers comfortably nested in the West Village.
The 500-square-foot cafe also accepts reservations for its 18 seats amidst the festive yet sleek Palm Springs midcentury-modern-inspired interior. The El Condor food-and-beverage concept is designed to appeal to casual walk-ins or more structured occasions such as dates or business meetings… Read more
Supporting BIPOC and LGBTQIA+ identities and culture within a space designed to be as welcoming as grandma's house, Semilla is serving coffee roasted by local specialty coffee roasters Neat Coffee and Black-owned startup Big Up Brew, as well as some familiar Cafe Bustelo.
"We have Cafe Bustelo on specifically to make two drinks: the Cafe Con Leche [made from] Bustelo, vanilla bean simple syrup, steamed milk, and a cinnamon garnish; and the North End Blend [made from] Bustelo, condensed milk, and fresh ground nutmeg, which is how my great grandmother drank her coffee every day," Semilla Cafe Co-Owner Aimee Chambers told Daily Coffee News. The shop was technically opened in late 2021, but close enough!…Read more
Some kids dream of becoming doctors, teachers, professional athletes or movie stars. Other kids — at least two, anyway — dream of opening a coffee shop.
Those two former kids are now adults Kalvin and Abi Reynolds, whose marital teamwork has made their childhood dreams work with the opening of the Kid Dream Coffee shop in Beverly, Massachusetts… Read more
To borrow a popular local phrase, a new coffee jawn has opened in greater Philadelphia. It's the first cafe by Royal Mile Coffee Roasters, which welcomes customers inside for freshly brewed coffee drinks or retail bags of blends including Love Jawn, Gritty Jawn, 7th Inning Jawn and more.
In crafting the Royal Mile experience for customers inside the roughly 760-square-foot space in Oaklyn, New Jersey, owner Jamie Blanchard shot for character and congeniality as opposed to something overly chichi and off-putting to the local crowd… Read more
More From DCN
Source: Daily Coffee News