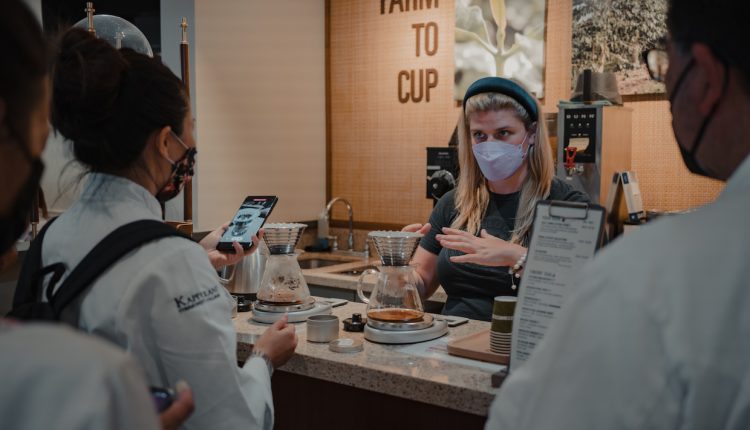 The Pono Collective Creates Culinary Connections to Hawaiian Coffee
A new privately backed community-building and education-focused group called the Pono Collective (Instagram) has launched in Hawaii.
Created by the Honolulu-based coffee packaging and print firm Savor Brands, the collective is designed to connect the state's coffee professionals while promoting Hawaiian-grown coffees, culinary activities and sustainability efforts.
"We want to connect our community with the coffee industry here in Hawaii," Marc Marquez, the director of branding and coffee at Savor Brands, told DCN. "We have a bunch of amazing professionals that live here and work to grow our industry at all phases of the supply chain."
Involving students in the Kapi'olani Community College's Culinary Arts program in Honolulu, the Pono Collective's first major event was a series of educational sessions called the Pono Collective Coffee Experience.
Over four sessions that began in February, approximately two dozen culinary students and several faculty members comprising the first cohort of the Pono Collective were immersed in hands-on experiences highlighting Hawaiian coffee's seed-to-cup journey.
The first session was held at Waialua Estate coffee farm and processing center, owned by Dole Food Company, on the north shore of O'ahu. Students and faculty met with Waialua Estate General Supervisor Jon Ching; Q Grader and Q Processor Juli Burden of the Hawaii Agriculture Research Center; and 2019 US Aeropress Champion Towa Ikawa.
---
Related Reading
---
"For most of the students, it was their first time at a coffee farm," said Marquez, who also acts as Hawaii regional coordinator for the United States chapter of the Specialty Coffee Association.
The second session was held at the Savor Brands' SCA-certified campus, where students met with Marquez for an immersive sensory experience involving blind tastings and coffee cupping. 
The nearly 30-year-old company Honolulu Coffee hosted a third event, titled "Coffee Roasting and Culinary Applications with Coffee," featuring COO Abigail Joslyn and roaster Tim Gugudan.
The Pono Collective Coffee Experience concluded at the Kapiʻolani Community College Culinary Innovation Center with a session about coffee brewing techniques with TK Yamada of Honolulu-based Try Coffee and Towa Ikawa. Students also had the opportunity to compete in a fun Aeropress competition while discovering in real-time how different brewing variables affect coffee flavor and characteristics.
Along with some faculty members, the 15 students who attended all four Pono Collective sessions were invited to take the SCA Sensory Skills Foundation course, which was led at the Savor Brands campus by Brittany Horn and Madeleine Longoria Garcia of Pacific Coffee Research.
Marquez said that the Pono Collective plans to continue partnering with the Kapiʻolani Community College, while another immersive event series is being planned for 2024. Said Marquez, "It will be great to watch and see how the first group of students incorporates coffee into their personal journeys."
In the meantime, under the Pono Collective banner, Savor Brands is hosting 2022 US Roaster Champion Nick Berardi of San Diego's Mostra Coffee to Kailua-Kona at this week's 27th annual conference of the Hawaii Coffee Association, where Berardi will meet producers and host a roasting workshop. 
"We're keeping the momentum going," Marquez said. "There will be more to look forward to before the next Pono Collective group in 2024."
---
Does your coffee business have news to share? Let DCN's editors know here. 
Anne Mercer
Anne Mercer is a freelance writer specializing in the coffee industry. She is also the co-owner of Victus Coffee, based in West Hartford, Connecticut. Visit her website at annemercer.com. 
Source: Daily Coffee News