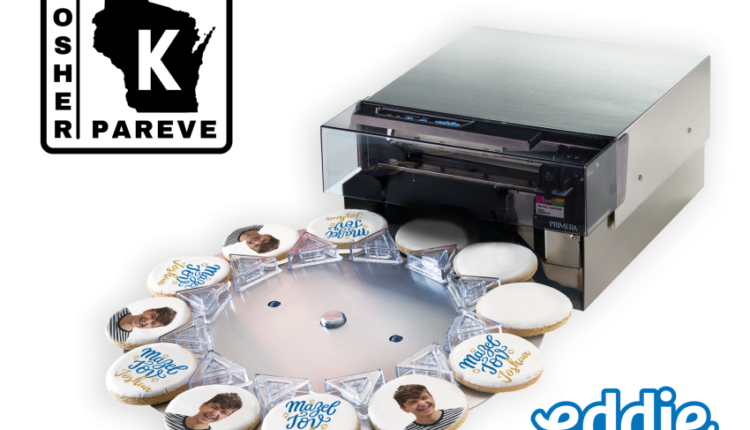 Primera Technology, Inc. Achieves Kosher Certification for Eddie®, The Edible Ink Printer
Plymouth, MN, USA – [June 28, 2023] – Primera Technology, Inc. ("Primera"), a leading global manufacturer of innovative printing solutions, is pleased to announce that one of its flagship products, Eddie, The Edible Ink Printer, has received Kosher (Pareve) certification. This certification is a testament to Primera's commitment to providing high-quality products that meet the needs of observant Jewish customers while ensuring food safety, purity, and quality for all customers.
Primera obtained its kosher certification through a rigorous process in collaboration with Kosher Supervisors of Wisconsin, a renowned organization known for its expertise in certifying products as kosher. By undergoing this certification, Primera distinguishes itself from other edible ink printer manufacturers by supplying not only kosher inks but also ensuring that its entire product and production processes meet the strict standards set forth by a certified kosher organization.
Mark D. Strobel, Vice President of Sales and Marketing at Primera, enthusiastically expressed his delight at achieving kosher certification, stating, "We are thrilled to have successfully completed the certification process with the Kosher Supervisors of Wisconsin. Obtaining kosher certification for Eddie, The Edible Ink Printer is a significant milestone. It exemplifies our unwavering dedication to meeting the needs of our observant Jewish customers and providing them with products that are not only kosher but also meet the highest standards of food safety, purity, and quality."
Furthermore, Strobel announced, "The Kosher Pareve certification adds to our extensive list of industry-leading certifications, including cGMP certification for Eddie's print head and filling equipment, FDA approval of our ink-filling cleanroom, and our NSF certification for the printer itself. We are immensely proud of these accomplishments and remain committed to providing exceptional products that meet the diverse needs of our customers."
As Primera expands its global reach, the kosher certification for Eddie, The Edible Ink Printer demonstrates its dedication to inclusivity and catering to diverse customer needs. With this certification, Primera Technology, Inc. reaffirms its position as a leading provider of innovative printing solutions that exceed industry standards to deliver exceptional products.
For more information about Primera Technology, Inc. and its range of products, please visit www.primera.com.
About Primera: Primera Technology, Inc. is a global manufacturer of specialty printing equipment based in Plymouth, Minnesota, USA. With over 30 years of experience, the company is renowned for its innovative printing solutions that cater to various industries and customer requirements. Primera Technology, Inc. continues to lead the market by combining cutting-edge technology with a commitment to quality, reliability, and customer satisfaction.
About Primera
Headquartered in Plymouth, Minnesota, USA, Primera Technology, Inc. is one of the world's leading specialty printer manufacturers. The company sells its products factory-direct and through Primera Authorized Resellers and Distributors in more than 200 countries and territories.
More information about Primera and its products is available at www.primera.com or by calling 1-800-797-2772. Outside of the USA and Canada, call +1 (763) 475-6676. E-mail sales@primera.com or live chat with us in any language and during regular business hours at www.primera.com.
Source: Coffee Talk