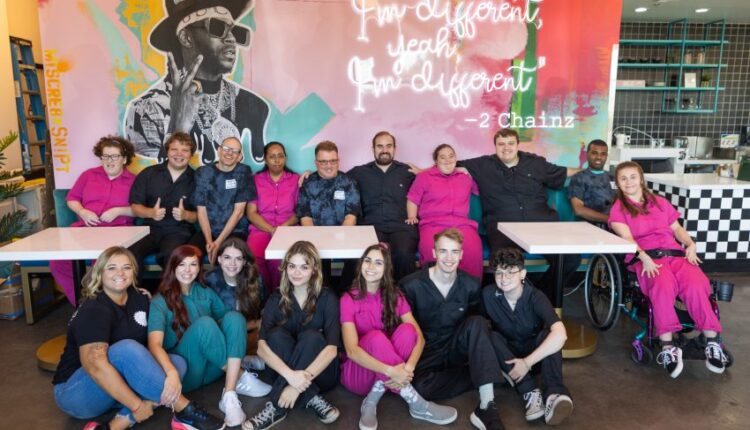 Dig It! Coffee Co. to celebrate grand opening this Saturday, Sept. 24 at downtown Las Vegas apartment building
LAS VEGAS – shareDOWNTOWN Arts District in downtown Las Vegas, Nevada announces that Dig It! Coffee Co. will hold a special grand opening celebration with a ribbon cutting, drink specials, and a photo booth at the residential apartment complex this Saturday, Sept. 24 at 10 a.m.
Owned by Taylor Gardner Chaney, Dig it! Coffee Co. is a social enterprise coffee company that promotes inclusivity by providing competitive wage job opportunities to help close the unemployment gap for people with disabilities while serving high-quality, locally roasted coffee.
Inspired by her younger sister Lindsay who was born with Down Syndrome, Chaney founded The Garden Foundation, a Las Vegas-based nonprofit organization to serve adults with disabilities with the goal to help these individuals reach their full potential. Dig It! Coffee began as a vocational training program at The Garden Foundation and expanded with pop up shops at farmer's markets and catering for private events. The program grew into its own company, and the location at shareDOWNTOWN is its first brick and mortar location.
"Dig It! Coffee Co. is more than a cup of coffee – it's an experience with a purpose," stated Chaney. "We envision a thriving community built on inclusivity, equity, and kindness. Through coffee and connection, we offer a new perspective on what inclusion looks like in the workplace. At Dig It! Coffee Co. we're able to teach work and life skills such as communication, customer service, money handling, teamwork, and self-confidence while serving customers seriously good locally roasted coffee."
"shareDOWNTOWN is the perfect location for a neighborhood coffee shop, and when Taylor presented her vision to open Dig It! Coffee Co. there was no doubt that we wanted to be part of her mission," said Grant Garcia, chief operating officer for Cherry Development, developer of shareDOWNTOWN. "The Arts District is a vibrant neighborhood, and we are confident our residents and neighbors will welcome Dig It! Coffee for both its coffee and its goals to create a kinder, more inclusive community."
Dig It! Coffee Co. will serve roasted coffee from Las Vegas-based Sin City Coffee and Beverage for its extensive coffee menu that will feature specialty coffee drinks like the Dirt Cup Latte and Mariposa Latte. In addition, Dig It! will feature peanut butter matcha, gummy bear lemonade, and pressed juices. Its menu will also offer various snacks and light bites from local businesses, such as the OG Charcuterie Board and Veg It! Board from Shey's Kitchen, Ring Ding Dongs from Whiskful Thinking Cakes, and signature Dig it! Coffee Co. Sugar Cookies by The Custom Confectionary.
Dig It! Coffee Co. opens in the 1,400 sq. ft. space previously occupied by Golden Fog Coffee. Dig It! completely renovated the space to include Instagrammable walls, disco balls, and other elements to create its own Dig It! Different vibe that is colorful and uplifting. It will offer comfortable seating for approximately 42 guests with accessible low top tables, booths, and community table seating.
Dig It! Coffee Co. will be open 8 a.m. to 4 p.m. seven days a week. For more information visit: https://www.digitcoffeeco.com/ and follow Dig It! Coffee Co. on Facebook and Instagram at @digitcoffeeco. High resolution photos can be downloaded at: https://www.dropbox.com/sh/orzgkht12jnrs3h/AABxpL9HvwwdQyFZtPVOzB9Ha?dl=0
About shareDOWNTOWN
shareDOWNTOWN is a premium residential apartment community that offers a modern live/work/play lifestyle in the heart of fast-growing downtown Las Vegas neighborhoods. The first shareDOWNTOWN apartment complex opened in the Las Vegas Arts District in July 2020, a second building slated to open in early 2023 is under construction in Fremont East, and additional sites of the apartment brand are planned by Cherry Development, the developer of the popular downtown Las Vegas residential condominium buildings, SoHo Lofts and Newport Lofts. Every shareDOWNTOWN unit features modern design elements, such as European cabinetry, wood plank-style flooring, quartz countertops and stainless-steel appliances, including an electric cooktop and a smart all-in-one washer/dryer. Residents enjoy unique amenities, including a fitness center, free business center, community kitchen area, and open-air courtyard. The ground floor includes retail space and parking for residents. Rents at shareDOWNTOWN begin at $1,185/month.
For more information on shareDOWNTOWN and leasing opportunities, visit: www.sharedowntown.com or follow @sharedowntown on social media.
Source: Coffee Talk