Welcome to the October + November 2022 Issue of Barista Magazine
A cover feature with Iceland's Sonja Björk Grant, articles on choosing the right location, bringing on investors, expanding offerings through RTDs, and much more all in the new issue!
BY KENNETH R. OLSON
BARISTA MAGAZINE
Welcome to our new issue for October + November 2022! It's our 100th issue, and we thank everyone who has worked so hard to make Barista Magazine a success over the years. We couldn't have done it without our contributors, our advertisers, or our readers. Thank you all for your continuing support of Barista Magazine!
As always, the new issue is free to read online with our digital edition, or you can order a subscription or single copy today in our online store. 
Here are some of the highlights from the October + November 2022 issue:
Cover Feature: Sonja Björk Grant
We wanted to celebrate someone special on the cover of our 100th issue, and Sonja Björk Grant was an obvious choice. She was one of Barista Magazine's earliest supporters after she heard Sarah's pitch at the Nordic Barista Cup in 2004. At the time, barista competitions with national and world championships were pretty new, but they were spreading rapidly. Sonja was one of the driving forces behind that growth. She traveled the world to more than 50 countries, providing trainings for judges and volunteering as a judge. At the same time, over more than 20 years she also worked to grow the specialty-coffee scene in her native Iceland. We're thrilled to feature Sonja in the October + November 2022 issue!
'Diversify with RTDs'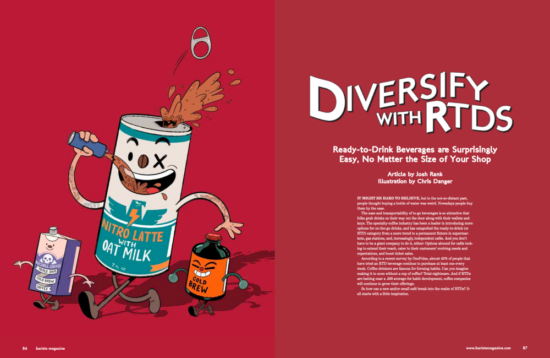 The ready-to-drink market has been surging lately. Even small coffee companies can increase their bottom lines with RTDs, either as an add-on sale at the counter or packaging their own RTDs for other retail locations. Writer Josh Rank tackles the topic in the October + November 2022 issue with insights on how independent cafés can join this profitable market segment.
'Choosing the Perfect Location'
Picking the right place for a café can mean success, while a poor one will inevitably bring challenges and maybe disaster. Whether it's your first shop or the newest in a growing chain, your location can make all the difference. So how do you make sure you're considering the right location? Ty Harrell talks with experts to find the answer in "Choosing the Perfect Location."
'Cashbox: Finding the Right Investors'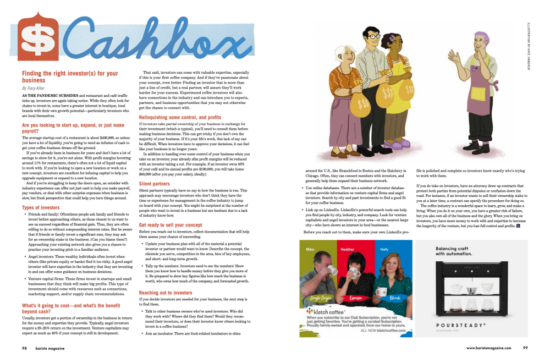 When looking to expand or start a business, having access to capital is fundamental. One option to consider is bringing on investors, but whether considering family, capital funds, or other business owners, understanding the benefits and drawbacks of each kind of investor is important. Tracy Allen gives his insight on the topic in our financial column "Cashbox."
'One on One: Phuong Tran'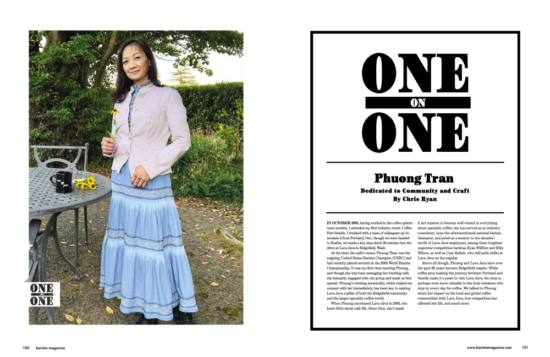 Phuong Tran opened a café to have a business next to her sister in a strip mall, but it grew into an adventure she could've never imagined. Lava Java in Ridgefield, Wash., under Phuong's guidance has become a destination for coffee professionals and her local community alike. Writer Chris Ryan interviewed the 2004 United States Barista Champion Phuong for "One on One," and she talked about her unexpected journey in specialty coffee.
Once again, I have to take a moment and thank everyone who has helped make Barista Magazine a success for the last 17+ years and 100 issues. We could not have done any of it without you.
Subscribe and More!
As always, you can read Barista Magazine in paper or digital format. Read the October + November 2022 issue for free with our digital edition. And for more than three years' worth of issues, visit our digital edition archives here.
You can order a hard copy of the magazine through our online store here, or start a subscription for one year or two.
Source: Barista Magazine