Welcome to the April + May 2022 17th Anniversary Issue of Barista Magazine
A cover feature with Jimmy Butler, beyond brick and mortar cafés, how to clean everything, innovation through competitions, and much more in the new issue!
BY SARAH ALLEN
BARISTA MAGAZINE
We're so excited to present the April + May 2022 issue of Barista Magazine, which celebrates our 17th anniversary!
We never could have imagined what our magazine would look like in the year 2022, 17 years after we published the very first issue in April + May 2005. Could we have predicted we would have a professional basketball player on the cover, or that we would be talking about the effects of a two-year global pandemic on the hospitality sector?
Somehow it came to pass, and we are delighted to be here "serving people serving coffee" 17 years later. We like to think every issue is special, but our anniversary edition always has a little extra something: In this case, it's Jimmy Butler, who, as a forward for the Miami Heat, is known for being one of the most accomplished and talented basketball stars in the world. So why is he on the cover of Barista Magazine? Well, you'll have to read to find out.
Cover Feature: Jimmy Butler of Bigface Coffee
When the NBA came up with a COVID-safe solution to holding the 2020 NBA Playoffs—creating the now famous "Bubble" in which the players stayed at a 100% locked-down hotel and arena complex in Orlando to finish out the season—no one could have known it would birth what has rapidly become a high-profile specialty coffee company. It's Bigface Coffee, and it's owned by Jimmy Butler of the Miami Heat and his friend, trainer, and business partner, James Scott. And Jimmy is Bigface's head barista. Read the fascinating account of how Bigface got started, how Jimmy and James continue building it, and where they want to take it in the future in the April + May 2022 anniversary issue.
Moving Beyond the Brick & Mortar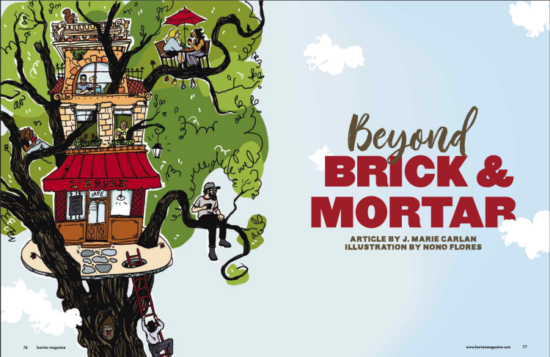 For specialty-coffee cafes, the pandemic was all about developing creative solutions for survival. With the story "Beyond Brick & Mortar," however, we wanted to look at some incredibly unique cafés that were creative from the very beginning. In this article, we explore some fascinating interpretations of cafés, from one built into a phone booth in Copenhagen, to one that floats on a pontoon in Hamburg, to a café crafted inside a decommissioned double-decker British bus, and much more.
Competitors Pushing Boundaries
With his vast experience as a national barista champion competing in the World Barista Championship (he made it to the WBC finals twice), John Gordon knows a thing or two about how barista competitions serve to inspire new designs and concepts in the building of coffee equipment. In his essay "Competitive Edge," John argues for innovation above all else and gives examples of equipment born out of necessity by creative competitors who devised solutions within the strict rules and regulations of the competition.
How to Clean Everything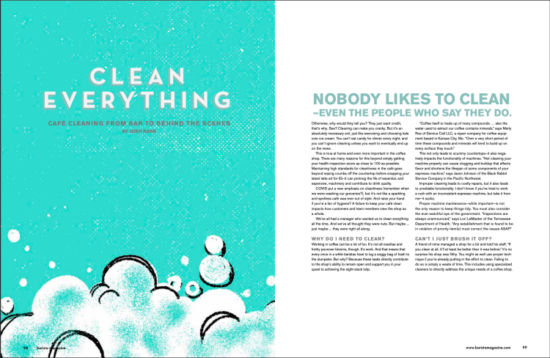 With "Clean Everything," we wanted to once and for all create a definitive guide for café owners and managers for keeping a clean café, from equipment maintenance to general cleaning tasks that face every coffeehouse. Longtime coffee professional Josh Rank writes about systems and processes for owners to follow in order to get the nasty work done well. And we even have a poster in the article that you can pull out and put up on your breakroom wall, thanks to our friends at Urnex!
An Interview with Ibrahim Hamza Al Mallouhi
By now you've probably heard that the Middle East is one of the fastest-growing specialty-coffee markets in the world, and in Dubai, there is one man who has been championing the movement for more than a decade: Ibrahim Hamza Al Mallouhi, founder of The Espresso Lab in the United Arab Emirates. In this interview, Ibrahim takes us through the long and rich history of coffee in the Middle East and shares his perspective on the explosive growth of specialty coffee in Dubai in particular. The Espresso Lab brings in some of the most sought after—not to mention expensive—coffees in the world; find out why his efforts have helped shape the culture of specialty in the Middle East in this fascinating conversation.
Read all of these articles and more in the April + May 2022 anniversary issue of Barista Magazine!
Subscribe and More!
As always, you can read Barista Magazine in paper or digital format. Read the April + May 2022 issue for free with our digital edition. And for more than three years' worth of issues, visit our digital edition archives here.
You can order a hard copy of the magazine through our online store here or start a subscription for one year or two.


Source: Barista Magazine