War in Ukraine Through the Eyes of CIGS Champ Vladyslav Demonenko: Part Two
BY CAROLINE CORMIER
SPECIAL TO BARISTA MAGAZINE ONLINE
Cover photo courtesy of Funt Coffee
From the editor: On Monday we began speaking with Vladyslav Demonenko, head barista at Funt Coffee and 2019 Ukraine Coffee In Good Spirits champion. We learned about life before the invasion, and what the initial efforts were by the coffee community and Ukrainian population. Today, Vlad tells us about reopening Funt, and how the global coffee community can support those in the country during this time.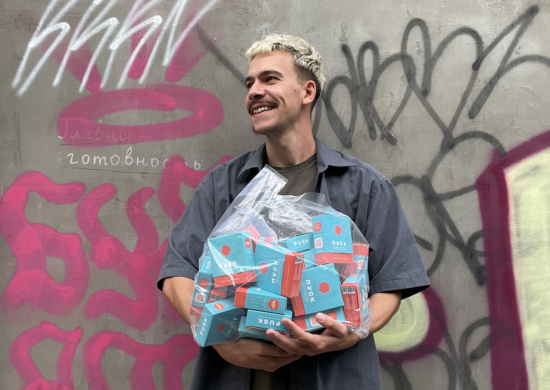 Caroline Cormier: Can you tell me a little more about the decision to reopen Funt Coffee after the invasion? When did this happen, and what did it mean to open the doors to the public again?
Vladyslav Demonenko: It took about two weeks before we could open the coffee shop safely again; this was sometime in mid-March. We actually didn't close the roastery at all during this time, as we tried to continue to roast and deliver coffee beans wherever possible.
For me, it was important to return to working as a barista. As I said before, I felt calm and confident in the coffee shop, and I believe that the same emotions were shared by the owners of the business, Alexander and Felix. We realized that we needed to work in order not to think too much about the situation and not to drown in the news of the severity of the situation in our country. All our baristas were ready to work, and they really wanted to.
With common strength and motivation, we began to open our coffee shops again for several hours a day. We also brewed some of the coffee and delivered it to volunteers and the military around the city. Seeing the cafés operate somewhat normally brought a feeling of lightness and calmness to our team, but also to our guests. It was our comfort zone that we shared with everyone. 
What has it been like to be a barista in this situation? How have things changed at Funt?
In the beginning, there wasn't any work to be done in our coffee shops, which is why we stayed closed. It was simply too dangerous, and the guests were also too scared to come. Instead, we were in hospitals and volunteer centers, as well as military registration and enlistment offices. We warmed everyone there with a cup of tea or a filter coffee. 
Later, though, Ukraine became increasingly filled with people from other regions, and we began to open our coffee shops one by one. It was a great decision because there you could feel a certain sense of safety—at least psychologically—and stop being as anxious. We, as baristas, came together to make coffee and to try and relax a little, and the guests slowly started to come, to talk to us, and drink coffee in an effort to feel, once again, like they were part of a community.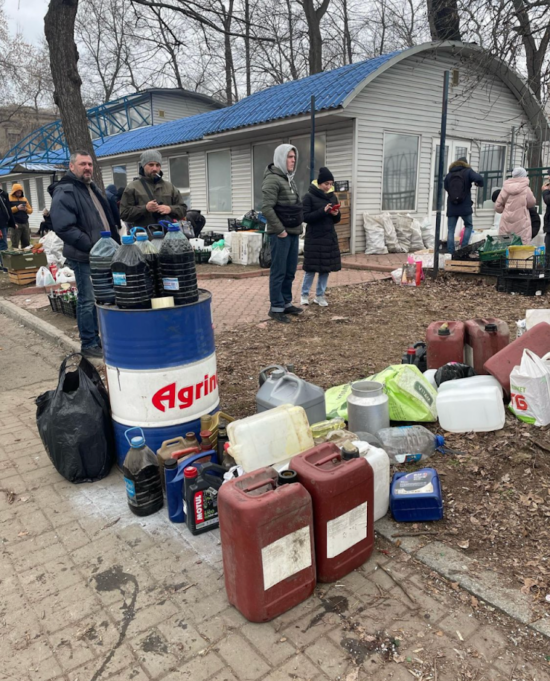 You mentioned that you and your team at Funt have been providing coffee to volunteers, military personnel, and first responders across Dnipro, Ukraine. How did this important work unfold, and why do you think these efforts were so important? 
We really wanted to help by doing what we are best at—making coffee. We wanted to make people happy, to listen to them, and give them space to share their emotions. That's why we decided to support military doctors and everyone who was in volunteer centers—from the first days of the war to the present day.
Coffee helps a lot to be focused. But I think it also helped distract people a little, especially because we were serving freshly roasted specialty coffee. For many, this was the first filter coffee they had ever tried, and it was nice to watch people marvel at their first taste of high-quality coffee. It is probably also worth noting that the beginning of the war was in late February, and this is a very cold month in Ukraine, so there were a lot of people who just needed to be warmed up. 
Vlad, this is such important work that you and the Funt team have been doing in creating a safe space for your guests and providing coffee to the front lines. Is there anything you want our readers to know about the current situation in Ukraine? 
Simply put, I would really like it to be understood that this is really serious. Many of my barista friends not only lost their jobs but also their homes and even loved ones. It's terribly hard to be in Ukraine right now and see—or live—the news. Every day I hear explosions and sirens, and every morning I am glad that I am just alive and I can see my family, friends, and colleagues again. Whenever I hear a sudden noise or a plane, I want to hide. It's very difficult to describe; it's incomprehensible. You live with this fear that every day could be the last.
The second thing I would like everyone to know is that Ukrainians are strong and united. We are not afraid of what is happening now, we just need support. Every kind of action—from buying coffee to support or contributing to some kind of humanitarian aid to posting about help and donations—matters. 
Is there a way that our readers can help support Funt's efforts in Ukraine? 
Well, it would also be great if readers chose to support any roastery in Ukraine by buying some coffee so that we can keep our specialty-coffee community up and running. On the Funt website, you can help us by buying coffee for those on the front lines, including our military and our doctors. Simply make your selection and drop us a note after you've selected the coffees for your cart. The team at Funt will make sure that the orders are packaged and delivered directly to the front line by volunteers or soldiers traveling there. 
Of course, if you can help with shelter or employ our baristas, that would be fantastic as well. Feel free to reach out directly (through the Funt website) if you have such opportunities. Besides myself, many of my friends and colleagues are looking for work in the field at the moment.
ABOUT THE AUTHOR
Caroline Cormier (she/her) is a freelance writer from  Toronto, Canada. She currently lives in Berlin, Germany, where she's been supporting local efforts to help Ukrainians who have fled to the German capital. You can follow her on Instagram at @ccormier_.


Source: Barista Magazine