Vacationing Through Coffee Cocktails with U.S. 2022 Coffee in Good Spirits Champ Alexandra Hager
We continue our series of 2022 U.S. CoffeeChamps interviews with the second-ever U.S. Coffee in Good Spirits champion, Alexandra Hager.
BY KATRINA YENTCH
BARISTA MAGAZINE ONLINE
Cover photo courtesy of the Specialty Coffee Association
Alexandra Hager (she/her), 2022 U.S. Coffee in Good Spirits Champion, first pulled shots as a high school home barista, "working" for her mother. She had bought an espresso machine to keep in the kitchen, and it was Alexandra's duty to prepare her pre-work nonfat lattes. This later culminated into a barista job at Starbucks, and eventually sparked an interest in further exploring coffee flavors and single-origin beans.
Alexandra then spent several months as an expat experiencing the explosion of South Korea's specialty-coffee scene before finally deciding to pursue coffee professionally in the States. The cocktail part came naturally; as many of us know, when you get into coffee, you find yourself intrigued by other artisanal beverages. After picking up a book on craft cocktails by Death & Co., Alexandra felt it only made sense to combine those interests as a Coffee in Good Spirits competitor. We chat with Alexandra about how she prepared for the competition, and the story behind how she planned her signature drink.
Note: This interview has been condensed for brevity.
Katrina Yentch: Your first job was at Starbucks, where you hoped to eventually become more experienced in flavor notes and third-wave coffee. How did you get there, and how did that love for specialty coffee eventually segue into coffee cocktails?
Alexandra Hager: As coffee became my day job, I found myself looking for new hobbies to pursue in my free time when a co-worker at Blue Bottle introduced me to a cocktail book by Death & Co. I was fascinated by the way that a simple cocktail framework like the Old Fashioned or Sour could be played with, simply by changing a syrup or infusing the spirit, to create so many interesting flavors and experiences. The book sparked an interest in cocktails and mixology that now takes up most of my closet. 
Finally, with the Coffee in Good Spirits competition making its way to the United States competition scene, the combining of those two interests was a pretty natural one. With the help of my current employer CJ Foodville USA, I was fortunate in 2019 to have the opportunity to dip my toes in the water of the competition scene through local prelim events hosted by Klatch Coffee in Southern California. From there, CJ saw an opportunity in the competitions to have me develop my R&D skills as the beverage R&D specialist for the Tous Les Jours brand, which gave me the push I needed to make the leap fully into competing.
As I set out for my first full season of competing in 2020, I found the CIGS competition to be a little less intimidating to try my hand at, in part because it was so new, and because there is so much room for playing with flavors and textures in the format of the competition that it leaves a huge door open for getting creative. 
I understand you spent some time in South Korea learning about coffee. How has that impacted your experience as a barista-mixologist over the years?
Korea has a really interesting juxtaposition of coffee cultures, from little cups of sweet and creamy instant coffee mixes (often just referred to as "mixed" coffee) to relatively expensive third-wave pourovers and espresso beverages. That juxtaposition, combined with the density of the population and the fact that coffee is much more of a social beverage (as opposed to a morning caffeine fix), means that there is a ton of creativity and innovation in the coffee scene at virtually all price points, with coffee shops looking for different ways to set themselves apart.
 … I was lucky enough to be living in Korea when third-wave coffee was really taking off in popularity, so I was able to see a lot of this kind of experimentation happening around me. 
I think the biggest influence it had on me personally and professionally was that it gave me an appreciation for the sheer diversity of coffee cultures and experiences that exist, and the importance of understanding what a customer's expectations might be and working to meet them where they are at, while at the same time providing opportunities for people to experience coffee in ways that push them out of that comfort zone. I think this diversity is part of what makes coffee (and cocktails for that matter) so challenging, but also such a fun and exciting industry to work in. 
Where did the concept of the farmers market come from when you were creating your drink? Did it come primary or secondary to your coffee choice?
The concept of the farmers market came later in the process for this drink. I had already settled on the idea of each cocktail transporting the judges to a destination because I love having that unifying element of storytelling which, together with the power of flavors and aromas to recall a sense of place or time, provides this really nice immersive experience. Each of the destinations for the drinks was inspired by the coffee's origin along with the aromas and flavors of the cocktail itself. …
From there I began to play with the flavors and the destination simultaneously. I infused the gin with strawberries to help balance out some of the bitterness brought by the juniper, and this strawberry lemonade pairing initially had me thinking of the beach, but a quick Google Maps search made it apparent that the beaches in the region of Colombia where my coffee was from weren't quite the lounging-with-a-drink-in-hand kind of terrain I had in mind. From there I tried to think of locations that might inspire that refreshing fruity image I had in my head, and that is when the farmers market came to mind. At that point, the rest of the cocktail took its inspiration from the idea of the pungent fruity aromas of a tropical farmers market like you might be able to find in Cauca. 
Your Irish coffee had a natural Guji Ethiopian coffee combined with a whiskey that you described as a much brighter choice than others. How did you decide that you wanted an Irish coffee with a "light and bright" profile compared to a traditional smokier, heavier version?
From the beginning, the goal for my Irish coffee was to find a really nice balance of textures and flavors. … The goal was an Irish coffee that you could drink glass after glass of as you spent the day at the pub. So I didn't want an Irish coffee that was too intense or rich, but rather one that was so pleasant to drink that you were almost surprised when you got to the bottom of the glass.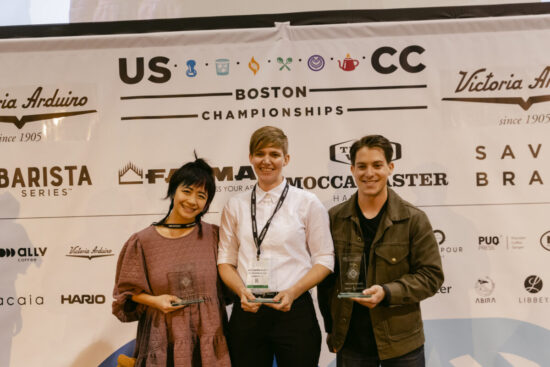 What was the most fun part of putting these drinks together, and what are you doing to prepare for the World Coffee in Good Spirits Championship next month?
For me, other than the 10 minutes in front of the judges which is definitely the highlight of competing, the most fun part of putting these drinks together is seeing people's reactions as they taste them. When you taste so many iterations of a drink in the development process, it is easy to start doubting whether what you are tasting is good or not. So, having that confirmation and seeing people react to flavor combinations, or experiences they weren't expecting, or even better voice your exact intentions for the drink, is always a ton of fun. 
Right now my preparation for worlds is a lot of tasting cocktails with the sponsored spirit, Licor 43, and brainstorming with my support team at Dillanos Coffee Roasters on how I can improve my performance to make it a little more smooth and intentional. I have also been watching and rewatching the videos of past world performances to glean some insight into what makes a great performance at that level. 
Source: Barista Magazine