Upgrade Your Grinding Experience With Comandante's Accessories
Users can customize their grinding experience with accessories from the German company.
BY TANYA NANETTI
SENIOR ONLINE CORRESPONDENT
Photos by Tanya Nanetti
Many tools are available to improve the experience of brewing a cup of coffee. But one in particular is always considered essential: a great grinder. 
Unrivaled Quality
Among the many brands that produce coffee grinders, both manual and automatic, the Comandante is often awarded as one of the best. The Comandante features a Nitro Blade Burr, a big upgrade from the burr typical of most grinders. Handmade in Germany, with an elegant design and multiple colors to choose from, the Comandante has remained a dream for many coffee pros and enthusiasts for a long time, due to its relatively high price. 
 But it's vital to understand where this high price comes from. Short product life spans are both non-eco-friendly and more expensive for users in the long-term (as they say, "don't buy cheap: it's too expensive"). With this in mind, the Comandante is built using high-quality materials, with the idea that the grinder should—and, rest assured, it will—last a lifetime. 
Once you have finally bought it, it's almost impossible not to fall in love with the Comandante.
The grinder is practical to handle, set up, and clean. The easy setting of the grind that counts the number of clicks is perfect for replicating a recipe, both yours or that of a famous coffee champion. The spare bean jar is perfect for storing extra coffee to take on a short trip. 
Simplicity and Value
 And these are just the most basic features: Thanks to the presence of many different accessories, the grinding experience can be upgraded in many different ways. 
As Joe McTaggart, community and customer support at Comandante, explains: "Offering everything as an additional extra is simply being transparent about what is worth what, and it also means that nothing is superfluous, nothing is wasted, and gives users maximum choice." 
 I truly appreciate this sincere and crystalline way of thinking; I'm madly in love with my Comandante (I even named it Negan, after the character from The Walking Dead, because it smashes coffee beans like the character smashes his enemies). So, it's easy to see why I was so excited when I finally had the chance to "pimp my grinder" and try out some of Comandante's upgrading tools.  
The Long Crank and the Bigger Knob  
By default, the Comandante comes with a regular crank and its own small knob. Not too difficult to use, but after trying the XL crank and its 55mm Big Joe knob, you really notice the difference. (This is especially true when grinding older, harder coffee.) The long crank, by increasing leverage, helps smooth the grind without the need to exert more force, while the larger knob is not only easier to grab, but also helps relax the hand and the lower arm. 
The Red Clix 
Not having an espresso machine at home, I had no idea at first why I would need this upgrade. Then I received some samples of an amazing espresso roast to brew in the shop. Dialing it with the classic automatic grinder I use for the brew bar seemed simply impossible. And using the other coffee grinder for everyday espresso was quite difficult because I only had 100g of the espresso roast.  
What better occasion to try the Red Clix? It replaces the black standard dial on the Comandante for a more precise dial-in. Because it halves the size of every click, the Red Clix is perfect to dial in coffee without wasting too much of it.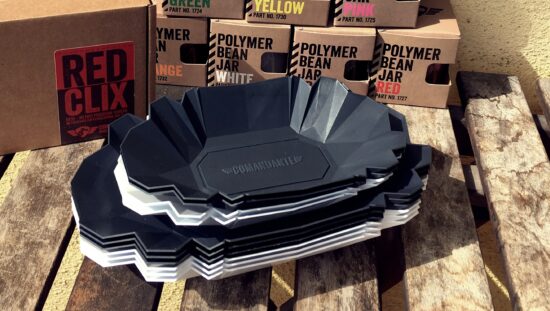 The coffee trays 
This Comandante upgrade may not be so useful for daily coffee brewing, but these coffee trays come in handy when organizing a small coffee cupping. They're also useful when you need to double-check the roasting quality of the beans you're brewing. It may seem a little geeky for many, but—I can assure you—once you start to eliminate bad beans from the current batch, it's definitely hard to stop. These trays are perfect for getting the job done.
The spare polymer bean jars 
While at first this seemed like just a "futile" upgrade to simply make my Comandante even cooler, the different-colored containers actually opened up many new ideas for me.  
I hadn't tried to freeze my coffee yet, and the orange and brown containers looked just right for doing it. When I wanted to share a truly beautiful coffee with a friend, the purple container was perfect. I wanted to "cheer up" my all-black Comandante to attend a small coffee contest, and the pink container was there for me. And for my trip to Paris? Three mornings of travel, three coffees to brew: red, blue, and white containers. 
And, they're basically unbreakable—perfect for everyday use both indoors and outdoors. 
I had so much fun trying out all these Comandante upgrades. Of course, there's no need to buy each upgrade, but that's the beauty of it: You can buy only what's necessary at the moment, and when you have new needs, buy something else. Do you grind just for filter? The long crank is the perfect choice to make the grinding experience smoother. Did you just buy a new home espresso machine? Don't miss the Red Clix to find the perfect dial-in in just a few takes. 
With these upgrades, you could be sipping a perfect cup in no time.
ABOUT THE AUTHOR
Tanya Nanetti (she/her) is a specialty-coffee barista, a traveler, and a dreamer. When she's not behind the coffee machine (or visiting some hidden corner of the world), she's busy writing for Coffee Insurrection, a website about specialty coffee that she's creating along with her boyfriend.


Source: Barista Magazine