Three Cafés in Ljubljana to Find Your Perfect Cup
This Eastern European gem in Slovenia has plenty to offer lovers of culture and specialty coffee. 
BY TANYA NANETTI
SENIOR ONLINE CORRESPONDENT
Photos by Tanya Nanetti
Ljubljana is the perfect destination for a long sunny weekend. One of the "greenest" cities in Eastern Europe, this Slovenian city features astonishing Art Nouveau architecture (such as the world-famous Triple Bridge), a stunning castle nestled on top of a steep hill, lush parks, and beautiful museums. 
Easily explored on foot, with the city center mostly car-free, and the lovely riverside promenade that takes you pretty much anywhere, Ljubljana is also the perfect place for a delicious coffee tour. These three specialty coffee shops will perfectly host you during your time exploring the city. 
Crno Zrno Specialty Coffee 
The best way to start the day is a little workout, isn't it? 
The climb to the castle can be a rough one (thanks to the path going up the hill to reach the Ljubljana Grad, 375 meters high), but it is certainly rewarding, especially for the amazing views that the hike can offer. 
Of course, you can opt for the funicular rail, but that would take away all the pleasure of the first rewarding coffee stop of the day, at Crno Zrno (literally "Black Bean") Specialty Coffee. 
Perfectly located on Gornji Trg, one of the most recognizable corners of Ljubljana's old town, Crno Zrno is a tiny hole-in-the-wall café that offers coffee from only one country: Colombia.  
Alex, owner and roaster, wants the shop to be a starting point for customers to learn more about coffee, and about the lives of the thousands of families in Colombia that produce it. 
With the constant offering of multiple Colombian coffees processed in a variety of ways, Alex and his team have something for everyone. Just cross your fingers and you may be lucky enough to find one of the two small outside tables available. Grab a pourover and kick back while learning more about the amazing Colombian coffee scene. 
Stow Coffee Roasters 
Getting back on the road, it's time to walk to another of Ljubljana's most peculiar attractions: Tromostovje, the three historic bridges that cross the Ljubljanica river side by side. The most fun way to explore them is to visit all three, one bridge at a time. Don't forget to stop for another cup of coffee along the way!
STOW 2 GO, the newest location of Stow Coffee Roasters, is located just in front of the Triple Bridge in Prešeren Trg, in Ljubljana's main square.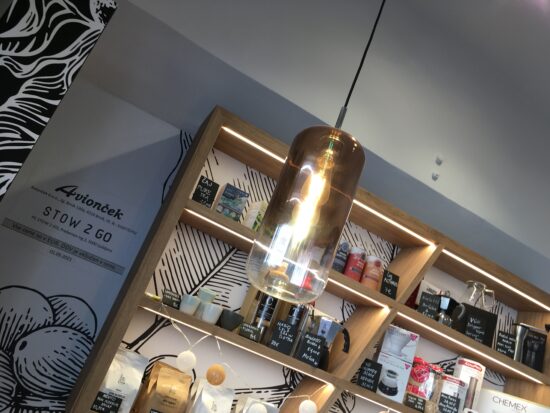 It's the perfect place to grab a latte or an espresso "to go" while continuing to explore the city, and will make you curious to learn more about Stow and its delicious coffee. Their main location is only seven minutes away, right in the hall of the Ljubljana City Museum. And we bet that after this cup of coffee, the City Museum will be the next attraction you'll want to visit, as you explore more of what Stow has to offer. 
Mariposa Specialty Coffee Roasters 
A short riverside walk along Trubarjeva Cesta is all it takes to reach Mariposa Specialty Coffee Roasters. 
Definitely not a big coffee shop, with its dozen seats inside and three tables outside, it's still the perfect spot for a rest after a long day exploring the city. 
Thanks to co-founders Klemen (head roaster) and Marina (head barista), Mariposa offers coffee from multiple origins in a dog-friendly café (starting with the lovely resident dog). 
A tip for the end of the day: Grab your last cup of coffee (for now), take a seat on the lovely outdoor patio, and relax, chat, or people-watch. After all, the pedestrian shopping street Trubarjeva Cesta is the perfect spot for it! 
ABOUT THE AUTHOR
Tanya Nanetti (she/her) is a specialty-coffee barista, a traveler, and a dreamer. When she's not behind the coffee machine (or visiting some hidden corner of the world), she's busy writing for Coffee Insurrection, a website about specialty coffee that she's creating along with her boyfriend.


Source: Barista Magazine