The Rise of Colombian Specialty Coffee: Part One
Colombian specialty coffee is responsible for a huge portion of the industry's supply, and we take a look at how its residents came to embrace it at home and in the café.
BY YKER VALERIO
SPECIAL TO BARISTA MAGAZINE ONLINE
Cover photo courtesy of Café San Alberto
In 2012, Colombia had a bit less than 1.4 million foreign visitors annually, and in less than 10 years, the number doubled to roughly 2.8 million in 2019. The pandemic may have stopped that growth in the last couple of years, but Colombia remains a popular travel destination preparing for a strong comeback.
As Colombia grew in tourism, it attracted different coffee drinkers. But until some years ago, drinking export quality coffee in Colombia wasn't possible.
Jaime Duque is the general manager and founding partner of Catación Pública, a coffee company that has two coffee shops with built-in training centers in Colombia. Jaime quotes an old saying: "tomamos pasilla," which roughly translates as "we drink the cheapest coffee." As a result, people drank coffee only to get caffeinated.
Now things are changing, starting with the foundations of good coffee. For Jaime, "the specialty-coffee narrative and its theory have progressed in Colombia, more even than high-quality coffee consumption." And this advancement is positive.
Knowledge sharing: The Key to Growing the Market of Colombian Specialty Coffee
Specialty-coffee shops over the past decade have been working on educating their customers to bridge the knowledge gap between the general public and specialty-coffee professionals.
Jaime claims that "since we started Catación Pública, our essence has been educational. We want to reach the general public." And for this purpose, Catación Pública has a robust training calendar, ranging from sensory experiences to Q cupping essential (QCE) workshops to professional coffee training. Currently, Catación Pública has cafés with built-in training centers in Bogotá and the Coffee Cultural Landscape of Colombia, a region that acquired a deep cultural meaning through coffee production.
Gustavo Villota, director and founder of Colombian roaster and producer Café San Alberto, agrees with Jaime on the challenge of the Colombian coffee drinking culture. "We have had a strong coffee production and exportation culture, but our coffee drinking culture wasn't on par," he says.
Specialty-coffee consumption in Colombia is a niche market, in Gustavo's opinion. Still, it has accomplished many feats that influence the whole value chain. "The specialty-coffee trend has helped Colombians understand the coffee producers' work," says Gustavo. Moreover, he says, "it has awakened the Colombians' sensitivity to the value of high-quality Colombian coffee."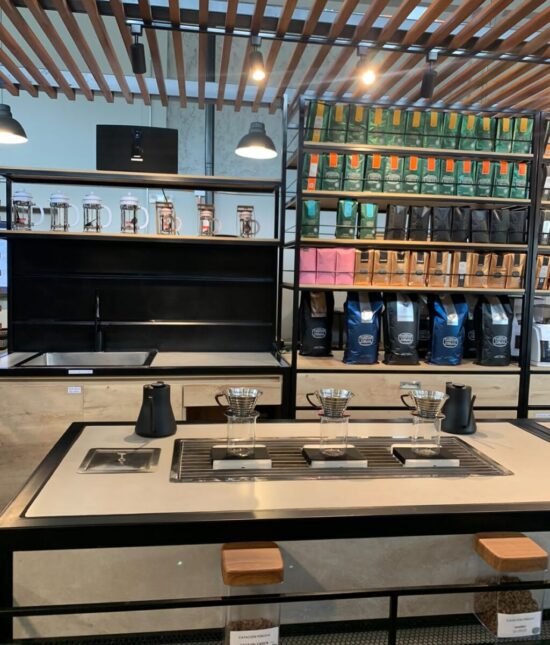 Lockdowns Side-effect: The Colombian Specialty Coffee Home Barista
Although many coffee shops suffered and closed due to compulsory lockdowns, a new coffee drinker emerged: the home barista.
Café San Alberto is the exclusive distributor of Hario and Chemex in Colombia, two brands that produce home brewing equipment. In this regard, Gustavo claims that Colombia became the biggest consumer of drippers in Latin America during the past two years. "At some point, our stocks were sold out."
And so, Colombian specialty-coffee shops' regular clients started to buy and drink more coffee than before. "People wanted to drink better coffee than they used to have in the office, which boosted online coffee sales," says Gustavo. Local roasters of all sizes have online shops and subscription programs, some available through websites, others using mobile apps, or direct sales through social media accounts, like Instagram.
Mauricio Romero, former Colombian barista champion, roaster, and El Industrial coffee shop co-founder, claims direct sales online for households are significantly higher than a couple of years ago.
In this regard, Mauricio highlights the diversity and richness of the high-quality coffee online offering. "Consumers now have many options to buy coffee online: brands, roasters, and origins," says Mauricio.
We will continue this story tomorrow.
ABOUT THE AUTHOR
Yker Valerio (he/him) is a freelance content creator. After more than 10 years of working as a management consultant, he started the blog Bon Vivant Caffè to share his passion for specialty coffee.


Source: Barista Magazine