We tried out the Puqpress, billed as the world's first automatic tamper
BY KIARA TEASLEY
SPECIAL TO BARISTA MAGAZINE
Photos by Kiara Teasley
Tamping is an essential step for crafting espresso, but precise tamping can be challenging, especially in a busy café setting. Most baristas are trained in manual tamping to some extent, and therefore understand that getting a perfectly flat, evenly distributed puck can only be achieved after tons of practice. Luckily, the idea of automatically tamping came to fruition with the Puqpress, billed as the world's first automatic tamper.
Since its debut a handful of years ago, the Puqpress has soared to popularity particularly at cafés with heavy traffic, as well as those where barista ergonomics are valued. Manual tamping requires the barista to bend their wrist to such a degree that can cause discomfort and even injury with the many repetitions of drink making. A barista myself, I decided to give the Puqpress a test drive in my own kitchen without distractions to see if it was really worth all the hype. The short answer? It absolutely is.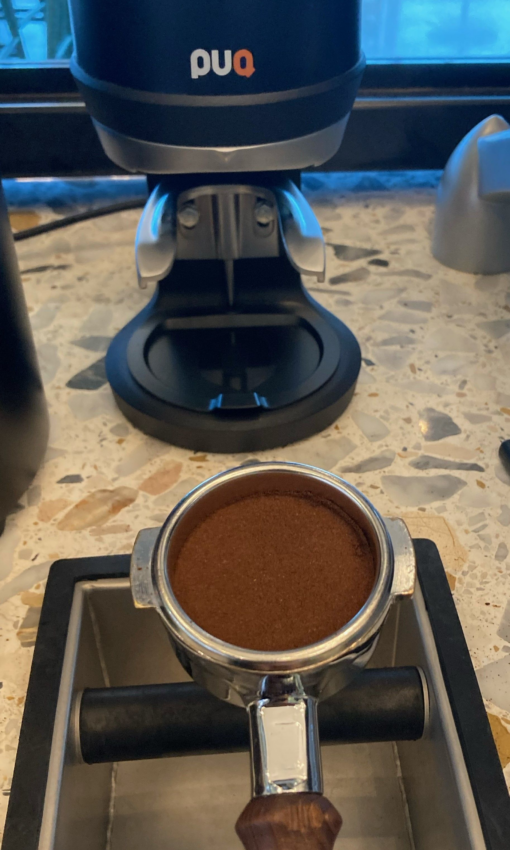 Some Pros of the Puqpress
Ease of use
Even new baristas can pull quality shots with the help of the Puqpress; it's virtually error-free. Common mistakes baristas make when manually tamping include uneven tamping, and/or tamping with too much or not enough pressure—but those are all non-issues when using a Puqpress. A process that can take a couple of seconds even for an espresso-pulling pro can be reduced to a fraction of the time. 
Harm reduction
Specialty-coffee baristas are no strangers to the potential harm that traditional tamping can cause to one's wrist. Unlike people, machines are less prone to errors and are apt to handle more wear and tear. Prepping and tamping several espresso pucks consecutively on a sore, damaged wrist can pose a hindrance to workflow and lead to more physical strain. The Puqpress reduces the potential for this common workplace injury.   
Waste reduction
The Puqpress' inherent consistency is notable in that a barista will never have to throw out and remake an espresso if the tamp was off—because with the Puqpress, it just never is. Café owners recognize that this not only saves time but money; fewer wasted shots means that expensive specialty roast they've invested in stretches as far as they hoped it would when they bought it. The Puqpress is therefore an investment in quality control, inventory waste, and retaining customer satisfaction. It's a very worthy addition to any third-wave coffee shop's espresso bar. 
A Few Quibbles …
Space
The Puqpress itself is bulky and takes up a good chunk of counter space; at my workplace, it's nestled in a tight squeeze between the espresso grinder and the espresso machine. But the size is a rather small price to pay for its overall usefulness and efficiency. And what's more, the manufacturers of the Puqpress created solutions for the lack of counter space real estate so many small shops grapple with: Puqpress' M-Line models were designed to attach under many brands and models of grinders on the market, meaning the Puqpress actually takes up no space at all.
Cost
The Puqpress is a solid purchase decision for a café owner looking to enhance their espresso equipment and setup, safeguard their employees against workplace injuries, and maintain quality, fast service, and consistent drinks. Like most pieces of high-end equipment, it doesn't come cheap. While the Puqpress Mini—the most affordable model—could be used in a home setting, it would be a considerable investment for a home user. But hey, if making great espresso at home is enough of a passion for you that you invested in a La Marzocco Mini and a Baratza Sette 30 grinder—not to mention a Fellow Stagg EKG Pro electric kettle—well, a Puqpress Mini might be just the thing to elevate your home bar setup to the next level.
Conclusion 
In summary, the Puqpress is a top-tier tool for a busy café setting with its simplicity and ease of use. It takes a portion of the burden of pressure off of a barista's wrists, and it also makes the repetitive process of pulling shots quicker and smoother during high-volume hours. For both seasoned and novice baristas alike, the Puqpress has proved to be an endlessly valuable asset to the world of specialty-coffee technology. 
ABOUT THE AUTHOR
Kiara Teasley (she/her) is a writer and Charlotte, N.C., native. She works for Pure Intentions Coffee, a local specialty coffee roastery. Alongside finding high-quality natural- and honey-processed, single-origin coffees, she enjoys reading classic literature, practicing yoga, and checking out local music shows in her downtime.


Source: Barista Magazine