Test Drive: The Linea Micra Espresso Machine from La Marzocco
Ready to find out how La Marzocco's Linea Micra measures up? Read on for our full Test Drive review! 
BY VASILEIA FANARIOTI
SENIOR ONLINE CORRESPONDENT
Photos courtesy of Vasileia Fanarioti 
The Linea Micra espresso machine by La Marzocco is the newest addition to their impressive line of home espresso machines. I was lucky to get my hands on this revolutionary little device when I visited my friend and well-known coffee professional Stefanos Domatiotis at Create, a coffee experience center he founded in Athens, Greece. Stefanos and his team welcomed me at Create with a cup of delicious filter coffee. Then we joined together for a hands-on experience of the Linea Micra. 
Features of the Linea Micra 
My first impression: This machine is small, yet has all the features of its big brother, the Linea Classic. As soon as you unbox this pint-sized powerhouse, it makes an instant impression with its sleek design. The Linea Micra's compact dimensions are just 12 by 12 by 15 inches.  
You can tell from first glance that no compromises were made when designing the Micra. All the features that define a high-end espresso machine are present and accounted for. It boasts dual stainless-steel boilers, PID temperature control, rotary vane pump pressure, and even a convertible portafilter.
Topping the list of surprises is its impressive speed; the machine takes only 5 minutes to go from cold start to ready-to-brew. This is thanks in part to its integrated brew boiler/group combination and unique portafilter design. Its sturdy pump provides consistent pressure and is designed to run almost silently—perfect for those early morning cups of espresso. 
One of my favorite gimmicks, however, is the all-new convertible portafilter. This ingenious design feature allows you to easily switch between single-spout and double-spout as well as a bottomless portafilter—all compatible with all La Marzocco Home machines and 58mm tampers. 
All of the machine's functions are controlled through the accompanying La Marzocco Home app. The app provides comprehensive tutorials on all aspects of the machine's operation—from optimal pre-infusion times to advanced customizations such as temperature profiling and shot weight limiters. To make the Micra even more convenient, it can be connected to a water supply or powered by a water reservoir, easily refillable by removing the drip tray.  
Small but Mighty 
Giorgos Moraitis, Create's R&D manager, demonstrated to me how easy it is to control the Linea Micra via the app. In just a few taps, we were able to easily modify the machine's temperature and brewing parameters. We then pulled a few shots together, and it was easy to taste the amazing quality of the espresso.  
Apart from making espresso, we also made a few creamy flat whites and managed to get excellent latte art out of the Linea Micra. I felt as if I was back working in a coffee shop—the steam wand was super responsive and easy to use, producing great milk foam that easily held up for pretty designs.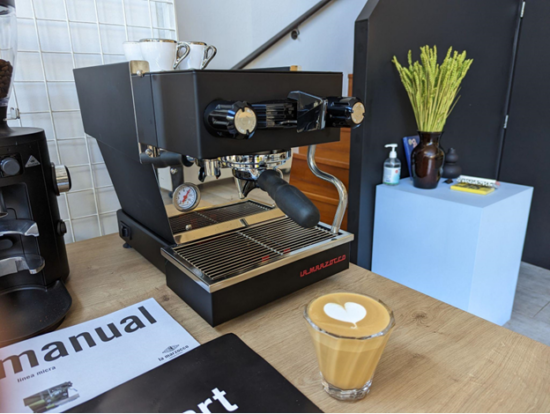 Overall, I was impressed by La Marzocco's newest addition to their line of home espresso machines. With a price tag of $3,900, the Linea Micra is a quality investment. It's designed for those looking for a high-end machine that provides commercial-level performance and quality. 
It makes a great addition to any home kitchen, and its small footprint is perfect for those with limited space. Its amazing speed and convenient design put it on par with other professional espresso machines, while still being intuitive and user-friendly. It's a small but mighty machine indeed!
You can order the Linea Micra here. 
ABOUT THE AUTHOR
Vasileia Fanarioti (she/her) is a senior online correspondent for Barista Magazine, and a freelance copywriter and editor with a primary focus on the coffee niche. She has also been a volunteer copywriter for the I'M NOT A BARISTA NPO, providing content to help educate people about baristas and their work. You can follow her adventures at thewanderingbean.net.


Source: Barista Magazine