Test Drive: The LAF Pro and LAF Bar Pro
In this installment, we try out the versatile LAF Pro and LAF Bar Pro commercial milk frothers.
BY VASILEIA FANARIOTI
SPECIAL ONLINE CORRESPONDENT
Photos courtesy of Frank Buna & Vasileia Fanarioti
I recently had the opportunity to test drive the Latte Art Factory (LAF) Pro and the LAF Bar Pro by Frank Buna. These fully automated machines feature patented technology promising the smoothest microfoam and a pure milk taste. The philosophy behind their design is that you can create all your favorite café beverages with just one push of a button. In fact, last June the LAF Bar Pro version won a prestigious Best New Product Award in the Commercial Coffee Preparation and Serving Equipment category during World of Coffee in Milan.
I spent a couple of hours training on how to use both machines and was surprised at how intuitive they are. Both were incredibly simple to use, while I managed to whip up some great beverages with ease and even create a few impromptu coffee-based recipes. Read on to find out how the machines performed!
Features of the LAF Pro and LAF Bar Pro
The main difference between the two machines is their design. The LAF Bar Pro is perfect for cafés with limited countertop space—the modem and refrigerator are tucked away under the counter, saving precious countertop space. The LAF Pro offers a great solution for shops with minimal under-counter space; it has all the same features as its counterpart but comes with a cup holder, a built-in modem, and a refrigerator in one unit.
Both machines have the capability to foam two or more types of dairy and nondairy milks. They also allow users to experiment with new creations such as cold brew, iced tea, kombucha, iced latte, or nitro coffee in any desired texture. This versatility makes it a useful tool for those seeking to explore the realm of specialty-coffee drinks and create trending products.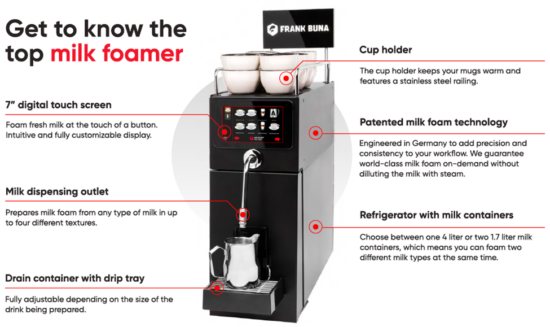 What's more, I found it very interesting that LAF's patented system doesn't use steam. This creates a pure milk-foam taste, while being more energy-efficient. The machines are capable of extracting 1.5 liters of milk in just 60 seconds, and thanks to their telemetry system and remote service, breakdowns are minimized. On top of this, there's no waste of energy on standby, with on-demand milk foam production. These features make them the most dynamic machines of their kind on the market. You can imagine how curious I was to test them!
Putting the LAF Pro and LAF Bar Pro to the Test
The first thing that impressed me about the machines was the touch-screen display and interactive interface. You can easily create any drink imaginable. Customize drinks by changing variables such as the amount of foam, the foam density, the temperature, and the drink size.
During testing, I successfully made several classic Italian-style cappuccinos with dense dollops of foam on top, flat whites with thin layers of microfoam, and short and creamy macchiatos. I also made cold drinks such as freddo cappuccinos and iced lattes, all while playing around with different foam textures. I even invented a coffee cocktail that was a hit with the training staff! And latte art designs? I was able to make quite a few, as the microfoam of the LAF Pro and LAF Bar Pro is very consistent.
Beyond drinks, the machines allow you to store recipes, meaning you can keep your creations consistent time after time. Moreover, they have access to recipe and consumption data that can be monitored at any time. Added bonus: They are fairly easy to keep clean. Overall, I was very impressed by my experience with the LAF Pro and Bar Pro machines.
I was curious to find out more from baristas who have used them during their working day. I reached out to Deniz Yilmaz, a professional barista with 5 To Go, who has been using the LAF Bar Pro for a couple of months now. "During peak hours, I can truly appreciate how much the LAF Bar Pro milk frother has boosted my bar's efficiency," Deniz says. "It enables a quicker flow of beverages while maintaining consistently high-quality frothed milk in each and every cup. This not only increases efficiency, it also gives me more time to socialize and make conversation with customers, creating the perfect atmosphere before they enjoy their coffee."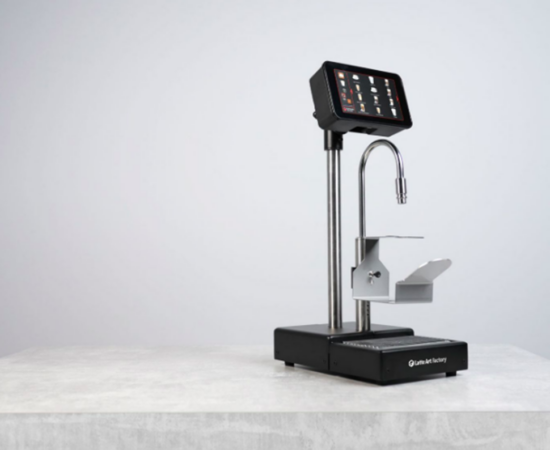 All in all, the LAF Pro and LAF Bar Pro are two great machines for coffee professionals who want to explore new ideas and flavors. They offer a range of capabilities, from classic Italian-style drinks to creativity-driven specialty-coffee drinks, high-quality foam and easy-to-use control systems.
Their reliability, energy efficiency and fast milk frothing make them a great choice for any barista or café looking to step up their coffee game. I would highly recommend these machines to anyone in search of an innovative way to bring superior coffees and specialty drinks to their customers, while increasing operational efficiency.
ABOUT THE AUTHOR
Vasileia Fanarioti (she/her) is a senior online correspondent for Barista Magazine, and a freelance copywriter and editor with a primary focus on the coffee niche. She has also been a volunteer copywriter for the I'M NOT A BARISTA NPO, providing content to help educate people about baristas and their work. You can follow her adventures at thewanderingbean.net.
The post Test Drive: The LAF Pro and LAF Bar Pro appeared first on Barista Magazine Online.
Source: Barista Magazine