Test Drive: The Ground Control Brewer
The Ground Control Brewer from Voga Coffee uses robotics to help unlock your café's potential.
BY JOSH TAVES
SPECIAL TO BARISTA MAGAZINE
"Finally, Robotic beings rule the world."
—Flight of the Conchords
While this folk duo's hypnotic musings of the early 2000s have yet to be proven true, I can't help but think that our world continues to march toward this trend. Coffee shops are no strangers to the ongoing tide of technological advancements, and by no means am I suggesting this is bad. We have of course seen leaps and bounds made in the last decade in all realms of coffee brewing that are making the work of baristas more efficient and effective. In the last several years, Voga Coffee has been squarely focused on being at the forefront of this surge of movement.
Even if you're not familiar with Voga, I bet you've heard of their flagship product, the Ground Control Brewer. The Ground Control Brewer provides a new, novel approach to batch brewing that has been turning a lot of heads recently. 
Imagine with me if you will that coffee brewing is a path. This lovely path is set in an idyllic English countryside with rolling hills and small stone walls. As you begin walking down that path, you start to notice beautiful bird songs first, then the sweet scent of wildflowers, and the pitter-patter of sheep feet frolicking in the hills above. Beautiful acidity and caramelized sweetness are being extracted in your coffee-brewing path. You are greatly enjoying yourself, and your blissful mindset continues to grow the further you get down the path. After a while, the sun has climbed high in the sky and you are beginning to get a little sunburned. Then your foot cramps from lack of water. You are far away from the beginning of the path, and this is unpleasant. You went too far, and it's not fun anymore. The coffee has become over-extracted and turned bitter; astringent flavors are making themselves known. You wish you hadn't brewed this much.
Now imagine that you are back at the beginning of the path: You begin your walk and are having many lovely experiences. You are remembering how unpleasant it was when you walked too far, so you stop at just the right time. You decide to come back tomorrow and walk just the beginning of the path up to the sweet spot, over and over again. You only want the best out of your coffee, and you want never to over-extract it.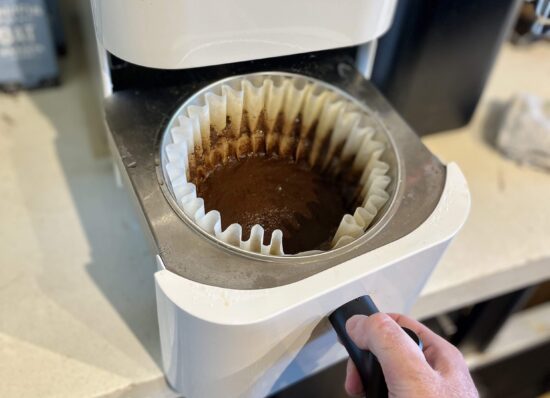 Still with me? You see, what the folks at Voga figured out is that if you brew your coffee almost to the peak of flavor, then completely remove the water from the coffee grounds (essentially drying them out), you can "reset" the brewing process, allowing you to brew again, and perhaps even a third or fourth time, to the exact peak of flavor without any fear of over-extraction. If you take these different brews and blend them all together, you are able to get a much more complete extraction of your coffee, with only the good stuff coming from the beans. Take this and throw in some beautiful finishes and a flair for the theatric, and you get the Ground Control.
Since I got my hands on a Ground Control Brewer, I am continually surprised at how eye-catching it is for our customers. The glossy white powder coat, polished quartz, and glass dome gurgling with fresh coffee might look like it belongs in a Willy Wonka-esque land of pleasure more than it does at a coffee shop—but then again, maybe we all need a little more of that kind of whimsy in our cafés. And the coffee it produces? Well, let's just say that the amount of variability and capability is staggering.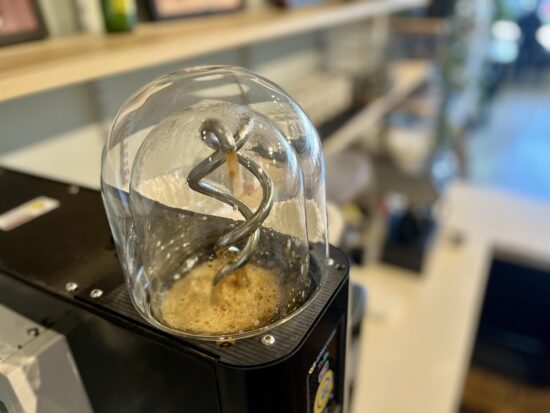 What really sold me on this machine was not the fancy batch-brew capabilities, or the theatric process, but actually the unique accessories Voga has introduced, and the way they're using them. You see, the Ground Control uses a brew basket at the bottom of that machine instead of at the top like a traditional batch brewer. They make this work by using a valve to close off the basket (creating a true full-immersion environment), which is paired with a vacuum-style pump to suck the brewed coffee out of the brewing chamber and up into the glass bulb that sits atop the brewer. To top this all off, there is a programmable whisk-like device that actively agitates the coffee slurry during brewing to encourage extraction. And of course, the machine has programmable temperature options for precise brewing temps. 
So what does this allow you to do? Well, it gives you the power to agitate as much or as little as possible, pulling liquid away from the grounds (stopping the extraction quickly and literally sucking flavor from the grounds), and brew at full immersion. This means you can do things like create very high extraction yields to create a product similar to espresso in large batches, brew with low temps for instant cold brew, and/or brew cold or hot coffee concentrate to maximize the batch you now have the tool to create. I was skeptical at first when the Voga rep laid all this out for me at the 2022 SCA Expo in Boston (this was not my first experience with the machine), but let me tell you: It's all true. 
Since I got my hands on a Ground Control Brewer, I've used it to create over a gallon of "iced latte" in about 15 minutes, five liters of true iced coffee in about 16 minutes (not batch brew poured over ice), delicious batch brew, and gallons of room-temperature cold brew that doesn't dilute when poured over ice—and all in a pretty package to boot. It has given me capacity to serve my customers in ways I never thought possible with newfound speed and efficiency. So have I been happy with the purchase of my Ground Control brewer? Resoundingly, yes.
ABOUT THE AUTHOR
Josh Taves is the head of business development for Stovetop Roasters in Michigan and the creator of CuppingBrewer.com. He is also a 2017 USBC finalist, so he knows his way around lots of different coffee gadgets. He's been working in the coffee industry since 2006 and enjoys taking advantage of all the great adventures the outdoors has to offer. 
Source: Barista Magazine