Test Drive: Cometeer Coffee
Cometeer Coffee introduces a new contender in the specialty instant coffee game.
BY KATRINA YENTCH
BARISTA MAGAZINE ONLINE
Cover photo courtesy of Cometeer Coffee
Over the past five years or so, a small number of specialty instant coffee providers have proven to us that it is possible to have tasty and quick coffee by simply switching out instant's usual robusta varieties with arabica (for the most part). Presented in formats like tea bags, quick-dissolve powders, and even instant pourover socks, Cometeer Coffee has introduced the most novel instant presentation yet through flash-frozen capsules—and they're making the bold claim that a new day on Earth has arrived for coffee.
Who Is Cometeer?
Like many coffee people on Instagram, I've had Cometeer ads bombarding my feed for weeks. They've received plenty of in-depth reviews thanks to brand partnerships with high-profile coffee pros like James Hoffmann and Morgan Drinks Coffee to validate their products. Not to mention, founder Matt Roberts has received over $70 million dollars in investment funding for the brand since April 2020. Although Cometeer has been around for nine years, the latest cash flow may explain why nearly every tech-savvy coffee drinker has experienced the brand's expansive marketing efforts despite its lack of shelf space in the frozen foods aisle of grocery stores.
Can I also lament the lack of specialty instant coffee brands at the grocery store in general? I've always felt that to be kind of ironic with the ethos of instant coffee. Shouldn't I be able to buy it as quickly as I brew it when I'm in a pinch? About to board a flight or hit a trail and need to pick up an easy option on the way over? In the U.S. at least, most of these brands are online, and few are lucky enough to grace the shelves of outdoor retailers like REI at the moment.
How It Works
Cometeer Coffee's "melt-to-make" concept is pretty straightforward on the outside, but complex inside. Thanks to the work of food scientists and engineers who have developed a proprietary extraction process, Cometeer flash-freezes coffee as soon as it has been brewed to preserve it at peak freshness. They've partnered with well-known and respectable roasters like George Howell Coffee, Go Get Em Tiger, and most recently James Hoffmann's Square Mile Coffee Roasters to supply high-quality coffee for the process.
The result is a tiny capsule that can actually fit inside a Keurig pod machine, but for those without such a machine, brewing with the capsule simply means running it under hot water for 10-15 seconds before dropping its contents into a cup and pouring 6-8 ounces of hot water over it. And for iced coffees, you should probably melt it for longer until it completely dissolves before adding water.
Nice Body, Nice Acidity
I have to admit, while I typically haven't gravitated toward specialty instant coffees at home over manual brewing, I've been reaching for the Cometeer capsules every morning lately. We've previously discussed grinding frozen coffee as a legitimate option, and now we can stretch that opinion to frozen "brewed coffee" thanks to Cometeer. It just tastes fresh. And while other specialty instant coffees have given me the fruitiness and acidity that I crave with manually brewed coffee, they haven't provided the syrupy body that Cometeer capsules do.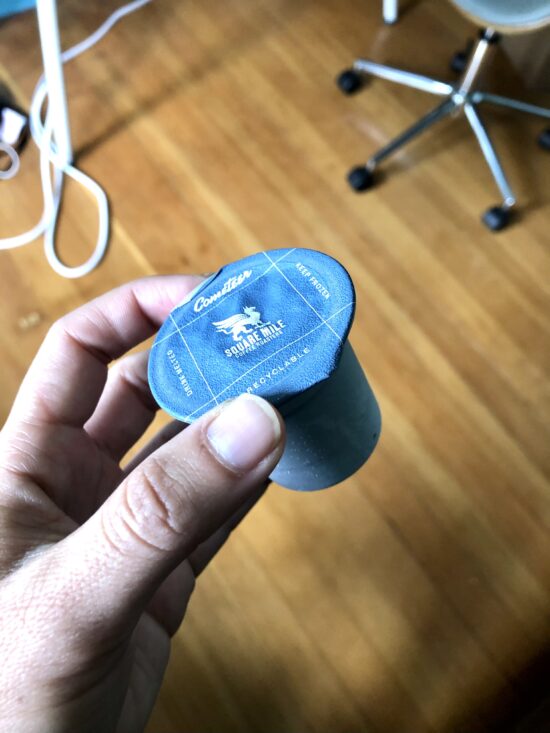 It's Not a Camp Coffee
One thing that other specialty instant coffees do have over Cometeer is their flexibility of storage options; basically, they don't need to be frozen to travel. Cometeer capsules can technically be at room temperature for 24+ hours, although there will be a loss of flavor after that period. That being said, they probably wouldn't be my go-to instant option when traveling.
The Cost Breakdown
At $64 USD for a set of 32 capsules, you're looking at spending $2 per capsule, which is pretty comparable to other specialty instant brands on the market. A 12-ounce bag of nicer coffee for $20 would result in $1.30 per cup of coffee, if you're brewing with 22 grams per serving. So depending on your budget and how much value you place on convenience (does brewing a coffee in less than 30 seconds matter a lot to you? Do you prefer the 10-minute ritual of a morning pourover?), the savings on manual brewing isn't terribly huge compared to Cometeer capsules.
The Woes of Packaging
My only true gripe with Cometeer would be the insane amount of packaging it comes in. With the product buried in layers of foam-paper wrapping atop stacks of dry ice, it took me a good 15 minutes to break down all of the materials. It seemed slightly counterintuitive to one of its main selling points, which is that the aluminum capsules themselves are technically 100% recyclable. So unless they're able to place their product in the frozen aisles of grocers, a lot of money and effort will be spent shipping capsules within the short timeframe of frozen food storage.
A Strong Specialty Instant Coffee Option
All in all, Cometeer is undoubtedly a high-quality product, whose efforts are validated by respectable coffee professionals. I wouldn't be so bold to claim that it is the future of coffee. However, it certainly proves to be a strong contender in the specialty instant game, as well as a solid option for general coffee consumers who haven't yet invested in any manual brewing options.
Source: Barista Magazine