Subko Coffee Roasters: Flavors of the Subcontinent 
Concluding our series on coffee packaging in India, meet Subko Coffee Roasters, a company that holds high aesthetic (and coffee) standards.
BY RESHIL CHARLES 
SPECIAL TO BARISTA MAGAZINE 
Photos courtesy of Subko Coffee Roasters
Any Hindi-speaking individual will interpret "Subko" to mean "everyone," and hence Subko Coffee means "coffee for everyone." But the brand's co-founder, Rahul Reddy, sniggers that it is actually a play on words meant to represent the subcontinent, not India itself—so the idea is "from the subcontinent for all," a tri-script approach to branding that has Subko written in English, Devanagari, and Urdu.
From the Subcontinent to the World
"In our case, the name came before everything else. 'Subko' is my commitment to re-imaging, re-positioning, and redesigning what Indian coffee means to the rest of the world," explains Rahul. "In addition to that, we want to build a legacy that highlights what the Indian subcontinent can do in the artisan and craft positioning globally, and represent that in a highly indigenized manner through contemporary design thinking and traditional typography and scripts."  
Sustainable Design
Design and packaging are clearly taken very seriously at Subko. After a visual artist called The Big Fat Minimalist and illustrator Anuranjini Singh created the tone and identity, the brand went on to hire their own in-house duo of Radhika and Rutuja to wrap a spectacular story around each selection.
Each box is made of 100% recyclable kraft paper using biodegradable soluble inks, and the beans are packed in a 100% recyclable gusset. The coffee bean is the central illustration on each box, with information about origin, estate, altitude, and roast typewritten on a sticker that draws inspiration from old Indian railway tickets. On the back flap of the box, a note is written on how they do small-batch roasting of micro-lots, along with interesting facts about the coffee in the pack. Once opened, a QR code will lead you to their "bloom school" for a brewing guide.
The special edition Project Sankalp stands out even further with its gift-set-like packaging that includes two 100-gram pouches of beans with an 86+ score and a well-designed booklet explaining the rarity of the project. Two female hands hold a bean and a cherry in the center of a geometric illustration on the cover of the box, representing the women-driven producing/processing team of the Pulney hills in Tamil Nadu where the coffee is from.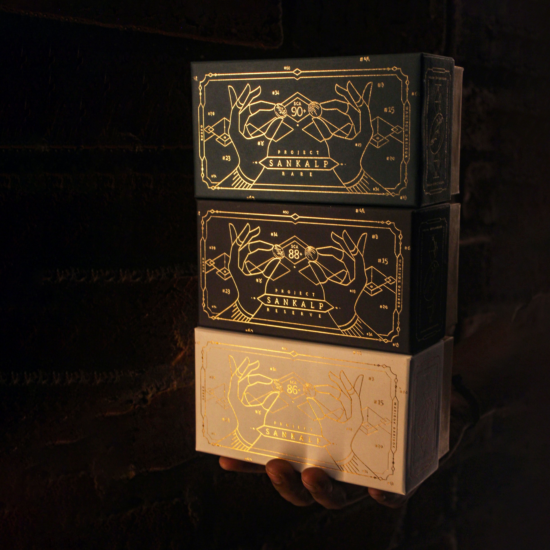 "Everything Subko related is very organic and hand-done. We screen print everything on a kraft base and are very heavy on the Indic script, so we can represent different regions of the subcontinent in a rustic and earthy manner," says Rutuja.  
Subko Coffee Roasters has a roastery, café, and bakehouse in Mumbai, and their packages are without doubt the posters of innovation and storytelling when it comes to modern Indian coffee packaging.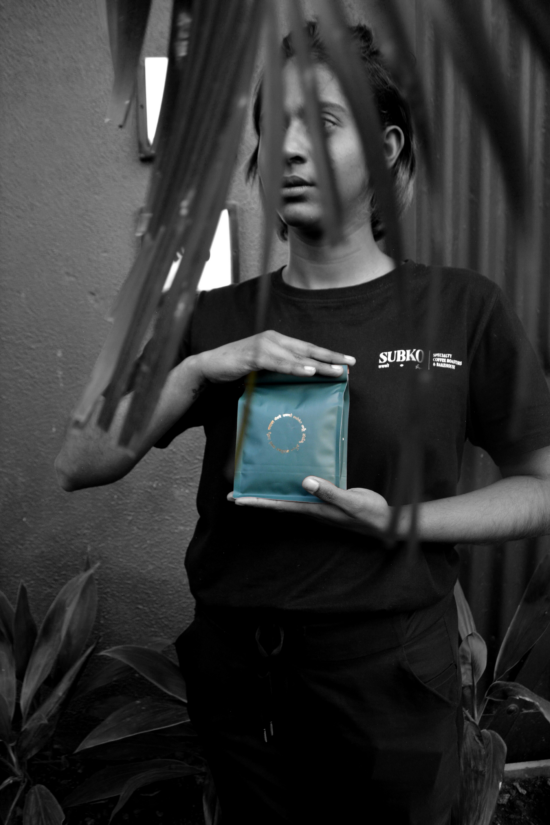 ABOUT THE AUTHOR
Reshil Charles (he/him) is based in New Delhi, India, and works across television, web, and print as a journalist and presenter. He has been tracking emerging Indian trends across a few sectors for the last 19 years, with a special eye on the evolving Indian coffee scene. He feels strongly about exposing the world to the variety of culture and subculture in India that meets at the crossroads of traditional and modern, and coffee fits right in. 


Source: Barista Magazine