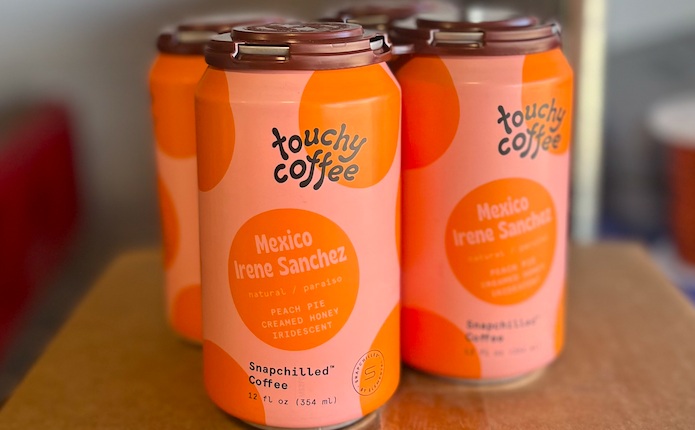 Snapchill Technology Cools Coffee in a Flash
Elemental Beverage Co.'s Snapchill technology aims to rapidly cool coffee and other liquids without oxidation or dilution.
BY VASILEIA FANARIOTI
SPECIAL TO BARISTA MAGAZINE ONLINE
Photos courtesy of Elemental Beverage Co.
What do coffee and a window air conditioner have in common? It may seem like the answer is "not much," but they were both a source of inspiration for Elemental Beverage co-founder David Dussault when he created Snapchill technology.
David, who is also a graduate of the Massachusetts Institute of Technology (MIT), was able to utilize his knowledge in thermodynamics and heat-exchange technology to develop a new process that would quickly cool liquids to temperatures as low as -10 degrees Fahrenheit without diluting them in the process.
And so Snapchill was born. 
What is Snapchill? 
In a nutshell, Snapchill is a novel technology for rapidly cooling liquids, while at the same time preserving their taste and quality without oxidation or dilution. 
David is actually a thermal engineer who simply loves a cup of freshly brewed coffee. He quickly realized that the problem behind his cold brews not tasting as fresh as hot-brewed coffee had to be a thermal one. 
But what about that window air conditioner? It turns out the evaporator coil that's a part of the Snapchill technology is actually very similar to that of an AC unit—and AC indeed inspired David. "Growing up, I worked for my father during the summers. He was an air-conditioning technician, and I was his helper. Necessity is the mother of invention, as they say. So the prototype for Snapchill actually came from my window air conditioner at home."
Collaboration and Innovation
Right now, the company offers its own series of snap-chilled coffees. However, they also collaborate with coffee roasters to help them create their own bespoke series of snap-chilled coffees efficiently and easily.
Production supervisor Taylor Giroux says, "A big part of why we have so much support is because we pride ourselves on working with small businesses. Unlike other companies, we have a very low minimum quantity that we ask to be produced for people's orders. Being a part of all these small businesses and watching them grow together with us is super important for me."
A Tool for Evaluation
Aside from offering snap-chilling services, Elemental Beverage has also launched their Snapchiller machine. Coffee roasters can now use the machine to precisely control the temperature at which they wish to snap-chill their coffee.
According to Taylor, "If roasters wish to develop a coffee specifically to be cold, they can try it on the spot, without any dilution. Snapchiller is also a tool that is included as a supplemental way to evaluate the flavor profile of coffee, without having to wait for it to cool down."
Since there is no dilution or oxidization, the nuanced flavors that might be lost during the cooling process of other methods are retained, making it possible for roasters to evaluate a cup of coffee more accurately.
Beyond Coffee
The potential application for the Snapchill technology is vast. In fact, Elemental Beverage has already begun to explore other avenues beyond coffee, working on projects that involve tea and cocktails.
The feedback from mixologists has been extremely positive, as they are now able to play around with different temperatures for different spirits. This allows for a more creative and bespoke experience when crafting cocktails, without ice potentially watering down the drink.
Recently, the Snapchill team debuted their new product Noir at Specialty Coffee Expo in Boston, a coffee concentrate that is brewed hot, then snap-chilled.
To learn more about what Snapchill is doing, check out the process here.
ABOUT THE AUTHOR
Vasileia Fanarioti (she/her) is a freelance copywriter and editor with a primary focus on the coffee niche. She has also been a volunteer copywriter for the I'M NOT A BARISTA NPO, providing content to help educate people about baristas and their work. You can follow her adventures at thewanderingbean.net.
Source: Barista Magazine