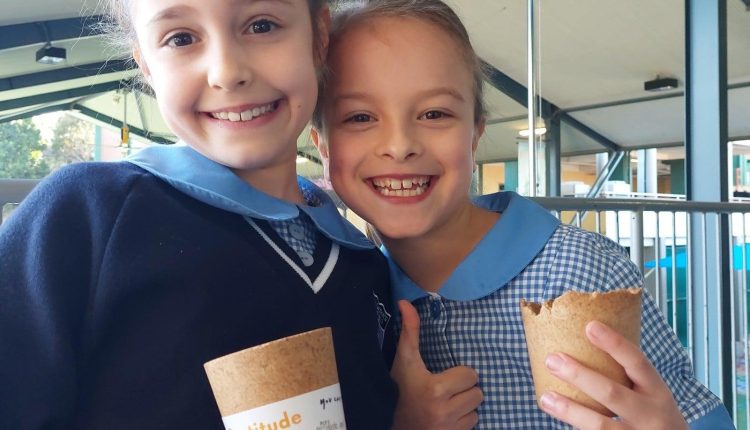 Queensland students raise funds for floods with edible coffee cup
Entrepreneurial students at two local primary schools are asking the Queensland community to support its Gratitude Cup, an edible coffee cup that will help raise money for the Vinnies Queensland Flood Appeal.
The grade four, five and six students from St Agatha's and St Marys of the Cross Primary Schools take part in weekly entrepreneurship classes and have designed the environmentally friendly coffee cup to help raise money for flood victims.
The Gratitude Cup, made using an edible 'Good-Edi' cup, features simple, heart-warming messages written by the children, such as "The world is awesome" and "Love yourself, feel loved". It includes a QR code to sign up to receive a weekly gratitude prompt and examples of what the students are thankful for.
The edible cup holds liquids for up to eight hours and can be used for coffees, breakfasts, or desserts. It can then be eaten or composted, helping to reduce the more than 1.7 million disposable cups being thrown away every day in Australia.
"The children are very excited to tackle a real-world problem and to engage in a solution that has further positive impacts for the community by supporting the flood appeal. We hope that the wider community will support our students as they put their entrepreneurial skills towards a very good cause," says Assistant Principal of St Marys of the Cross Joshua O'Keeffe.
A $1 donation from the sale of each cup will be made to Vinnies Flood Appeal and the students have set a goal of raising $10,000.
For more information and to support the students through a purchase, visit: https://daintreemarketplace.com.au
Source: Bean Scene Mag