Preview: World AeroPress Championship 2022
Vancouver, B.C., is preparing to host the 2022 global AeroPress contest, taking place December 1-3.
BY ERIK ROLFSEN
SPECIAL TO BARISTA MAGAZINE
Photos courtesy of World AeroPress Championship
Trust the Canadians to give their first-ever World AeroPress Championship (WAC) a hockey theme.
Competitors haven't even landed in Vancouver for the WAC yet, but the official Instagram account is already putting their faces on hockey cards.
The Game Plan
Of course, hockey is a game with three periods, so the WAC has introduced a big change this year. What used to be a single-day sprint is now a three-day event running from December 1 to 3. That will give participants a little more time to catch their breath between shifts.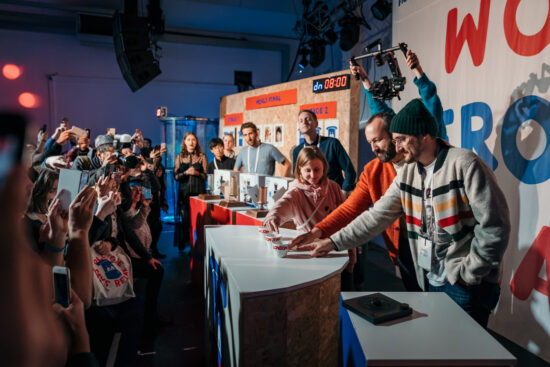 "Competitors don't always get a chance to step back and take it all in because it's so high-energy and there's so much adrenaline," says Grant Gamble, the World AeroPress Championship's Vancouver-based creative director. "They're sharing ideas with coffee professionals and enthusiasts from all these different countries. For us to be able to give competitors the space for that kind of connection and growth to happen is really cool."
Since its 2008 inception, the WAC has distinguished itself from other coffee competitions by putting fun, community, and accessibility above all else. It begins with about 3,500 competitors and very few barriers to entry. Anyone who thinks they brew a good cup is welcome at the lively local qualifiers, but only a few dozen have earned the right to attend the first post-pandemic world final in person.
Day 1: Training & Conditioning
In keeping with the hockey theme, day one is being billed as Training & Conditioning. Competitors will receive the official competition coffee and fine-tune their recipes. They'll spend the day learning from past champions and high-profile coffee-industry guests. Ticket-buying members of Vancouver's thriving coffee community are also able to join in.
Day 2: Playoffs
Day two is the Playoffs—a full day of brewing as judges reduce the field to three and finally crown a champion.
Day 3: Café Takeover
Then the official competition coffee and winning recipe will be whisked away to 10 Vancouver cafés in preparation for day three's Café Takeover. These popular coffee shops will open their doors to any competitors or customers who want a festive atmosphere and a taste of the winning brew.
"The guiding edict behind everything we do is our aim to ensure that every person who takes part—win, lose, or draw—leaves excited about competing again the following year," said World AeroPress Championship CEO Tim Williams. "From all reports, there's a lot of great stuff happening in Vancouver, and I can't wait to experience it alongside everyone else coming into town."
And we can't wait for the first puck to drop.
ABOUT THE AUTHOR
Erik Rolfsen (he/him) is a former editor at the Vancouver Province who now writes about coffee at Bean Poet.


Source: Barista Magazine